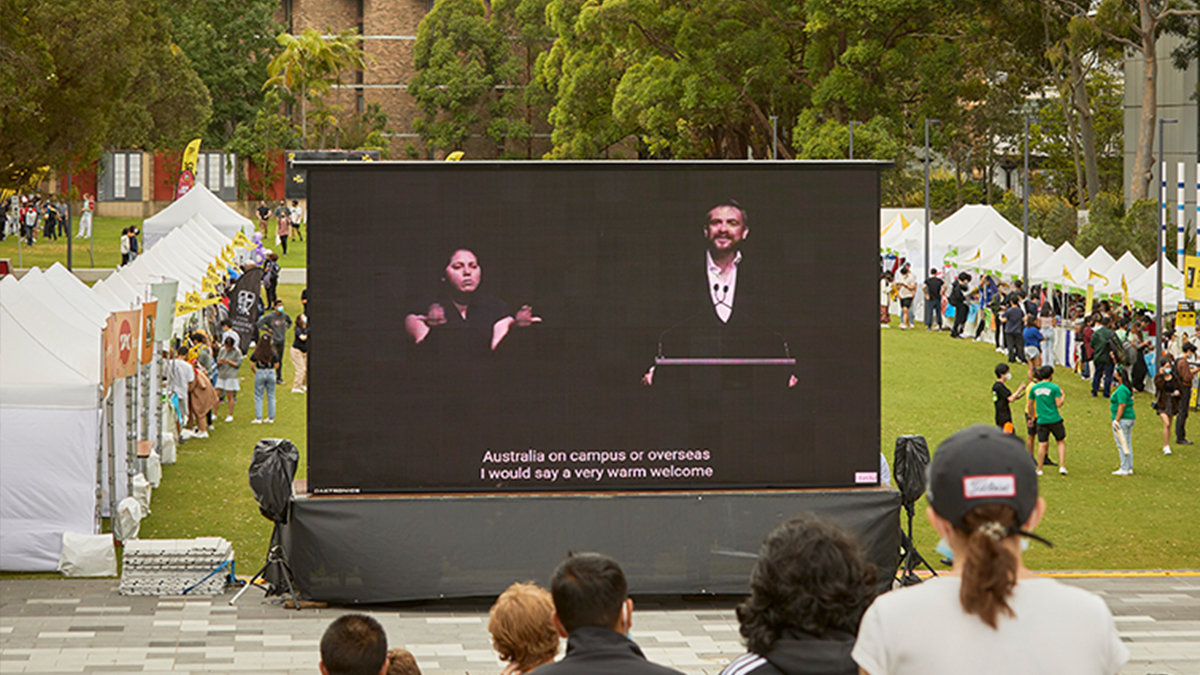 Dear UNSW colleagues
I'm almost three weeks into my new job and I'm excited, as you must all be, to see so many people back on campus. My thanks and hearty congratulations to all the wonderful students and staff who created an incredibly welcoming atmosphere during O-Week, both in person and online. I, for one, rekindled my relationship with Basser Steps, walking between the Library Lawn, the Quad, University Mall, Roundhouse and Alumni Park to get among the extensive range of stalls and activities that was on offer.
The week began with a Welcome to Country Ceremony from Aunty Yvonne Simms, a Bidjigal Traditional Land Owner from the La Perouse community. I enjoyed welcoming undergraduate and postgraduate students to UNSW in person and via livestream – which was also broadcast on three cinema-style screens around campus – as you can see in the picture above. While personally discombobulating to be on the big screen, I have received a number of positive comments about how well the screens worked.  
O-Week was a celebration of the year ahead but also a happy, COVID-safe return to our beloved campus, a reunion with friends and a feast for the senses. Which brings me to the gluten-free, sugar-free donut I bought from the special cart on Tuesday. It was so good that on Wednesday I bought half a dozen and shared them in the VCO. We were all pretty pleased about their existence but also pretty pleased it isn't O-Week every week…too delicious.
Again, thank you to the amazing people from Arc, and all the students, volunteers and staff who created such an engaging program of events for our new and returning students.
Today's Inside UNSW has a great O-Week wrap – read all about it here.
Since I've been back at UNSW, I've met a wide range of students, staff and partners and one thing that stands out is their passion. I had the pleasure of seeing this in action when I popped into the UNSW Founders Program team stall, with Gabriella Nunes, Lucy Ngo and Dina Titkova, outside the Michael Crouch Innovation Centre – and honestly, I was wowed by their stories of startups that have grown from the program. HEO Robotics, Synbiote, CardioBionic and YellowBox are just a few. If you don't know a great deal about UNSW Founders, please jump onto the website and find out more. Thank you to the team for welcoming me.
On the weekend I met with Randwick City Council at the invitation of Mayor, Cr Dylan Parker. I was grateful for the opportunity to "meet the neighbours". We talked about the life-changing Randwick Health & Innovation Precinct, and the Mayor, the Randwick Council team and I agreed to explore more opportunities to build on our relationship.
Earlier this week was my first Council meeting as VC, and rightly, Council members asked me insightful questions about what I see as the direction for the University. I reaffirmed that the 2025 Strategy was one of the drawcards for me coming to UNSW, and emphasised that my approach at the moment is to spend as much time as I can listening and talking to the UNSW community, to identify priorities within S25 to reflect the current environment. Now is the time to focus on consolidation, while ensuring we grab hold of the opportunities in critical areas such as lifelong learning and research commercialisation.
I'm especially keen to find out how we can better demonstrate the economic and social value of UNSW. I'm eager to hear from you and I'll be in touch soon about opportunities for us to get together and share concrete ideas.
The commitment to inclusivity at UNSW was another major attraction for me. I'm grateful to the Division of Equity Diversity & Inclusion for inviting me to welcome participants in our Inclusive Leadership Program. Diversity and inclusion are powerful assets: a multitude of insights and talents at the ready to help us take on the world's biggest challenges. Please read the story in Inside UNSW about our inclusive training program for 2022. All the program's details are there, and I encourage you to get involved.
I also heartily encourage you to get involved with all that's happening specially for staff, in our Welcome Back to Campus events from now until Community Day on 7 April. Thank you to the great team of colleagues who are making our campuses vibrant, sustainable, safe and engaging places to be. I've got my ear to the ground(s) for the best coffee outlets and I'm looking forward to meeting many of you as I get onto this task. You can see the program of events – and access your food and beverage vouchers – here.
With that in mind, I'll leave you to browse Inside UNSW #2 for 2022, which is full of information and inspiration.
And with Week 1 of Term 1 almost complete, I wish you all the very best for a year that continues as it has begun: engaging, thought-provoking, and with the occasional donut.
Best regards
Attila
Comments