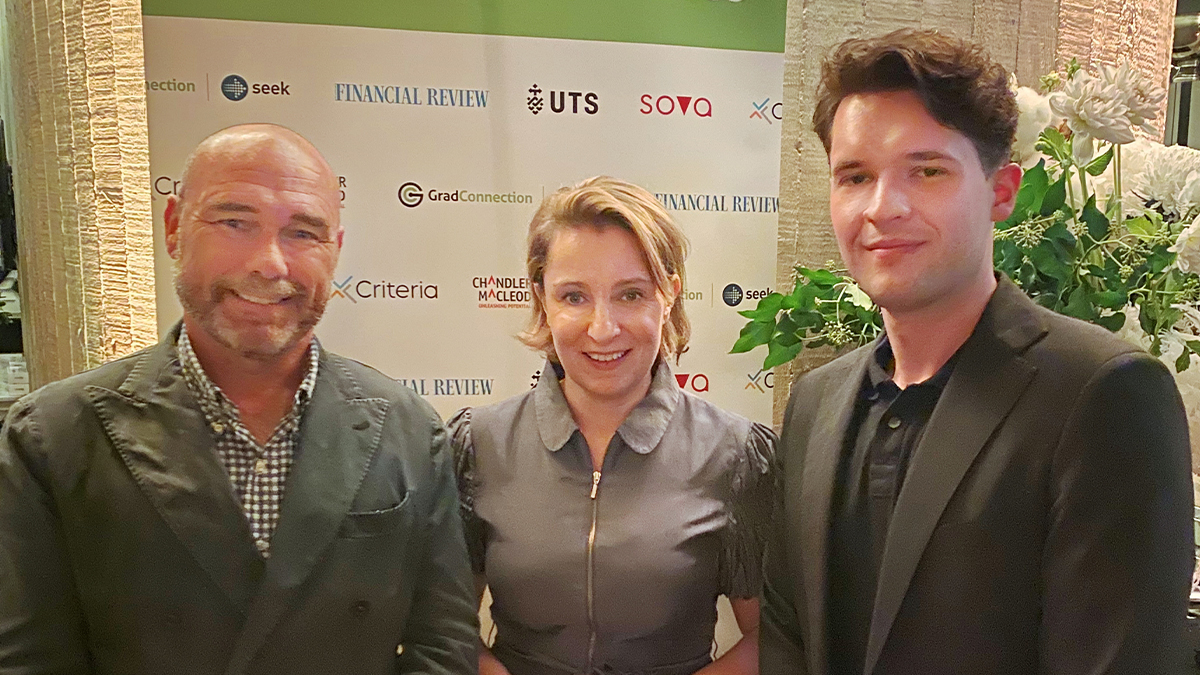 The AFR Most Employable University has been awarded to UNSW, with a record-breaking 42 students listed in the Top100 Future Leaders Competition.
For the third year in a row, UNSW Sydney has been named AFR Most Employable University at the 2022 Top100 Future Leader Awards, with a record 42 students named as most employable students.
The Top100 Awards, hosted by GradConnection, The Australian Financial Review and Chandler Macleod, aims to identify the top emerging talent from Australia's university students. Students took part in a highly competitive process, including psychometric testing, video interviews and participation in an assessment event with top employers.
Deputy Vice-Chancellor, Academic, Merlin Crossley congratulated the UNSW students who made the list.
"I'm extremely proud of all of the UNSW students who were recognised in the Top 100 Future Leaders Competition. The result is evidence that our academic programs deliver the workforce-ready graduates and upskilled workers required in our modern world.
"UNSW values and continues to promote industry engagement and work integrated learning opportunities. We included virtual work experience during last year's COVID-19 restrictions and enhanced our equity of access to these activities both locally and abroad."
Five UNSW students in the Top100 were also category winners of highly competitive employer awards, out of 12 available awards. Brandon Zheng won the Ashurst Law Award, Jelinna Wang won the EY Innovation Award, Esmond Ye won the Clifford Chance Social Impact Law Award, Margarita Psaras won the Quantium Data Science Award and Arnav Bharadwaj won the Fineos FinTech Award.
Mr Zheng currently works as an intellectual property paralegal in a commercial law firm while completing his Bachelor of Commerce/Law, majoring in Finance. He represents UNSW on AMP's Youth Advisory Committee and has previously held directorships with UNSW's Law and Model UN societies. 
"Studying law at UNSW has provided me with unparalleled opportunities to learn and grow both personally and professionally. From helping me land my first-ever paralegal role to facilitating student participation in international competitions and law reform, UNSW has provided me great support at this formative stage of my career and for that I am very grateful," Mr Zheng said.
Other UNSW students to reach the Top 100 Future Leaders list were: Annikka Burge, Arushi Agrawal, Celine Goh, Diarmuid Dwyer, Isaac Dela Torre, Ivana Tambun, Jasen Yu, Jason Khu, Jason Ren, Jaya Ong, Jonathan Kwok, Joseph Jeong, Kate Darby, Kenisha Pudun, Kia Mashimo, Kira Bailey, Lachlan Siu, Laurel Lu, Lucas Denis, Martin Ben, Matthew Sulistyo, Max Luker, Michael Kim, Michelle Lieng, Ming Qin, Robert York, Sakshi Talaulikar, Salma Lakehal, Sanmugi Sivakumar, Sidhika Srinivasan, Smit Patel, Tahmid Alamgir, Vanessa Xu, Vedant Shah, Vincent Chen, Vivian Vuu and Varun Amin.
Nine of the UNSW students in the Top100 Future Leaders list are from the UNSW Co-op Program of career development scholarships.
The win builds on UNSW's record in the previous two years' awards, which saw 37 and 27 students named respectively as Most Employable Students.
The UNSW Business School Most Popular Business and Commerce Employer was awarded to Deloitte and the UNSW Most Popular Graduate Employer was awarded to ANZ.
Comments