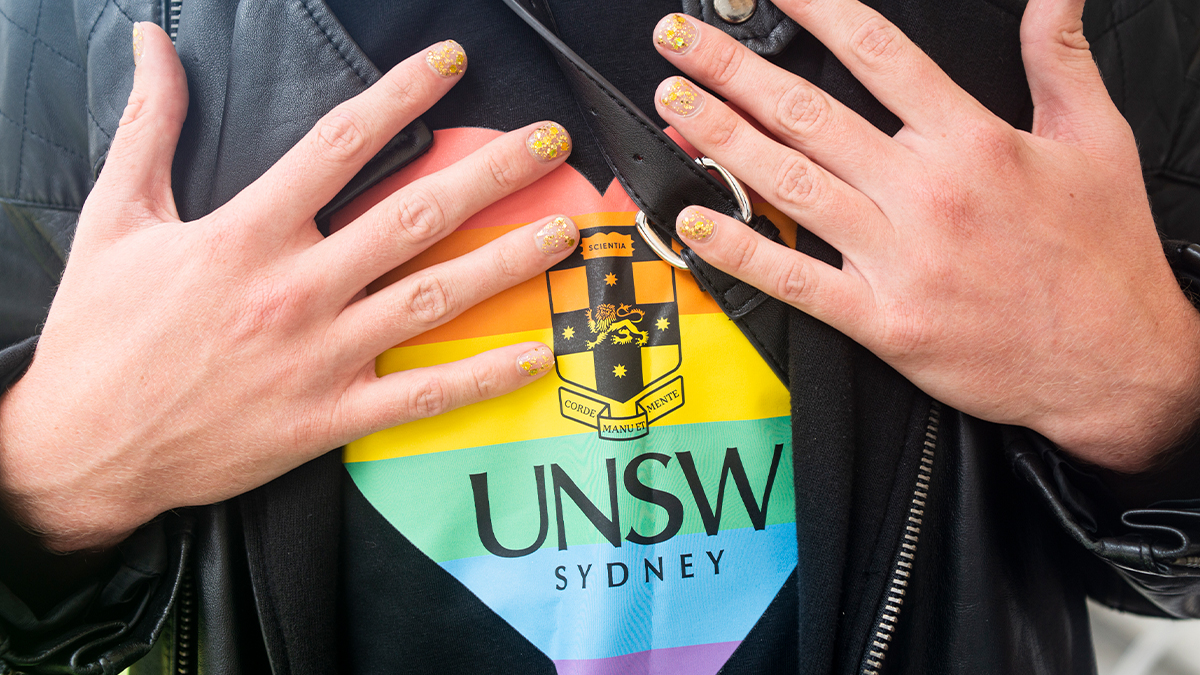 It is the largest celebration of the LGBTIQ+ community in Sydney and UNSW Sydney is proud to participate for the fifth consecutive year. 
The 2022 Sydney Gay and Lesbian Mardi Gras Festival starts tomorrow (18 February) with festivities continuing until 6 March.  
While it may come in different forms this year due to COVID-19, we remain committed to marking the importance of Mardi Gras and reaffirming our #UNSWPride. UNSW values that our community is made up of diverse genders, sexes and sexualities; and we continually strive to make our University a welcoming place for LGBTIQ+ students and staff. 
This year, the Division of Equity Diversity & Inclusion have partnered with our friends at Arc to bring you the festivities. Mitch McBurnie, Director of Marketing & Experience, Arc @ UNSW said "when EDI approached us to take the reins on the Mardi Gras Parade this year we jumped at the chance. Working with the wonderful queer students and staff at UNSW is an incredible opportunity and Mardi Gras is an event that means so much to so many. At Arc, we proud that UNSW has been supporting the LGBTIQ+ community at Mardi Gras and beyond for years and encourage everyone to get involved."
The theme for the 2022 Mardi Gras is "United We Shine" and the UNSW float is performing to the 2002 Jamelia classic "Superstar". The parade will again be held at the Sydney Cricket Ground on 5 March, maintaining the same glitz, glamour and biodegradable glitter as every year, but with a COVID safe plan in place. 
Places on the Parade team are strictly limited to 40 for both students and staff. There are 10 places left and we encourage staff members to take part. Subsidised tickets are now on sale ($15) for the UNSW Mardi Gras float.  For more information you can head to Arc's Facebook Event or Eventbrite Page.  
For the duration of the Mardi Gras Festival, the rainbow flag will also be flying outside of Clancy Auditorium and a new version of the rainbow UNSW logo is on display on all UNSW social media platforms. Mardi Gras email signatures are also available for use during the festival. They might seem like simple offerings, but we hope they provide opportunities — on campus and remotely — for individual engagement and starting important discussions within the UNSW community. 
For more information on Mardi Gras and other UNSW initiatives to support the LGBTIQ+ community, visit the UNSW Pride website. 
Comments