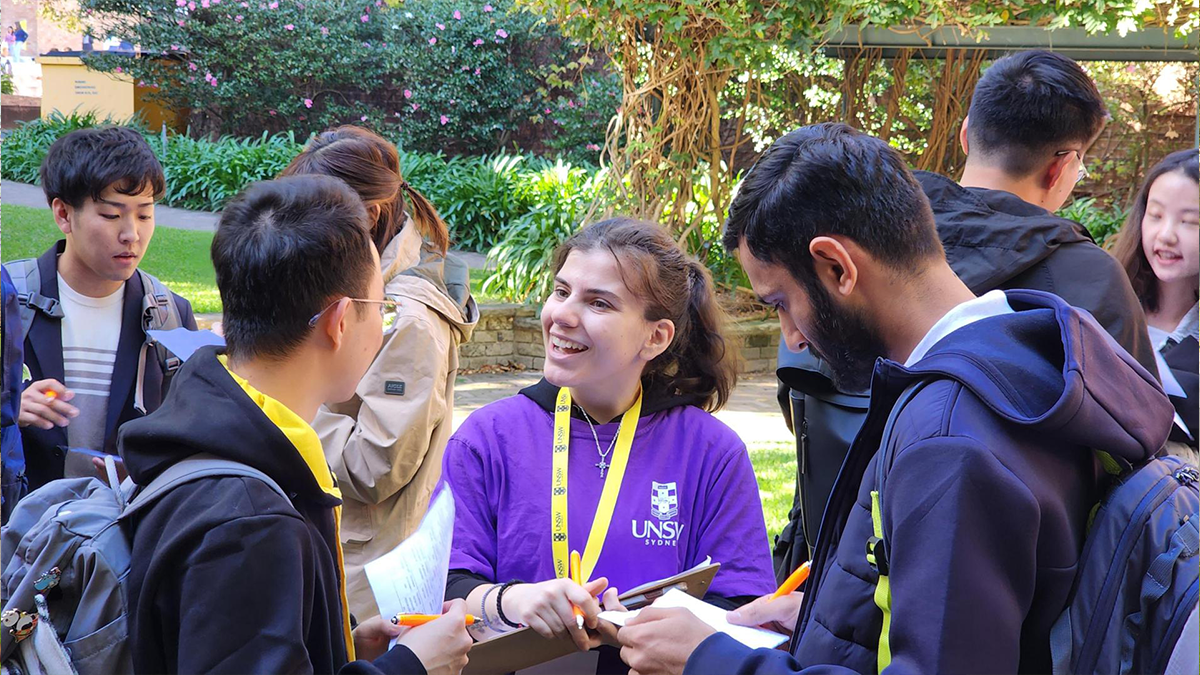 Term 2 kicked off with Welcome to Country and Smoking Ceremony on Globe Lawn.
Since the UNSW Kensington campus is on Bidgigal lands, term started with a Welcome to Country. This was carried out by the traditional custodians, elders from the La Perouse community, in collaboration with Nura Gili. Following Aunty Yvonne Simms' welcome on Monday, attendees also shared in a Smoking Ceremony by Uncle Glen Timbery.
Term 2 might not see the enrolment numbers of Term 1, but is still an important time for all new students. Helping students navigate 'uni-speak', acronyms and all the support services available, was a core theme for all centrally coordinated events and faculty welcomes. These were delivered through the collaboration of Student Life's Student Engagement, Student Support and International Compliance, with broader stakeholders such as Arc, the Nucleus, the Library, Academic Skills, Equitable Learning Services, Employability and the Moodle team.
In addition to these formal events, some faculties held welcomes with a networking event following, while others chose a more intimate 'coffee networking' approach to allow students to meet their peers and faculty.
There were also many students returning to campus-based study this term, for the first time since starting their degree. These students enjoyed meeting their peers in person and acquainting themselves with the physical campus, through the range of O-Week activities.
Term 2 O-Week boasted all the usual buzz: over 300 clubs and societies along the walkway and quad, yellow-shirt tours, speed-friending and social sport. To add to this, Arc launched their inaugural 'campus compass' initiative. These five to 15 minute consultations covered a checklist of essentials on university and life admin, and were designed to help new students feel prepared and empowered to take on student life.
Coming up next: UNSW will launch an 'Accommodation Concierge Service', which will help to support all UNSW students find safe and affordable off-campus accommodation – watch this space!
Find out more about how we support students throughout their journey at UNSW.
Comments