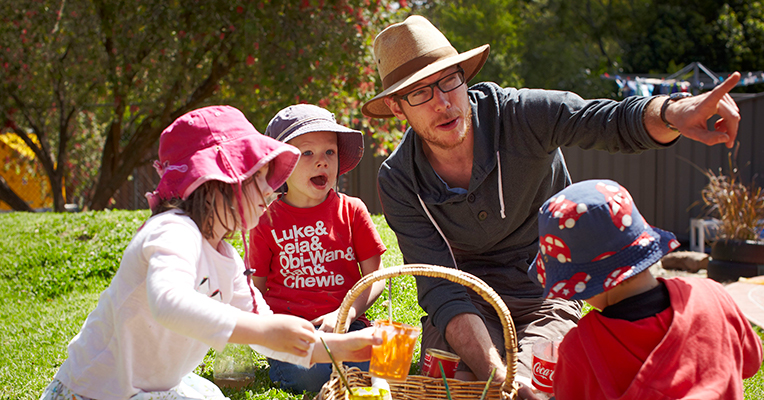 The 'Excellent' Rating
UNSW Early Years' Tigger's Honeypot has been awarded an 'Excellent' rating by the Australian Children's Education & Care Quality Authority. The Excellent rating is the highest rating an early childhood education and care service can achieve under the National Quality Framework. The awarding of the Excellent rating (only 0.35% of services across Australia are currently rated as Excellent) indicates that a service is embracing continuous quality improvement and practice, and is evolving over time to improve outcomes for children and families at the highest level. It also recognises providers who are champions of quality improvement, who are innovators and who are raising the bar on quality education and care for Australian children.
The Vision
Tigger's Honeypot shows a commitment to UNSW's 2025 strategic vision of being global, improving and transforming lives through excellence in research, outstanding education and a commitment to advancing a just society. Tigger's Honeypot's Acting co-Director Kristina Xenos explains that "the children are citizens of now, not of the future - they have a voice now. We are committed to them." Many initiatives exemplify this vision and were noted in their submission for excellence:
Embedding Aboriginal and Torres Strait Islander perspectives into the curriculum through all activities including a Reconciliation Action Plan, yarning circles, educating through Indigenous music, storytelling, language and professional development opportunities for staff.
The T.I.M.E. (Tigger's Intergenerational Milford Enrichment) Program, where children visit a local nursing home fortnightly to develop relationships with the residents.
A commitment to social justice, with the children discussing and voting for important causes they'd like to support throughout the year and then holding organised initiatives like bake sales, clothing and canned food drives to raise money.
Advocating for diversity and inclusivity: celebrating events like Harmony Day, holding a Mardi Gras party, and discussing the diversity of families and cultures.
A commitment to our environment with a consistent focus on sustainability.
Tigger's Honeypot parent Dr Daniel Mansfield, from the School of Mathematics and Statistics, explains: "The team at Tigger's Honeypot are committed to delivering UNSW's strategic goal of educational excellence, and have earned their place amongst the most dedicated and professional staff at UNSW. As an educator at UNSW, I appreciate the importance of teaching that is founded in research and best practice. It is comforting to see that these are not just buzzwords, but are embedded in everything that we do at UNSW including early childhood education."
But, the magic happens in the everyday…
Staff at Tigger's Honeypot, and all of the services at UNSW Early Years, believe that learning happens through everyday interactions. The simple task of telling a story or singing a song "is a product of immense thought, time and care that shows deep thinking about learning outcomes and incorporates the passion of oureducators", says Madeleine Masters, an Educational Leader at the centre.
Tigger's Honeypot Educator Angeline Neville agrees. "Our work is foundational to the UNSW. You want these children to go on to school, grow up, come back as students, and eventually come back as academics. It creates a cycle of learning that impacts the entire university."
The team
The award is recognition for a team committed to exceptional education and care at Tigger's Honeypot. Under the leadership of Director Sylvia Turner (2002-2017 and currently on sabbatical), the educators at Tigger's Honeypot have spent years thinking, learning and enhancing their educational program.
Acting co-Director Julie Occhiuto reflects on the service's success: "The Excellent rating is a result of years of embedded practice. What makes Tigger's Honeypot excellent is the people: the children, the staff, the community of parents and UNSW. Everyone who has come and gone has influenced why we are doing what we are doing. They question and we evolve. We constantly look for ways to challenge and improve ourselves."
The team at Tigger's believe the continuity and commitment of staff influences their success. They incorporate professional development, show leadership in the field of early childhood education, come from diverse backgrounds and education, and share a passion for education.
UNSW Early Years
Tigger's Honeypot, with House at Pooh Corner, Kanga's House, and Owl's House, make up UNSW Early Years. The program at Tigger's Honeypot exemplifies what goes on daily, and often quietly, at all four of the centres: commitment to early education and integrating that education into a wider framework that promotes social justice, sustainability, inclusivity, acknowledgement of the Indigenous perspective and community involvement.
David Ward, Vice-President, Human Resources, acknowledges the high-quality commitment of UNSW Early Years' four education and care services. "They are exceptionally committed to the children, UNSW, and our greater community. The team works tirelessly to provide innovative and reflective programming, leadership, and inclusive practices. I'm proud to recognise the commitment of Tigger's Honeypot as well as the commitment of all our services across UNSW."
UNSW Early Years provides high quality education and care to UNSW staff, students and a small number of community families. There are currently some vacancies across Early Years, including a limited number of vacancies for children aged under two years.
UNSW Early Years encourages staff and students to enrol and/or maintain their place on the waitlist to take advantage of opportunities for care as they arise. To find out more visit earlyyears.unsw.edu.au. To join or update a waitlist status visit mywaitlist.com.au.
Comments