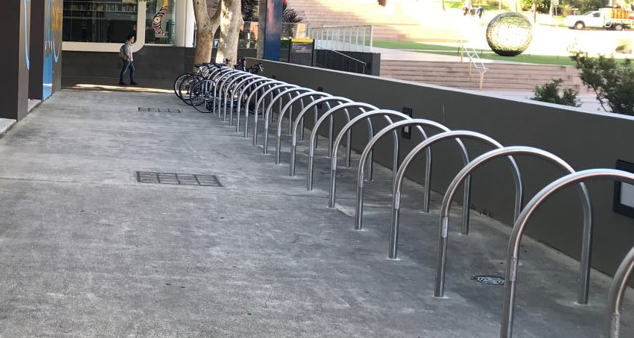 This month, Estate Management is improving facilities for cyclists at Kensington Campus to make it easier than ever to cycle to UNSW.  
UNSW's first secure bicycle shed is currently under construction, and bike racks are being improved as part of delivering outcomes from the 2017 Bike Masterplan. 
The bike shed is located on Engineering Road, beside the Barker Street car park, Kensington Campus. The new facility will have a capacity for 35 bikes, 62 lockers, a changeroom and repair station. CCTV will be installed on site and registered users will be able to access the facility using their student/staff ID cards.  
Across Kensington Campus old triangle bike racks are being replaced with new U-racks, which are compliant with Australian standards as they allow the bicycle frame and both wheels to be locked. The additional 90 bike spaces added will bring the total to over 1000! 
 "Travelling to UNSW on your bike or by foot is the most sustainable way to get here and contributes to better health and wellbeing. Estate Management is committed to making cycling more accessible to encourage this type of travel," said Ms Sancha Cromie, (Acting) Executive Director of Estate Management at UNSW.  
The campus improvements build on positive changes made in 2018. Last year six bike repair stations were installed and bike parking capacity was increased by 104 new spaces.  
The new facilities for cyclists also contribute to UNSW's target to increase active commuting by students and staff to 20% by 2022, set out in the Environmental Sustainability Plan 2019-21. 
So, why not try cycling to work on Wednesday 16 October - National Ride 2 Work Day. It's one of the easiest and most time-efficient ways to fit exercise into a daily routine, and as an added perk on the day, you can join your fellow cyclists from 8am – 10am outside The Whitehouse for a healthy breakfast and some bike maintenance tips from Arc's Bikeology student volunteers. 
End of trip facilities such as showers, repair stations and bike rack locations are shown here.  
Work details 
Bicycle racks are being upgraded until Friday 18 October 2019. You may need to change where you lock up your bike for a day or two until then.  
The secure bike shed is under construction until Monday 21 October 2019. Details on how to register for the use of the facility will be provided closer to the completion date. 
Comments