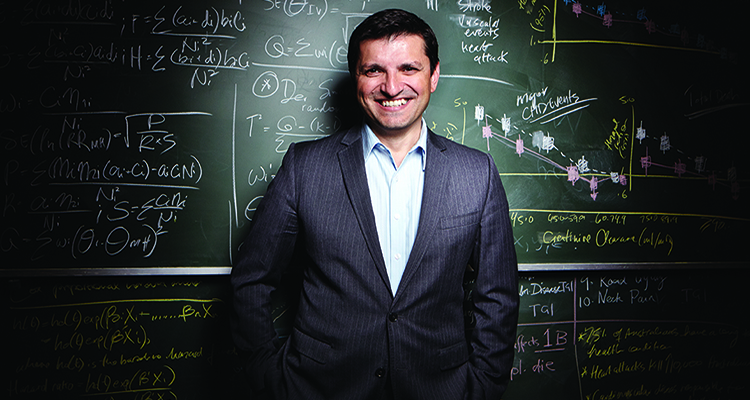 UNSW welcomes Professor Vlado Perkovic as the new Dean of the Faculty of Medicine commencing in October. 
It was an eleventh-hour change of university preference that led Professor Vlado Perkovic to a career in medicine. That change would eventually see him become one of Australia's top kidney disease specialists, leading some of the world's largest clinical trials in the treatment and prevention of kidney failure and its many complications.  
"After graduating from high school, I applied to do a combined Science/Law degree," says Professor Perkovic. "I've always loved science, but I also enjoy the human element, the personal connection. How science affects people's lives. And I realised that a career in medicine would give me a combination of the two."  
The pivotal application switch to study medicine led to a quick succession of achievements: a bachelor's degree; specialist training and a PhD from the University of Melbourne; positions as a nephrologist and general physician at some of Australia's leading hospitals; and leader of large-scale clinical trials at major medical institutes. 
In October – after more than two decades in research and leadership positions at The George Institute for Global Health – Professor Perkovic will take up the role of Dean of Medicine at UNSW Sydney.  
He succeeds Professor Rodney Phillips, who will move to the new role of Pro Vice-Chancellor, Health within the Division of Enterprise at UNSW, after four and a half years leading the Faculty. 
"This is a challenging and exciting time to take on the role of Dean," says Professor Perkovic. "The role will offer many opportunities to make a difference to people's health and how we train the doctors of the future. Some of the massive global challenges that we're facing in health and in education – from the epidemic of obesity to the need to manage large numbers of comorbidities as people live longer – create enormous possibilities to make a real impact." 
After training as a general physician in internal medicine and specialising in nephrology at the Royal Melbourne Hospital - "I loved hospital pace, but it was long hours and constant on-call" – Professor Perkovic was pulled toward a career in medical research. He has since published more than 200 peer-reviewed papers, which have produced major findings identifying better ways to prevent and treat kidney disease, including multiple clinical trials and meta-analyses.  
Following his PhD in 2005, he relocated to Sydney to take a senior position at The George Institute and lead international trials that have made fundamental advances in the field and changed global treatment guidelines for kidney disease. He was appointed Executive Director of The George Institute and Professor of Medicine at the University of Sydney in 2012, Professor of Medicine at UNSW in 2017 and played a central role in developing an affordable dialysis system, which was a Eureka Prize finalist in 2017. Leading the 2019 CREDENCE trial, an international study that discovered a treatment that reduced kidney failure rates by a third, was one of the major highlights of his career, he said. 
"Clinical trials are the best way of proving what works in medicine. Being a part of a trial that is lifesaving for millions of people around the world has been a privilege. It really helped me develop a leadership role globally, suddenly we could achieve benefits that were beyond my wildest hopes." 
President and Vice-Chancellor of UNSW Sydney, Professor Ian Jacobs, congratulated Professor Perkovic on the new appointment and highlighted Professor Perkovic's breadth of experience in leadership roles.  
"Professor Perkovic is one of the nation's top kidney disease experts and a leader in translating high impact research into outcomes for patients that have had major effect on the lives of people around the world," Professor Jacobs said. 
Professor Jacobs acknowledged the quality of the work of Professor Phillips in leading the Faculty for almost five years. 
"UNSW Medicine is one of the world's top medical faculties and our students, clinicians and researchers have prospered under Professor Phillips' leadership. I am grateful to Professor Phillips for his stellar contribution which includes bringing the George to UNSW and assisting with plans for our Randwick Health and Education Precinct. I am delighted that he will continue at UNSW in the role of PVC Health with particular responsibility for the new precinct."  
For a full biography of Professor Perkovic, go to the UNSW Medicine website.  
Comments