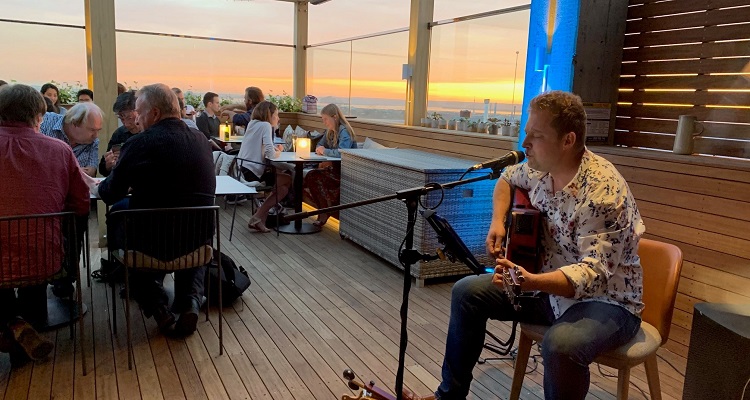 From sunset music sessions to a seasonal spring menu, guests have been treated to a new way of dining at The Lounge, this Spring.  
Fresh and New 
September saw the introduction of a brand-new, month-long lunch and dinner à la carte menu. All dishes are individually priced, allowing for more choice across a range of dining times. The new menu is created from spring season produce, consolidating The Lounge's commitment to the principles of sustainability, local produce and fresh seasonal ingredients.
Notable additions to the menu include homemade sweet and savoury scones, available for morning and afternoon tea every day, and a cake(s) of the day. Cocktail Hour also got more inviting with Ceylon LongLeaf Tea-based vodka cocktails served with four chef's canapes; the cocktails and canapés are available nightly from 4pm.  
Complimenting the Lounge Team on the new changes, UNSW staff member Margo Baas said: "The Lounge is such a fabulous space on campus and it's great to see the team continually adjusting their offerings and service based on feedback from guests like me. I recently took a friend, who was visiting from Charles Darwin University, to The Lounge and she was blown away by the food and ambience." 
Sunset Sessions 
It's no secret that Friday evenings at The Lounge are a crowd favourite. Rounding up the week with Friday night drinks became even better this September thanks to Sunset Sessions - a new live music series on the terrace - every Friday from 4:30pm - 7:30pm. Featuring acoustic groups, DJs and live musicians, there are new tunes playing every week.
Up Next 
Coming up in October will be a $19 poke bowl lunch special, with a different variation available each week. The new special is perfect for those after a quick and nutritious lunch at The Lounge. 
In November, The Lounge will host the Melbourne Cup Carnival. This week-long event will include special buffet and platter menus, as well as drinks packages to celebrate the race that stops a nation.   
Visit The Lounge website to make a booking. UNSW Credit Cards are also now accepted. 
Comments