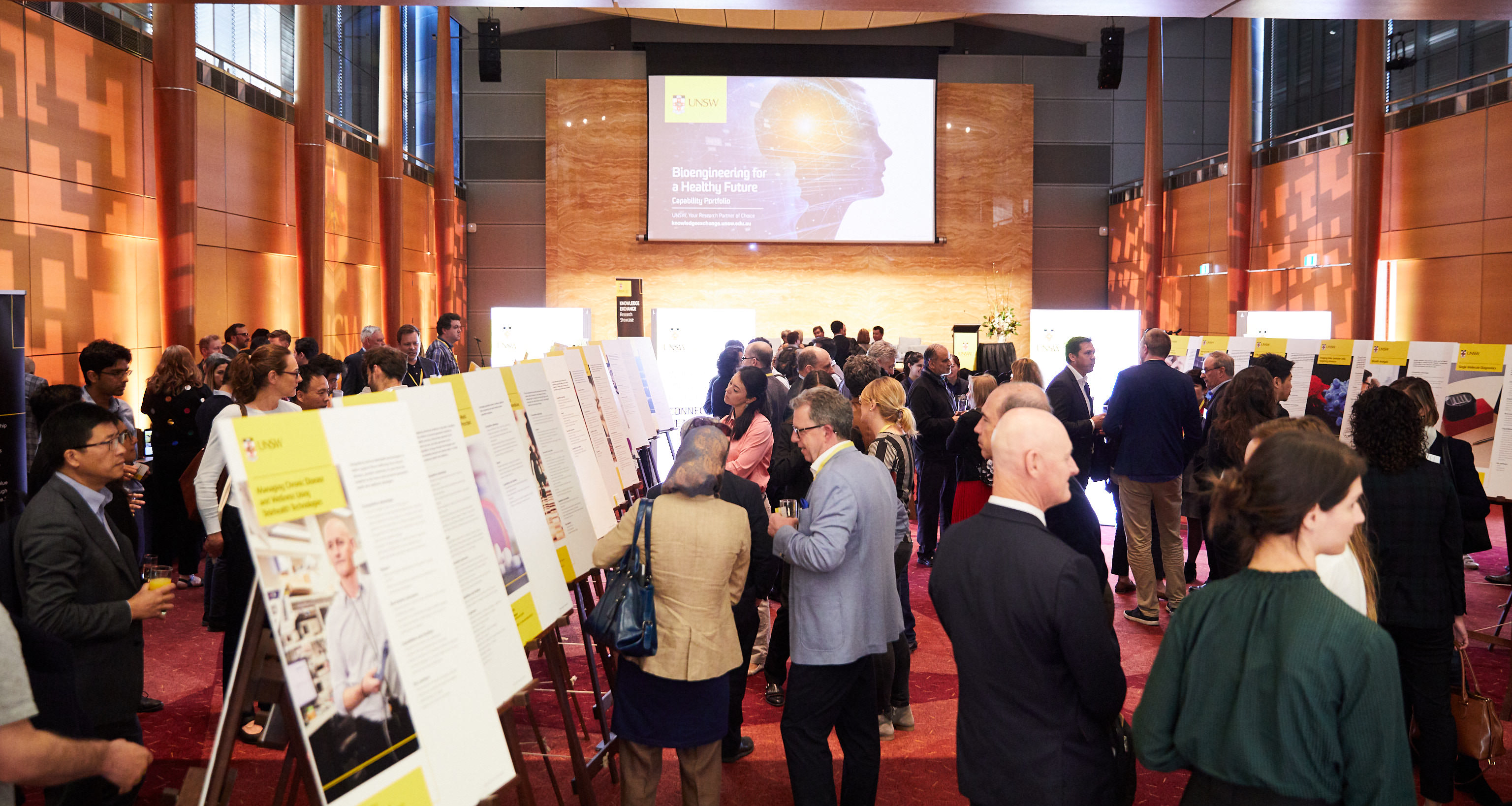 UNSW Bioengineering experts came together with current and prospective industry partners to explore how collaboration can influence positive health outcomes.   
The Knowledge Exchange research showcase event 'Bioengineering for a Healthy Future' on Tuesday 24 September featured a room full of passionate health and technology providers.  An expert panel that discussed the importance of collaboration and the critical part each group plays in innovation in the health sector.  
The Knowledge Exchange program advocates for the coming together of knowledge experts such as researchers, practitioners and clinicians and industry executives for true innovation and disruption in the Bio-engineering industry to be achieved.  
UNSW President and Vice-Chancellor, Professor Ian Jacobs noted that we need to break down barriers between the sectors and ensure we are reaching the maximum potential of our partnerships to achieve greater impact: 
"I cannot stress enough that generosity in partnerships is key to the success of collaborative ventures. We need to see that our research serves a higher purpose. With healthcare, it is easy to see that these collaborations are not merely about economic rewards," said Professor Jacobs.  
Practical steps towards commercialisation were also explored with the panel providing useful tips and advice on the key questions and criteria that should be addressed to open up new and effective research and industry partnership opportunities.  
Expertise and capabilities from UNSW's finest minds were on exhibition, marking the launch of the 'Bioengineering for a Healthy Future' Capability Portfolio. With over 60 capabilities, this portfolio highlights a wealth of UNSW's expertise across connected healthcare; bionics; bioengineered materials and technologies; and biomolecular innovations and medical imaging analytics. 
Download the Bioengineering for a Healthy Future capability portfolio here.  
What's next? 
Join us for the next Knowledge Exchange research showcase, Defence R&D: An Instrument of National Power, on Friday 11 October. This next showcase will explore and examine our world-leading defence-related capabilities and how these can be used as an instrument of national power and deliver transforming and enduring impact.  
Invite your SME industry partners, defence force personnel and government policy maker contacts.  Help UNSW translate our knowledge into real and lasting impact.  
When: 9.30am to 12.30pm, Friday 11 October 
Where: Leighton Hall, John Niland Scientia Building, UNSW Kensington Campus 
Register now 
Comments