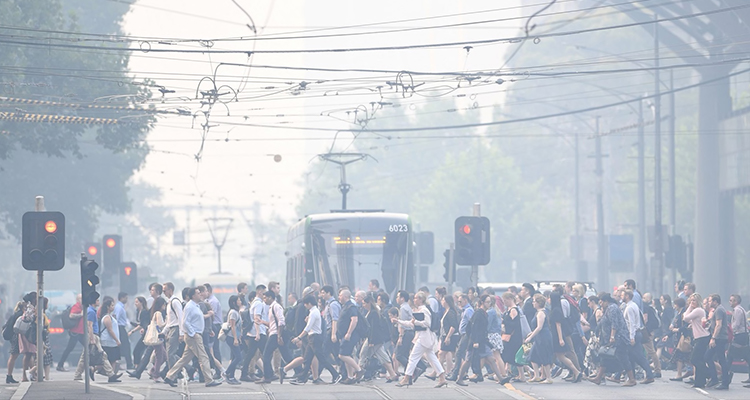 Human activity is now the dominant influence on climate and the environment, with monumental consequences for safety, health, welfare, ecological services and economic activity. 
The current catastrophic Australian summer bushfire season is clear evidence of the fact that we are now living in the Anthropocene era. 
Our next Grand Challenge will position UNSW at the forefront of Anthropocene thinking, and we now seek an Academic Lead to curate a program on how humanity, Australia, and the University might not only survive but thrive in this new era of our own making.  
How do we thrive, not merely survive, in the Anthropocene? 
Right now, humanity faces a stark choice between four possible futures. Continue as we have done, and we face the certain tragedy of societal collapse. With technology and creativity, perhaps we – or at least the tech billionaires – might transcend our problems with the bang of interplanetary colonisation, or the whimper of transhumanism. Alternatively, we can choose the 'hard way', mustering far-sightedness, clear thinking, innovation, and collective will to flourish despite unprecedented change.  
The 'hard way' scenario of human and ecological thriving on planet Earth requires far greater vision and creative impetus than the supposedly visionary quest of colonising Mars. It demands true commitment to environmental sustainability and social justice, and constitutes by far the most equitable, sustainable and optimistic of the four paths. This will involve both doing everything possible to arrest climate change and environmental damage and, at the same time, finding new ways for humans, ecosystems, agriculture and economies to flourish and adapt. 
Thriving in the Anthropocene will be the seventh UNSW Grand Challenge and will run from April 2020 to April 2022. Previous UNSW Grand Challenges were Climate Change; Refugees and Migrants; Inequality; Living with 21st Century Technology; and, currently, Rapid Urbanisation; and Trust. 
Leading the Grand Challenge on Thriving in the Anthropocene 
The Academic Lead will shape and, by working with the UNSW community and outside organisations, populate the Grand Challenge with activity for the two-year life cycle. The role offers an opportunity for an engaged and collaborative academic to bring together new, diverse, multi-disciplinary teams to develop creative and visionary ideas. They will curate a program of activities such as workshops, policy development, and, in collaboration with the Centre for Ideas, high-profile events. 
The role is a two-year voluntary position and provides opportunities to enhance academic promotion and a platform to raise academic and public profile. 
For more information and to submit an expression of interest, please visit the Grand Challenge on Thriving in the Anthropocene webpage. If you have ideas for activities please email grand.challenges@unsw.edu.au.  
Expressions of interest close on Friday 21 February 2020. 
Comments