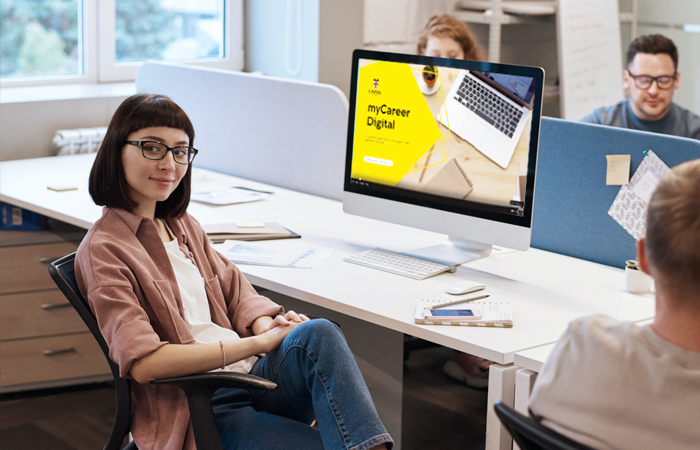 The new myCareer digital platform is simple, intuitive and collaborative.
Since 2017, myCareer has transformed the University strategy into tangible individual development and performance conversations with UNSW staff. We are now bringing the myCareer process online, hosted within Microsoft Teams.
Watch a brief overview of the myCareer digital platform.
This year will be a transition year for myCareer digital:
myCareer digital is now available to all permanent and fixed-term staff. We encourage staff and leaders to use it for their 2023 'Year Ahead' conversations.

If a paper-based plan has already been created for 2023, you can transition to myCareer digital at the end of the year, ready for 2024. It can also be transcribed to the digital myCareer system by an individual user.

New starters will be expected to use the digital system. Paper forms will no longer be available once the digital system is launched.

Any Faculty or Division specific requirements will be communicated by the local HR Business Partnering team.

During this transition year, feedback will inform improvements and enhancements to myCareer digital.
What does the online process look like?
The myCareer digital process will be streamlined, with the ability to easily copy and edit plans and more easily store them. There will also be greater transparency and reporting around completion.
Employees will have easy access to appropriate frameworks like the Academic Expectations Framework, the Values in Action, and information around Safety Strategy | Safety (unsw.edu.au) and Education Focused Roles embedded within the platform.
The process is similar to the existing one:
The focus remains on the quality of conversations around career and task goals, as well as ongoing progress throughout the year.

Key myCareer process timings haven't changed. 

Plans are still only visible to each individual, their manager, the HR team and more senior leaders within the same reporting structure on request.
There will be online workshops during February, March and April 2023 about how to use myCareer digital for the Year Ahead process. Workshops will also be offered at the other key conversation points: Mid-Year, Self-Assessment, Year End.
As some of the resources and the myCareer plan are different for academic and professional individuals and leaders, there will be separate workshops for the groups.
All staff will be invited to these workshops which will run regularly. A Faculty or Division can request a tailored session if needed.
Visit the new myCareer SharePoint page for more information, including support and training, or contact your local HR Business Partnering Team.
Comments