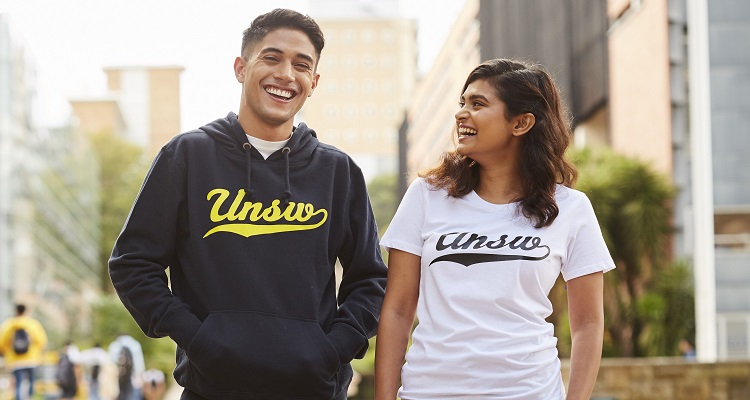 Our new merchandise offering has something for everyone. 
UNSW has undergone a merchandise transformation to become more on-trend, accessible and reflect where we study and work.
This merchandise transformation is a result of a collaboration between Creative Services (External Relations), UNSW Merchandising (Business & Campus Services). It comes after months of research into similar programs at international and domestic institutions and in consultation with key audiences. This pointed to a significant opportunity to grow UNSW's merchandising program by broadening our offerings through the introduction of new and exciting design elements that talk to all UNSW cohorts.
"Congratulations to the team that's worked together on our inspiring new UNSW merchandise. The range features two special UNSW symbols: the lion from our coat of arms and our very own 'Tree of Knowledge' on campus, the iconic Scientia Building," said Fiona Docherty, Vice-President of External Relations.
"The merchandising of university products has been an important instrument for promoting and building connections with universities across the globe," said Director of Business & Campus Services, Stephen Wong.
"We are establishing a best-in-class merchandising program by working with the UNSW community, retailers and suppliers to ensure that the UNSW brand and its vision is protected and promoted. We want students to wear the UNSW brand with pride," he said.
The new UNSW branded products are stylish, affordable and created with sustainability in mind. Launching alongside the new merchandise is an exciting range of products for corporate gifts. The products are available to all UNSW employees for business related gifts, visiting guests, dignitaries and for overseas visits.
"The feedback from our students has been really positive, so look out for items such as hoodies, water bottles and keep cups appearing in classrooms and offices in the coming weeks," said Ms Docherty. 
UNSW Merchandising is always looking to expand existing ranges with new and exciting products. Students, staff and businesses are encouraged to contact the team with ideas or for any specific product requirements for events or promotions. 
To find out more about UNSW Merchandising and to purchase gifts, please visit their newly launched merchandise website.
Comments