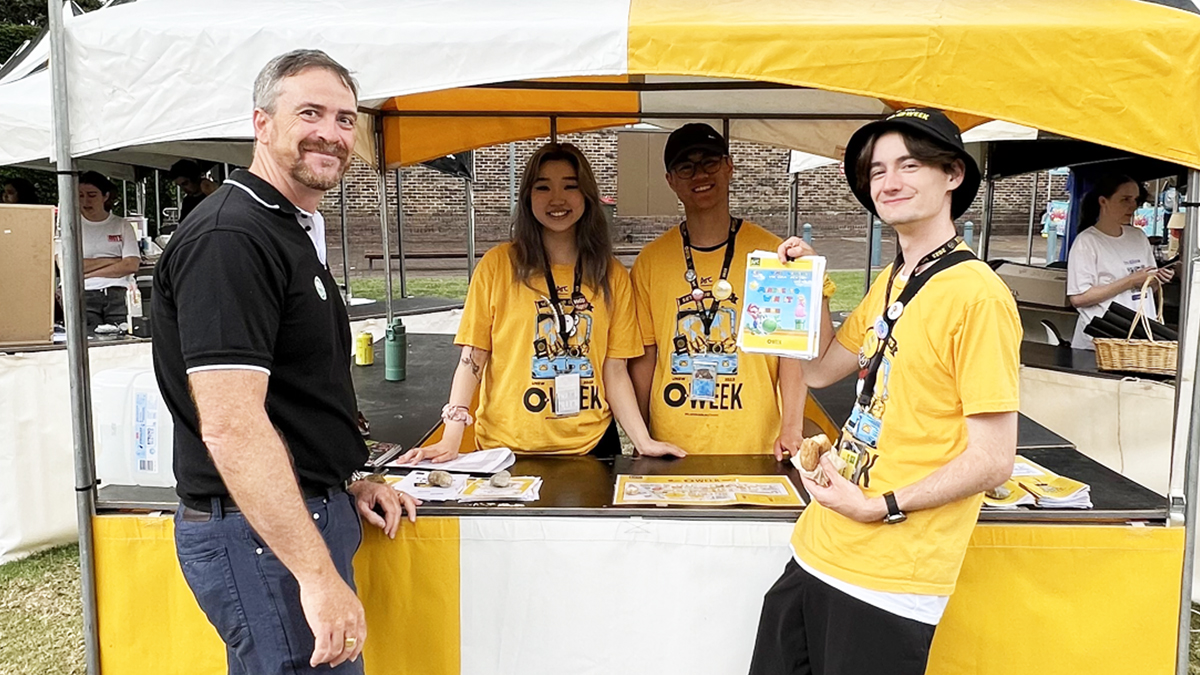 Dear colleagues
Isn't it wonderful to see so many students in person, their enthusiasm and energy infectious as we begin the academic year? O-Week was an absolute cracker, with more than 7500 students attending the wide variety of events staged all around campus. And yes, it included great coffee, top doughnuts and even better company. Congratulations and thank you to everyone who made O-Week such a success. Read on for my insights into a fun-filled few days.
O-Week wraps, participants (like me) rapt!
One of the best things about O-Week was getting to meet students and staff, like these two wonderful colleagues from Estate Management's General Services Team (pictured below). The team's dedication and laser focus on hygiene that kept us safe during COVID are back, currently doing a stellar job working behind the scenes to ensure our campus is such an appealing and welcoming place to study and work.
I enjoyed being immersed in the lively atmosphere during the week and seeing the students, many experiencing university life for the first time, do the same. The excitement was palpable, as students packed University Mall, the Quad, Library Lawn and other parts of campus, visiting the market stalls, enjoying the entertainment and making new friends. From the famous doughnuts I mentioned earlier, to the free hoodies, and the hundreds of clubs and societies welcoming new members, there really was something for everyone.
Congratulations and a huge thank you again to Arc and all the volunteers, students and staff who created such a vibrant O-Week program and a wonderful start to 2023! Read the O-Week wrap.  
Forthcoming updates from Human Resources 
We will be writing to all staff shortly to provide an important update on a range of HR operational matters. Please take the time to read this information because it relates to all our staff and will drive improvements in the way we operate as an organisation.
Understanding our entitlements, obligations and the processes and procedures that apply to each of us is an element in ensuring the success of these improvements. I greatly appreciate your support in these matters.
UNSW named most employable university for the fourth year running
I am delighted to share that UNSW Sydney was named 'AFR Most Employable University' for the fourth consecutive year at the 2023 Top100 Future Leaders Awards, with 33 students named as most employable. It's wonderful to see these students recognised for their leadership and potential and I hope they are rightly proud of this great achievement.
Our recognition as Australia's most employable university once again speaks to the focus we place on equipping our students with the knowledge and skills employers value and the ability to utilise those skills in complex environments. We want to maximise our graduates' employability by providing the foundation of critical thinking, creativity and system problem solving that's vital to succeed in a world of multiple careers and the increasing prevalence of AI and robotics. This result reflects our strength in providing this important foundation.
Sun shines on solar pioneers
Congratulations to Scientia Professor Martin Green and his three former PhD students who were awarded the Queen Elizabeth Prize for Engineering 2023.
This is yet another stellar international prize for Martin, who, with his fellow researchers Professor Andrew Blakers from ANU and solar entrepreneurs Dr Aihua Wang and Dr Jianhua Zhao, received this prize for their pioneering work developing Passivated Emitter and Rear Cell (PERC) solar photovoltaic technology – a watershed in efficiency and cost for solar electricity. PERC technology is now the most commercially viable silicon solar cell technology used in solar panels and large-scale electricity production. It accounts for almost 90 per cent of the global solar cell market.
It is little wonder Martin has been called "The Father of Modern Photovoltaics", having been a vanguard in photovoltaic solar cell research and technology for 40 years. Martin and his colleagues' work to address climate change is invaluable as our planet demands transition to renewable, sustainable energy sources.
Türkiye and Syria earthquakes: support for people affected
Like many of you, I have been very distressed by the catastrophic earthquakes in Türkiye and Syria and the devastating loss of life.
UNSW has a range of support services available if you need to speak to someone during this difficult time.
Thank you to those who organised and attended the Turkish Society's fundraiser on the Library Lawn on Friday. The wonders of gözleme and baklava awaited generous supporters, along with the opportunity to connect with friends and share experiences. Camaraderie is invaluable at these times.
On behalf of the UNSW community, I express my heartfelt sympathy and concern for our students, staff and colleagues from Türkiye and Syria who have family and friends in the affected region.
There's plenty more Inside UNSW…
Colleagues, I wish you an enjoyable second week of term and I hope to see you out and about at some of the Welcome Back to Campus events running until early March.
Best regards
Attila
Professor Attila Brungs
Vice-Chancellor and President
Comments