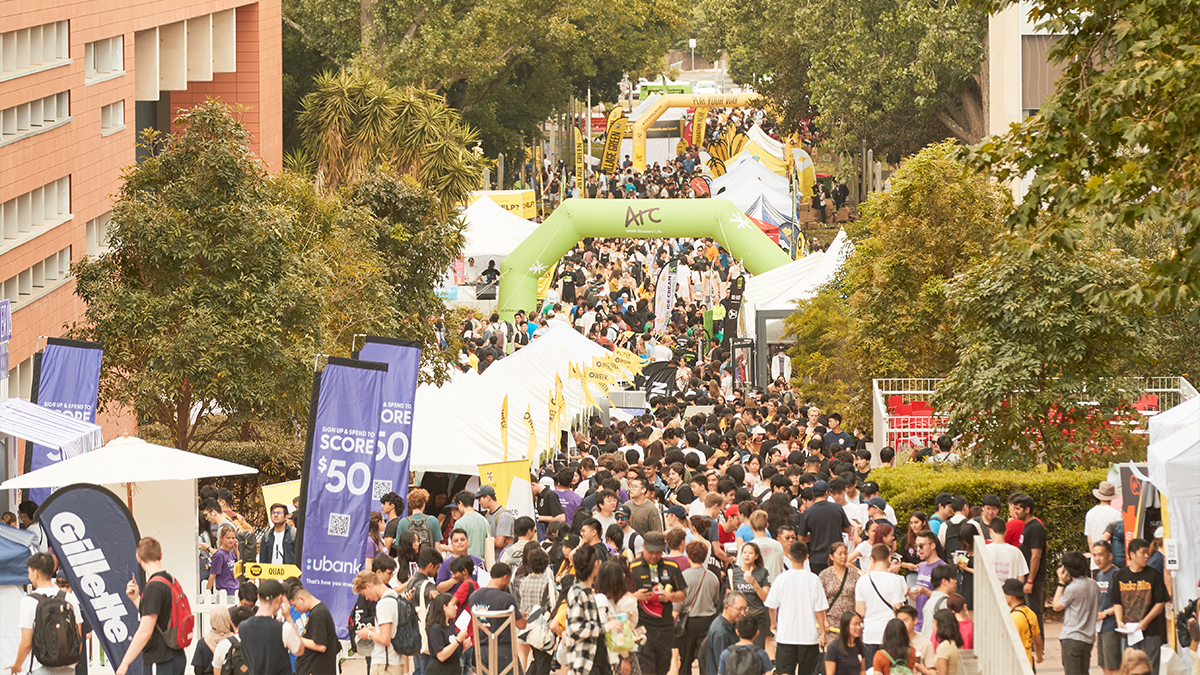 Kicking off 2023, thousands of students enjoyed experiencing our campuses again.
It was impossible not to feel the energy and excitement from the very first day of O-Week, as domestic and international students flocked to the Kensington campus during the second week of February.
From the University Mall through to the Quad, Library Lawn and the Nucleus Student Hub, students chatted and connected with clubs, societies and each other. They collected freebies and food, stopped by the Commerce Courtyard to pick up their 2023 student hoodies and were guided around campus by the amazing Arc Yellow Shirt volunteers.
Beautiful weather meant the first of the official events on Monday morning, the Welcome to Country, returned to the Globe Lawn adjacent to Nura Gili. It was delivered by Aunty Yvonne Simms, a Bedegal Traditional Land Owner from the La Perouse community. Uncle Glen Timbery's voice echoed through the campus, drawing a crowd to join the Smoking Ceremony and to enjoy the Gamay Dancers' performance, which concluded this moving event.  
With more than 7500 students attending the on-campus program, the Clancy Auditorium was bursting at the seams for the various welcome events, in some cases even spilling into overflow venues. Students gathered insights and anecdotes from senior leaders of the University and received intel on how to start their university journey. They were introduced to the wide range of academic and extracurricular opportunities, told where to find support and how to make the most of all UNSW has to offer.
Each of these welcomes was offered virtually, to support international students who hadn't yet made it back to campus. These online events also included virtual Community Connect (or speed-friending) to help students establish their UNSW network from afar.
With such a dynamic start to the term and the year, we're excited to see what 2023 and a campus full of students brings! A huge thank you and congratulations goes out to all collaborators, staff, students and volunteers on the design and delivery of a stellar O-Week, T1 2023.
Comments