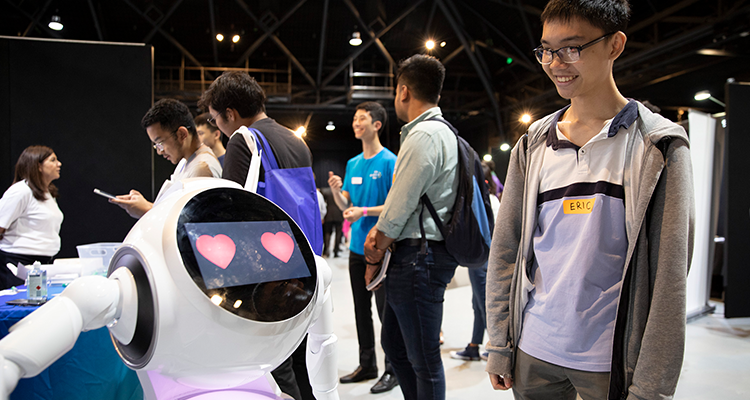 The Australian Association of Graduate Employers (AAGE) has awarded UNSW Sydney the Best Career Service in Australia at the 2021 Australian Graduate Recruitment Industry Awards (AGRIAs).
AAGE is the peak industry body representing organisations that recruit and develop Australian graduates. The award is based on the votes of around 300 employer members and recognises outstanding people and organisations that are leaders in the field of graduate recruitment.
"Employability is our top priority because it determines the reach and relevance of our graduates in a competitive global labour market," said Vanessa Bakhos, Manager UNSW Careers. "It is humbling to be recognised as the most popular career service in 2021. This award is evidence of the commitment UNSW Employability has to developing knowledgable and problem-solving graduates who are work ready."
The award follows a year-long process of total transformation and redesign of the UNSW Employability journey with several new flagship programs introduced:
The Career Discovery Mentoring Program (CDMP) paired almost 500 UNSW students with alumni mentors in Term 3 2021 alone

The Launch Your Career series provides industry and sector specific networking opportunities in Commerce and Technology, Education and Government, Life and Health Science, and Creative Industries

The CDEV3000/6100 interdisciplinary work-integrated-learning suite enables undergraduate and postgraduate students to work in multi-faculty teams to solve real-world problems from leading community, government, and industry organisations worldwide.
"I am thrilled that the team has received this incredible recognition from leading industry employers after having worked with great enthusiasm and drive to redesign the employability experience at UNSW to be forward-thinking and sector-leading," said James Meade, Head of Employability. "The whole team is also very excited to be launching our new strategic vision and roadmap for employability at UNSW in February 2022 after a successful year road-testing a range of new initiatives and programs that have caught the attention of students, colleagues, and industry employers and partners."
Associate Professor Leanne Piggott, Director of Experience added: "The UNSW Employability group is really taking the lead in the Australian higher education sector to completely rethink and redesign what a top university can provide to its students to prepare them for their graduate futures in a holistic and integrated way. This is a key part of our new Student Experience strategy that will position UNSW as the gold standard for educational excellence and student satisfaction in the region.
Comments