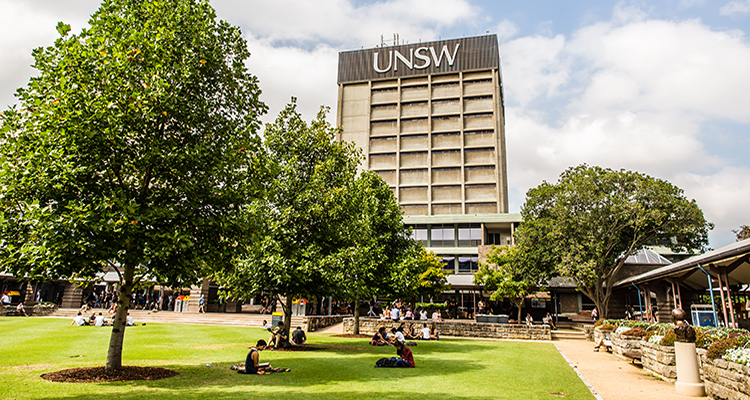 Dear colleagues
Global news in recent days has rightly been dominated by the COP26 Climate Summit in Glasgow. There are many voices pointing out that we are running out of time to 'Keep 1.5 alive' and that in that context the progress at COP26 is underwhelming. This is disappointing to those who have been following the science. Just as our society has benefitted greatly from leaders' reliance on research and evidence in response to the pandemic, there are tremendous opportunities for governments globally to join forces with climate experts to assure a liveable world into the future. As Professor Matthew England points out today: "We need to decarbonise the economy – for our safety and our future prosperity".
We are privileged at UNSW to have a great depth of expertise in climate research, environmental science, renewable energy and sustainability. These credentials are at the heart of projects and programs we have pursued over decades to advance technology and build our knowledge so we can provide robust policy advice on climate change and help stem its catastrophic potential. We have taken many steps including achieving net zero emissions from energy use on campus, committing to moving away from investment in fossil fuels by 2025 and forming the International Universities Climate Alliance.
Australia has the potential to be at the forefront of climate action and UNSW will continue to embrace further opportunities for bold partnerships with other universities, industry and government to achieve this noble goal. Through collaboration; concerted, systemic investment in research and development; and by listening to world-leading experts, there is time to avoid the worst impacts of climate change – if we act decisively and without delay.
I encourage you to read the range of articles in this week's Inside UNSW about the significance of COP26 and the challenge and opportunity that faces us all:
Thank you to all at UNSW who are committed to addressing this crisis. We know the time to act is now.
An invitation: the International Universities Climate Alliance's climate change survey
You have an opportunity to complete a 15-minute online climate change survey to help the UNSW-led International Universities Climate Alliance gain a better understanding of global attitudes to this critical issue. Through the survey, the Climate Alliance hopes to glean insights for future research and build an engaged, global community of 'climate influencers' and aid in pursuing its mission: "To share the latest climate research with the public and enable greater collaboration between leading research teams, supporting global leaders, policy makers and industry in planning for and responding to climate change."
I encourage you to share your views and contribute to the Alliance's work in advancing understanding and informing crucial action.
Professor Veena Sahajwalla nominated for NSW Australian of the Year
Scientia Professor Veena Sahajwalla's nomination as NSW Australian of the Year 2022 is well deserved. Veena is a pioneer in researching ways to turn waste into green materials and products. In 2008, Veena founded the UNSW Centre for Sustainable Materials Research and Technology – SMaRT@UNSW – and is an internationally recognised materials scientist, engineer and inventor who is creating a revolution in recycling science.
Veena's invention of a 'green' steelmaking process, in which waste tyres otherwise destined for landfill are used as a partial replacement for coke, and her MICROfactorie model, through which waste is turned into value, are wonderful examples of her passion for the circular economy and sustainability. You can read more about Veena's work and nomination on the Australian of the Year website.
The NSW award recipients will be announced next Monday, 15 November. They will join the other state and territory recipients as finalists for the national awards, which will be announced on 25 January 2022. Warm wishes to Veena for the next stage of these prestigious honours.
Fine fellows elected to the Academy of Social Sciences in Australia and the Academy of Health and Medical Sciences
Congratulations to our UNSW colleagues who have been elected to the Academy of Social Sciences in Australia (ASSA) and the Australian Academy of Health and Medical Sciences (AAHMS).
Three UNSW academics are among 29 of Australia's top medical and health researchers elected as Fellows of the Australian Academy of Health and Medical Sciences, in recognition of their outstanding contributions to health and medical research:
Scientia Professor Kaarin Anstey from UNSW Science, Australian Research Council (ARC) Laureate Fellow, and Director of the UNSW Ageing Futures Institute, was recognised for her leadership in the field of cognitive ageing and dementia.
Professor Rebeca Guy of the Kirby Institute was elected fellow of AAHMS for her work on reducing HIV and sexually transmitted infections in Australia and the Asia-Pacific. 
Professor Christine Jenkins AM, Head of the Respiratory Group at The George Institute for Global Health and Professor of Respiratory Medicine at UNSW Medicine & Health, was recognised for her contribution to lung health research.
Five UNSW academics are among the 37 elected as Fellows of the Academy of Social Sciences in Australia for their sustained and internationally distinguished contributions to their fields.
Professor Frederik Anseel, Senior Deputy Dean (Research & Enterprise), UNSW Business School.
Professor Bernard Balleine, School of Psychology, Director, Behavioural Neuroscience Laboratory, Brain & Mind Research Institute.
Professor Michael Farrell, Director, Faculty of Medicine, National Drug and Alcohol Research Centre.
Professor Bronwen Morgan, Professor of Law, School of Law, Society and Criminology.
Professor Alison Ritter, Director, Drug Policy Modelling Program, National Drug and Alcohol Research Centre.
UNSW Employability 'Most Popular Careers Service' in Graduate Recruitment Industry Awards
I am delighted to share news of a top achievement in the Australian Association of Graduate Employers' recent Graduate Recruitment Industry Awards, which were announced at the association's virtual conference. UNSW Employability received the award for Most Popular Careers Service, as voted by employers who have used the service. This award is well-deserved recognition for members of the UNSW Employability Team, who continue to display unrivalled commitment to empowering our students with employability skills, preparing them for the world of work and connecting employers with talented candidates from UNSW. Congratulations on this award.
Strong performance in THE World University Rankings 2022 by Subject
UNSW has strengthened our position as Australia's top engineering and technology university in the Times Higher Education World University Rankings 2022 by Subject, moving up two places for engineering and technology, to equal 46th in the world. This strong result is accompanied by our impressive showing in psychology, up five global places to 29 and second in Australia; law at 24th internationally and also second in Australia; computer science at 65 in the world and third nationally; and business & economics up two places to 55th globally and fourth in Australia. UNSW continues to perform well in such global indicators, which demonstrate the strength of our expertise and commitment to excellence. You can read more about our achievements in these rankings by subject in this article.
UNSW's new Exemplary Teaching Practice Awards
Across our University there is exemplary teaching practice taking place. To identify, celebrate and share some of these practices, our Scientia Education Academy has established the new Exemplary Teaching Practice Awards. In addition to recognising the brilliant work of our educators, an outcome of the awards will be creating a 'Teaching News You Can Use' online repository of short videos to assist in tackling common teaching challenges – online as well as face-to-face. Everyone who teaches at UNSW, including combined track and Education Focussed academics, tutors and demonstrators, as well as sessional and professional staff, is eligible to apply for the awards. It is a simple process, but applications do close at 5pm this Thursday, 11 November.
Scientia Professor Sven Rogge – our new Pro Vice-Chancellor (Research)
I congratulate Scientia Professor Sven Rogge on his appointment as Pro Vice-Chancellor (Research). Sven, an internationally recognised expert in the field of condensed matter physics and quantum information science, has strong credentials as a leader in academic research and administration and will be an asset to furthering the strategic priorities for research at UNSW. His appointment is the result of an extensive national and international search, and he comes to the position having been interim PVC Research since March this year. UNSW is fortunate to have a person of Sven's calibre in this critical role. Please join me in wishing him well.
New Executive Director at the Black Dog Institute
I extend the warm wishes of the UNSW community to Professor Samuel Harvey, the new Executive Director and Chief Scientist at the Black Dog Institute. Sam, a leading psychiatrist and workplace mental health researcher, was appointed to the position following a rigorous selection process. He has been Acting Director of the Institute for the past nine months, during a period of immense focus on mental health due to the pandemic. Sam succeeds Scientia Professor Helen Christensen, who announced earlier this year that she would step down as Executive Director, after 10 successful years in the role. Helen plans to continue her extensive research program and has accepted a Non-Executive Director role at the Institute.
Orbital overcrowding wins bragging rights with UNSW Press science writing prize
In an edition of Inside UNSW in which we are considering the state of the earth, it is interesting to think about 'orbital overcrowding' – objects taking up room in outer space. This year's UNSW Press Bragg Prize for Science Writing has been awarded to Ceridwen Dovey for her essay 'Everlasting free-fall', which addresses orbital overcrowding and the negative impacts commercial satellites have on astronomy. Ceridwen is the first writer to win the prize in consecutive years, following her win in 2020 for 'True grit', concerning 'the unexpected problems of moondust'. Her writings reflect a passion for reframing outer space environments as part of nature so that they can be protected and conserved before they become polluted.
'Everlasting free-fall' will be published along with 30 of the shortlisted entries in NewSouth's Best Australian Science Writing 2021, the annual – and only – anthology of the finest science writing in Australia. UNSW is a proud supporter of the prize and anthology, through UNSW Science. A warm congratulations to Ceridwen and to this year's runners-up.
UNSW alumnus is NSW Rhodes Scholar Elect 2022
UNSW alumnus – and elite pole vaulter! – Dr Mudith Jayasekara was last week announced the NSW Rhodes Scholar Elect for 2022. Mudith, a graduate in Doctor of Medicine and Bachelor of Medical Studies, intends to study a Master of Science in Translational Health Sciences in his first year at Oxford University. In reading of Mudith's vision to democratise surgery and to focus on preventative, pre-operative, intra-operative and post-operative care, I am reminded of the altruism that drives so many UNSW graduates, and their sincere ambition to have a positive impact on the world. I congratulate Mudith on receiving this prestigious scholarship to Oxford and I wish him well in his studies.
The Lounge reopens on Monday 22 November
Summer in Sydney is something I will miss terribly when I return to the UK, but I take solace in knowing that The Lounge will reopen on Monday 22 November, and I will be able to enjoy one or two more views from atop the Library tower before heading back to the UK.
The Lounge is a marvellous place to meet and to enjoy the company of colleagues. If you have permission to be on campus from 22 November and would like to visit The Lounge for lunch, drinks or coffee, please visit The Lounge website to make a table reservation.
I wish all our community well for these final weeks of Term 3, which has again thrown up some tremendous challenges – academic, professional and personal. Please continue to refer to our COVID-19 Resources website for information about our Return to Campus Roadmap and, finally, please take care of each other and yourselves during this last push towards the end of the year.
Best wishes, stay well
Ian
Comments