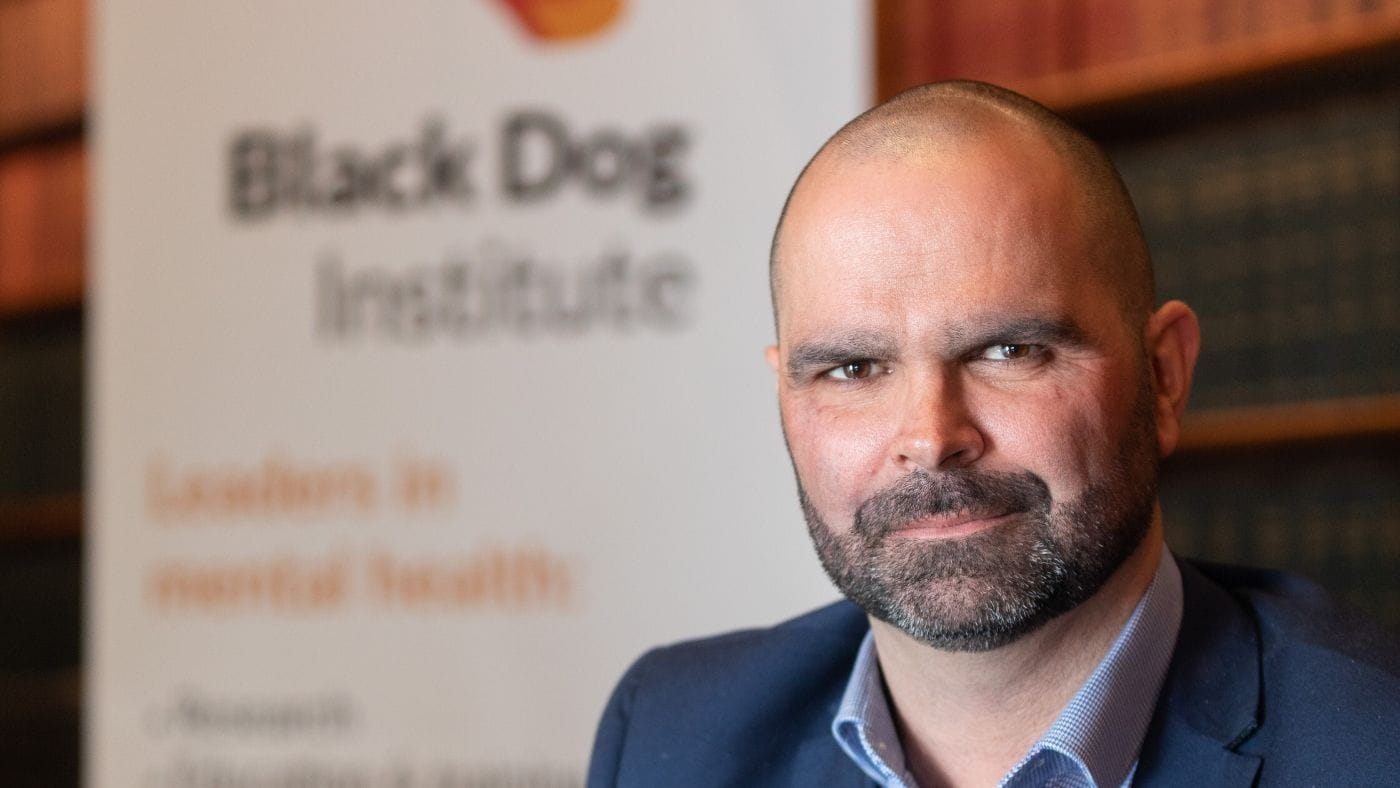 Black Dog Institute, an independent not-for-profit medical research institute affiliated with UNSW Sydney, has announced workplace mental health researcher Professor Samuel Harvey as its next Executive Director and Chief Scientist.
Prof. Harvey, who is the current Acting Executive Director, was appointed following a rigorous external recruitment and selection process.  He succeeds Scientia Professor Helen Christensen AO who announced earlier this year that she would be stepping down after 10 highly successful years in the role.  
The announcement was made by Black Dog Institute Chairman and UNSW alumnus Mr Peter Joseph AM. "In Sam we have found a leader who embraces the inclusive and collaborative culture of the Institute and embodies its commitment to science, compassion and action," Mr Joseph said.
"His performance as Acting Director has been truly exceptional in quite exceptional times. He has successfully led the organisation through this period of uncertainty, challenge and dislocation while maintaining its strong culture of compassion, creativity and collaboration. He has the confidence and respect of the Institute's magnificent nearly 300 strong staff, board directors, partners and supporters including academic, clinical and precinct partners including UNSW Sydney, South Eastern Sydney Local Health District with its wonderful hospitals, Mindgardens Neuroscience Network and The Health-Science Alliance.
"Helen leaves the organisation at its highest ever level of success, a testament to her leadership, her humanity and wholehearted commitment to turning research ideas into real life outcomes for the people who need help most." 
Dr Sam Harvey is looking forward to settling into the role.
"It has been a huge privilege to lead the Institute over the past nine months and I am both thrilled and humbled to continue this work with our incredibly talented Black Dog Institute team, the Board and Foundation Board, our partners and supporters," he said. 
"What makes Black Dog Institute so unique is our people. Nowhere else brings together such a mix of diverse and highly talented skillsets in research, clinical practice, education, implementation, innovation, digital, big data, communications, policy, and fundraising.  
It is this combination that enables us to not only do the science, but to translate our findings into solutions and create real world impact at scale," he said.   
"The impacts COVID-19 over the past 18 months have resulted in an unprecedented global focus on mental health. There is an opportunity for us to change the way we think about mental health and how we provide mental health care and support to those in need. The rising burden of mental ill health is one of the great challenges for our generation and I am excited at the role the Black Dog Institute can play in shaping society's response to the mental health needs of our times.   
"The Black Dog Institute has launched its new five-year strategy with a clear plan for population health response, transformation of clinical models of care and building trusted partnerships with Aboriginal and Torres Strait Islander leaders and communities. 
The Black Dog Institute is uniquely placed and prepared to work with partners, industry and governments to tackle these big problems and find the best solutions for communities everywhere."  
Prof. Harvey commences in the role on 1 November 2021.   
Scientia Prof. Christensen plans to continue her extensive research program and has accepted a Non-Executive Director role at the Institute. This maintains valuable momentum as the Black Dog Institute continues its scale and growth trajectory.
Comments