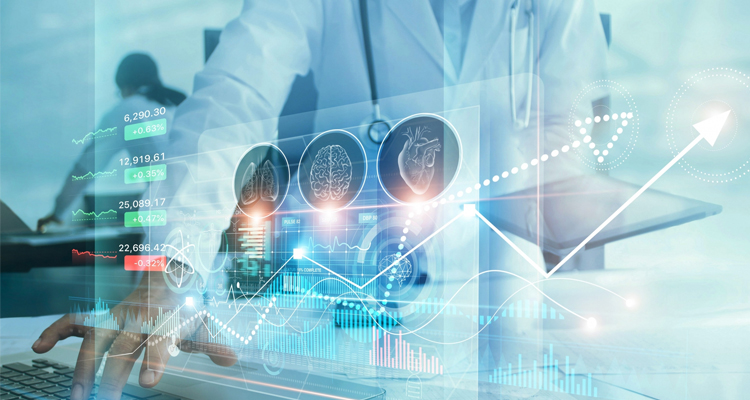 The 11 projects include an international trial of treatments for people who've had cardiac arrests and the development of new treatments for genetic screening.
UNSW Sydney researchers have been awarded more than $23 million in federal government funding for health and medical research.
The Medical Research Future Fund (MRFF) grants went towards 11 projects including a new breakthrough test that will screen genetic mutations, a world-first genomics platform for Indigenous Australians and an international trial examining cardiac arrest interventions.
Dean of UNSW Medicine & Health Vlado Perkovic applauded the researchers on their success in the latest release from the National Health and Medical Research Council (NHMRC).
"These projects reflect the breadth of research being conducted to help improve the lives of patients and their communities," Prof. Perkovic said. "This funding is a great outcome and I congratulate the researchers on their work in delivering improved health outcomes."
Equity in genomic medicine
Director of the Centre for Population Genomics at the Garvan Institute of Medical Research and Murdoch Children's Research Institute, and UNSW Conjoint Professor Daniel MacArthur at UNSW Medicine & Health has been awarded $10 million to lead a national collaboration to develop the first large-scale genomics resource designed to improve the representation of culturally and linguistically diverse Australian communities. Existing global databases of genetic variation are highly skewed towards people of European ancestry. As a result, many Australian communities are largely or entirely missing from genomic resources. This flagship project aims to collect and then securely and anonymously share the de-identified genetic data of more than 20,000 diverse Australians, with scientists and clinicians. "The need for inclusive representation in genomics is urgent," Prof. MacArthur said. "This initiative will create a powerful scientific resource that better reflects our country's remarkable diversity, ensuring more accurate diagnosis and treatment options for all Australians."
New test to screen hundreds of genetic mutations
Professor Jamie Vandenberg from the Victor Chang Cardiac Research Institute and UNSW Medicine & Health will receive $2.9 million to establish a new electrical test that can screen hundreds of genetic mutations. The breakthrough test will make it easier for families around the world to discover if they are carrying genetic mutations that cause sudden cardiac arrest. So far research has only focused on inherited heart disorders that cause sudden death. Prof. Vandenberg said this funding will allow his team to vastly expand its work to help diagnose those with neurological conditions, and muscle and kidney diseases. "It's incredible to think we will be able to screen family members not just across Australia but anywhere in the world and give them a diagnosis. Ultimately, this will help to reduce the number of cardiac arrests and deaths caused by genetic disorders," he said.
Harnessing detection methods and breakthroughs in treatment for childhood-onset muscle disease  
Dr Emily Oates from UNSW Science was granted $2.5 million to lead a project which will significantly improve health outcomes in Australian children with congenital and early-onset muscle disorders by finding new disease genes and improving genetic diagnosis rates. It will also lay the foundations of an Australian-led congenital and childhood-onset muscle disorder treatment development pipeline. 
Dr Oates said this project will harness state-of-the-art sequencing and variant detection and validation methods, and recent breakthroughs in the treatment of other muscle disorders to improve early diagnosis of chronic musculoskeletal conditions occurring in children, as well as support the development of improved therapeutic regimes for these disorders. "We are just so incredibly excited about this grant and how it will benefit the lives of this vulnerable group of children and their families," she said.
Trialling wearable blood pressure devices
Professor Alta Schutte from The George Institute for Global Health and UNSW Medicine & Health will receive $1.9 million to trial the effectiveness of wearable blood pressure devices. The NEXTGEN-BP trial will assess whether the new strategy to manage high blood pressure works well in primary care. GPs will be guided on medication prescriptions based on hundreds of home blood pressure readings taken from a wrist-worn device, and this will be compared to usual care in around 600 patients over 12 months. Prof. Schutte said: "If successful, automated blood pressure readings at home could be rapidly translated into practice, particularly in rural and remote communities, and facilitated through GP telehealth services."
Developmental screening program to leave no child behind  
Professor Valsamma Eapen, from UNSW Medicine & Health, was awarded a $1.9 million Chronic Neurological Conditions Grant to develop and implement a novel digital approach to early detection of children with developmental delays. The program aims to provide effective, early intervention and supports based on the child and family's needs. Prof. Eapen says access to timely support is hindered by the complex, poorly co-ordinated, and inefficient nature of the Australian child and family service system. This inequity has been further exacerbated by the COVID-19 pandemic due to disruption of services. "As part of the post-pandemic reset, we will ensure that no child with a developmental problem is left behind by engaging and empowering parents using immunisation visits and other opportunistic contacts across three sites," she said. "These include a culturally and linguistically diverse community in southwestern Sydney, a rural community in Taree in NSW and a low socioeconomic area of Wanneroo in WA." Professor Eapen said the project is the first ever national blended (digital and in-person) program for early identification of developmental delays and will improve family and community connectedness. 
How alcohol affects the heart 
Victor Chang Cardiac Research Institute scientist and UNSW Conjoint Professor Diane Fatkin has been awarded almost $1 million to investigate the links between alcohol consumption and heart disease. The grant will allow Professor Fatkin and her team to study how alcohol affects the heart and the extent to which these changes are reversible.  Professor Fatkin said: "We have assembled an expert multidisciplinary team and will use techniques ranging from big data and imaging studies in human cohorts to zebrafish models. An important question is whether a person's genetic makeup influences the severity of alcohol-induced effects. This work will help to identify people at greatest risk of alcohol-induced heart disease and help to target preventative strategies. Our team is incredibly excited to receive funding for this important work that will help us to tackle the problem of alcohol-induced heart disease, which can be a major cause of illness and death." 
First ever genomics platform for First Nations peoples  
Dr Ira Deveson, Head of Genomic Technologies at the Garvan Institute of Medical Research and Conjoint Lecturer at UNSW Medicine & Health has received a $986,000 grant to lead a collaboration to develop the first genomics platform for Indigenous Australians. Through collaboration and partnership with Indigenous communities and researchers at the Australian National University's National Centre for Indigenous Genomics and the National Computational Infrastructure, the project will develop new reference databases and resources to better identify harmful genomic variants among Australia's First Nations peoples, to ensure that they receive the correct diagnosis as soon as possible. "Indigenous Australians harbour rich and unique genetic diversity that is currently missing from global genomics resources. Failing to address this representation gap will lead to increasing inequity in the benefit of genomic medicine, exacerbating health disparities between Australia's Indigenous and non-Indigenous communities," Dr Deveson said.
Better systems for end-of-life care and rapid response 
Associate Professor Jack Chen from UNSW Medicine & Health and Health Services Research at South Western Sydney clinical campuses, has been awarded $700,000 to develop a holistic machine learning-based rapid response system and end-of-life care system.  A/Prof. Chen said the artificial intelligence systems would be key in reducing preventable cardiac arrests and improving end-of-life care in acute hospitals. "This is the first of such a system to be built anywhere in the world," he said. "Our team includes world-renowned researchers who've been leaders on this topic over the last two decades." 
Support for Indigenous carers
Associate Professor Faye McMillan AM from UNSW Medicine & Health received $480,000 to create culturally safe and responsive carers and clinician resources to support Indigenous carers. Prof. McMillan said informal carers contribute significantly to reducing the health costs of care across Australia. "This project will work with Aboriginal Elders and women in Aboriginal communities in NSW to examine their experiences as carers and create culturally safe, responsive and appropriate resources," she said. Prof. McMillan said the funding was particularly significant because most of the researchers are from the communities who all have personal experience as carers and will be driven by Elders and women from the communities.
International trial of cardiac arrest treatment
UNSW Conjoint Senior Lecturer Manoj Saxena from The George Institute for Global Health and his team will receive $415,000 to assess the current medical interventions for people who have had a cardiac arrest. While sedation, temperature and blood pressure control are widely used in intensive care units to improve outcomes in people who have had a cardiac arrest, it's not yet known which interventions are best. Along with teams at Lund University in Sweden and Helsinki University in Finland, the STEPCARE trial will recruit over 3000 patients to assess the effects of these interventions on survival, functional recovery, brain function, and health-related quality of life. "The results are set to inform intensive care policy and practice not only in Australia but also around the world," Dr Saxena said. 
Predicting spontaneous bleeding in the brain 
Professor Craig Anderson at UNSW Medicine and Health and Director of Global Brain Health, The George Institute, will receive $404,000 to develop a better tool to make predictions and guide treatments for people who suffer stroke due to intracerebral haemorrhage (ICH). ICH affects several thousand people in Australia each year. Prof. Andreson said current scales or prediction tools which guide clinicians in managing patients with acute ICH, have limited use as "they are not particularly sensitive, include only a few variables, and are not adaptable to the patient's changing condition". The Outcome PredicTion in IntraCerebral haemorrhage Study (OPTICS) will use deep learning – a subfield of machine learning – that integrates brain imaging and clinical datasets using a complex structure of algorithms modelled on the human brain. The funding will help Prof. Anderson's team develop a prototype device ready to scale up for testing in a large study. 
For a full list of recipients visit the MRFF grant list.
Comments