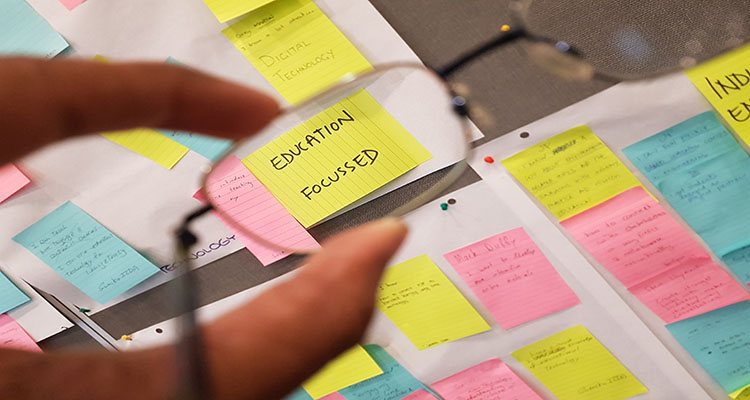 UNSW's commitment to educational excellence was highlighted as Education Focussed academics gathered for the third EF retreat last month.
At the start of 2020, no one could have anticipated a pandemic, let alone one that has upended almost every facet of society, including the classroom and campus life.
The Education Focussed (EF) Retreat, run annually by the EF Career Development team, was caught up in the disruption as it pivoted from being a face-to-face experience to a fully virtual event over two half-day morning sessions on 17-18 August. 
"If the pandemic is going to reshape the way we work, it will also impact how we attend and deliver conferences and retreats," said Associate Professor Louise Lutze-Mann, Director of UNSW EF Career Development program.  
"Although cancelling the in-person EF retreat was the right decision, we still wanted to provide a platform for UNSW's teaching community to share good practice with their colleagues, build deeper educational networks across the University and celebrate successes. If the last few months have proved anything, it is that in many ways we are closer and stronger as a community than ever before," said A/Prof. Lutze-Mann.
The retreat centred on the theme of Connections: connecting with each other, our students and our University, exploring how UNSW's community of educators can come together to reflect, establish synergies and share with each other to benefit our students and the University. 
More than 120 educators attended eight interactive live sessions, 22 breakout rooms and two panel discussions led by EF academics and UNSW students.
The opening session was led by UNSW President and Vice-Chancellor, Professor Ian Jacobs; Deputy Vice-Chancellor, Academic, Professor Merlin Crossley; and Pro Vice-Chancellor, Education & Student Experience, Professor Rorden Wilkinson. 
Guest speaker Professor Ariel Anbar, from Arizona State University, delivered a keynote on reimagining online education to create a more interactive and adaptable digital learning experience for students. 
"In our response to COVID-19, our EF academics' adaptability and collaborative approach when it comes to education has stood us in good stead, helping UNSW define and innovate its educational priorities as a University," said Prof. Wilkinson, while addressing the EF community at the retreat. 
One such priority is assessment and getting it right for our students, explained Professor Alex Steel, Director Teaching Strategy. He led a session on making different types of assessment meaningful and more engaging in an online environment.  
"Our students tell us that assessment, and particularly feedback, is critical to their educational experience. The EF community is an important part of that conversation because of its expertise, its collaborative approach, and its cross-disciplinary nature. Working with EFs at the retreat gave us a better insight into the future of digital assessment at UNSW," said Prof. Steel. 
A notable feature of the retreat was the overwhelmingly strong sense of community among the EFs and their passionate commitment to drive educational excellence at UNSW by putting students front and centre in learning and teaching. 
Dr Anne Galea, Acting Director of Teaching and Deputy Head of the School of Biotechnology and Biomolecular Sciences, noted, "I have been to previous EF retreats and I can see the epic effort that went into organising the event this year, especially under the relative constraints of the online environment. It was such a welcome change to the hectic pace of teaching and marking over the past few weeks, and it was just so wonderful to be back with this tremendously stimulating and collegial community of individuals." 
Recognising that networking in a virtual retreat can be challenging, the EF Career Development Team found creative ways to engage attendees during the event. Live sessions were moderated so that attendees could ask questions, guided yoga and meditation sessions were provided to kickstart each day, and EF academics David Edwards (UNSW Science) and Eva Lloyd (UNSW Built Environment) led guided virtual walks in their neighbourhoods. Trivia and breakout rooms were also set up to recreate those serendipitous chats that are so valuable at in-person events. 
The attendees enjoyed the variety of activities and sessions on offer. One academic who is new to the EF pathway shared their experience: "This was my first EF retreat, and it has been such an amazing and positive experience. Quite apart from the many take-home messages for us to try in teaching, the one factor that shone throughout was the openness and care shown which can only begin with the leaders, organisers and speakers and filtered through to every one of the participants. In the midst of a crisis, and every person having their own heavy workloads, I can only say that this EF Retreat is a highlight for this year." 
The retreat also featured a Pecha Kucha presentation session chaired by Professor Richard Buckland, Director First Year Experience, a panel on educational leadership featuring Professor Anne Simmons, UNSW Provost and an update on EF roles across Australia. 
"Education is at the heart of UNSW's work. The EF retreat offered an invaluable opportunity to have rich interdisciplinary conversations and tap into the breadth and diversity of expertise that exists in the community. All of this goes a long way in improving our teaching practice and our ability to deliver better outcomes for our students," said Prof. Crossley, reflecting on the importance of teaching and how it is supported, recognised and celebrated at UNSW.  
You can find video recordings of the keynote and the panel sessions, presentation slides and other resources from the event on EF Central. You can also subscribe to the EF Bulletin to keep on top of teaching news at UNSW. 
Comments