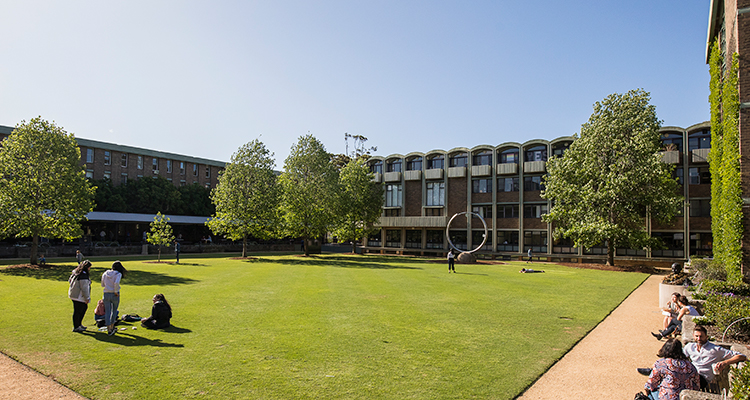 Dear colleagues
As our third term gets underway, I am mindful of the very difficult circumstances under which students and staff are functioning and I am grateful for the camaraderie, respect and compassion being shown by our community.
In my email to you last week I wrote that for many, myself included, this is the most difficult time in our careers. I do not take lightly the burden that many of our staff bear as we take the next step in our response to the impact of COVID-19. I know that the loss of jobs – of colleagues and friends – will be deeply felt.
The Workplace Change paper that we released last week outlines our response to the challenging higher education landscape and the impact of the pandemic. I reiterate that the proposals in the paper are not final: they have been released for consultation. Feedback is welcome until 5pm on Monday, 12 October 2020.
There will be many opportunities over the next few weeks for staff to speak with their colleagues and managers if they have questions or concerns. We also have an Employee Assistance Program that is available for all staff and immediate family members.
Term 3 commencement
Congratulations to all on the success of our Term 3 virtual Open Day and O-Week. With more students and staff on campus than we have seen for many months, I'm sure the return to much loved spaces and facilities is welcome, as is the feeling of a university campus gradually returning to normal.
Of course, we need to all be aware of our COVID-19 safe return to campus guidance and processes. Please visit our COVID-19 website for the information and resources you need to optimise the safety of our community.
Education Focussed retreat turns its attention to connections
Congratulations to the EF Career Development Team who delivered the third annual Education Focussed Retreat recently. I was grateful for the invitation to open the retreat and acknowledge the stellar work of our education focussed academics in rising to the challenge of education in the time of COVID. The value of our EF academics came to the fore in our initial rapid transition to virtual education during Term 1, and in the tremendous support they have provided for students and teaching colleagues throughout the year.
Thank you to the more than 120 educators who came together to reflect, to share and connect at this year's retreat. Your collaborative mindset and commitment to high-quality education are of great benefit to our students and our University.
Arc provides food relief for students experiencing hardship
In response to the economic impact of the COVID-19 pandemic on many UNSW students, Arc launched 'Food Hub'. Food Hub operates from the Sam Cracknell Pavilion on University Mall at our Kensington campus three times a week, distributing up to 200 hampers, free of charge, each day. On Wednesdays, an international student adviser is present to provide advice, support and connection for international students, who we know have been affected significantly during the crisis. Last week, Food Hub and the UNSW Islamic Students Society together provided 100 hampers for international students.
Food Hub also incorporates Dinner Hub, which provides pre-made, reheatable meals. A 24/7 Food Hub Cupboard is available for students to access outside Food Hub hours, also at the Sam Cracknell Pavilion. If your circumstances allow, you may like to consider supporting Food Hub by contributing food to the cupboard, or through a financial donation. Find out more about Food Hub.
My heartfelt appreciation to all who are supporting our student community through this initiative.
The 2020 Student Experience Survey
The 2020 Student Experience Survey is now open. The student experience is a key theme in our Strategy 2025 priority of Academic Excellence and the insights the survey provides will help us shape the future of education at UNSW. Please encourage your students to participate in this worthwhile survey.
UNSW Online student satisfaction success
On a related note, congratulations to UNSW Online for the recent myExperience 96% student satisfaction score for the quality of teaching. I echo Director Liz Smith's praise for the commitment and enthusiasm of our online teachers. A terrific, well-deserved result.
Early conditional offers promoting access to education
For many school leavers, the upheaval caused by COVID-19 has created great uncertainty. To help in these circumstances, more than 800 students from across NSW will receive early conditional offers to study at UNSW in 2021, as part of our new Gateway Admission Pathway and Program (GAPP). Of the students who will receive a GAPP early conditional offer, almost 300 are from low-SES backgrounds, 314 are first-in-family and 14 students identified as Aboriginal and/or Torres Strait Islander.
GAPP is a part of our strategic effort to increase access to education for students who are at a disadvantage – and to help school leavers realise their potential regardless of their circumstances. Thank you to Access and Equity (Students) for their leadership of GAPP and to all in our University community who are actively supporting the program. I look forward to hearing more about our GAPP students when they join us next year.
3MT draws on 3LP
For those who have written or supervised the writing of a thesis, the prospect of pitching a complex research proposal in the time it takes to boil an egg is perhaps polarising: either a tremendous method of distilling a hypothesis, or an unthinkably nightmarish prospect. Those – including me – who watched this year's showcase of videos in our ever-popular 3 Minute Thesis Final, will have found that the breadth and depth of research on display was, once again, outstanding.
Well done to all this year's finalists and warm congratulations to winner Bruno Vicari Stefani from the Faculty of Engineering, who drew on the tale of the Three Little Pigs to illustrate his research into low-cost solar energy cells.
Current issues in higher education policy
This year has been challenging on a number of levels. In addition to the great upheaval wrought by the COVID-19 crisis, there has been heightened focus on Australian universities through the federal government's legislative proposals regarding university fee reforms and foreign influence.
I have shared with you previously our University's position on the university funding proposal known as the 'Job-Ready Graduates' set of reforms. The proposed legislation is currently the subject of an inquiry by the Senate Education and Employment Committee. UNSW made a written submission to the inquiry, in which we outlined our concerns with the proposed legislation. You can read our submission on the parliamentary website. The committee is due to report back to the Senate by 25 September 2020.
I have also shared with you our position regarding foreign influence at our University. As I have said, we are working closely with the Federal Government, and relevant defence and national security agencies, to ensure that our teaching and research is protected from foreign interference and along with other Australian universities, we have provided input to the government's Universities Foreign Interference Taskforce (UFIT).
UNSW will continue to actively support our national interest, and to be appropriately transparent and accountable. At the same time, we want to ensure that high-quality, international collaborative research can proceed effectively in the proposed legislative framework. The Australia's Foreign Relations (State and Territory Arrangements) Bill 2020 (Cth) has been referred to the Senate Foreign Affairs, Defence and Trade Committee, which is due to report by 5 November 2020.
Farewell Jon Paparsenos
This month the UNSW community farewells Jon Paparsenos, Vice President for Philanthropy and CEO of the UNSW Foundation.
Jon was appointed to these roles in February 2016, when he moved with his family from the US to lead our fundraising effort. Jon brought to UNSW his experience of working closely with alumni and donors during his time at CalTech, and he quickly made an impact – setting up a new Division and putting in place the strategy that set our University on a path to our 2025 target of $650 million in our first fundraising campaign.
Jon created a collaborative, team-based approach across campus, and has successfully raised more than $300 million towards our ambitious goal. His leadership has helped raise funds for the student experience through scholarships for programs such as ASPIRE, for buildings such as the Tyree Energy Technology Building and the Roundhouse, and for our world-class research in areas as diverse as cancer, built environment, education and contemporary art.
Jon has also championed closer engagement with our alumni community. Since 2016 we have seen much stronger interest in our events program, in volunteering to support student internships and mentoring, and in donating funds to UNSW. When Jon joined, we connected annually with 5,500 alumni and supporters of UNSW. Today that figure is closer to 25,000.
Outside of UNSW, Jon has also given generously of his time and knowledge, mentoring and supporting up-and-coming fundraisers. He is considered one of the sector's leading experts, reflected in his current chairmanship of the CASE Asia-Pacific Institute in Educational Fundraising.
Jon is now returning to the US to pursue philanthropic leadership roles back home – having ensured that UNSW's approach to fundraising is more mature, robust and aligned to our strategic goals.
We are indebted to Jon for bringing us closer to leading philanthropists in Australia and across the globe: philanthropists who share our vision of creating a better world though the research and teaching we undertake.
I thank Jon for his dedication and for his contribution to UNSW and wish he and his family all the best in the next chapter of their lives.
Finally, a reminder to continue to check the NSW Government website for news and updates related to COVID-19 health alerts. If you need support, free, confidential counselling is available through our Employee Assistance Program. The service is also available for immediate family members. Assistance for our students is available via The Nucleus on 02 9385 8500 and our Student Support Advisors.
Take care and stay well.
Ian
Comments