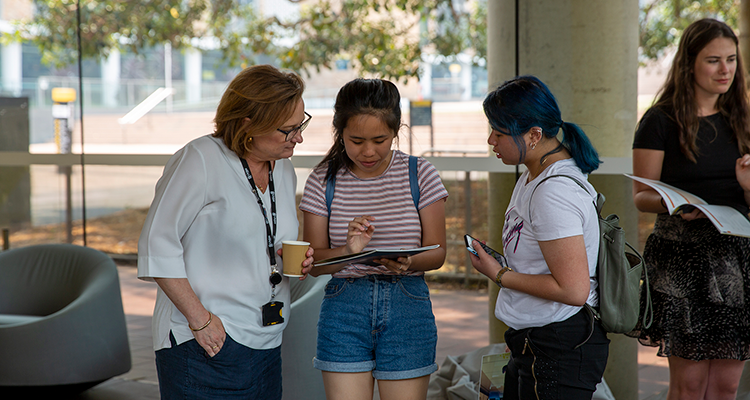 The new Gateway Admissions Pathway and Program is a true reflection of UNSW's commitment to a more equitable and diverse society.
More than 800 students from across NSW will be the first students to receive early conditional offers to UNSW for 2021 as part of the new Gateway Admissions Pathway and Program (GAPP). The GAPP is the primary tool for realising UNSW's strategic aim of increasing the low-socioeconomic status (SES) access rate to 13%. This initiative is led by Access and Equity (Students) within the Division of Equity Diversity & Inclusion (EDI), and is supported by all faculties at UNSW and several divisions, including the Division of the Deputy Vice-Chancellor, Academic and Division of External Relations.
"Education should be available to all," said Professor Merlin Crossley, Deputy Vice-Chancellor, Academic.
"The carefully prepared outreach and pathway program centred around early conditional offers highlights opportunities at UNSW and has attracted students from across Sydney and the state. The added diversity and inclusivity will strengthen our community and fits with our mission as a public institution established to serve all parts of society."
The Gateway cohort is highly diverse, and the pathway has attracted students from 135 regional schools. More than 160 participants come from schools that haven't had enrolments at UNSW for the past three years, creating an important new pipeline of students and contributing to UNSW's targets for student equity within the Commonwealth's Performance Based Funding.
"The Gateway program is a true reflection of UNSW's commitment to a more equitable and diverse society," added associate lecturer Tracy Huang.
"The support programs and Australian Tertiary Admission Rank (ATAR) adjustments that have been established as a result show a genuine drive to provide opportunities to all. It has also been an absolute pleasure to work collaboratively to make this meaningful project happen."
Almost 300 successful applicants are from low-SES backgrounds, 314 are first-in-family and 14 students identified as Aboriginal and/or Torres Strait Islander. These results are a promising trajectory for the pilot year. The numbers are set to increase as the program continues to gain momentum with students, their schools and communities.
"It's a significant milestone to make early conditional offers to students who are experiencing compounded educational disadvantage during the upheaval caused by COVID-19," said Mary Teague, Director Access and Equity (Students).
"The re-imagined Gateway pathway links the gains made in our outreach program with a functional pathway to UNSW, one that acknowledges that ATAR is a structural barrier for this cohort."
In 2018, the low-SES student access rate for UNSW was 10.3%, slightly less than the Group of Eight (Go8) access rate average of 10.5%. The national low-SES access rate is 17.8%.
"At UNSW Law, issues of social justice and inclusion are at the heart of our concerns as a faculty," said Senior Lecturer Melane Schwartz.
"A diverse student body brings varied perspectives and experiences of law and justice that enhance the learning experience for all of our students. We have been really impressed with the calibre of applications from Gateway schools and we are looking forward to welcoming our first Gateway scholars into the Faculty in 2021."
The Bachelor of Double Law (53), Bachelor of Commerce (41) and Bachelor of Exercise Physiology (27) were the top three degrees to award early conditional offers to students.
Gateway students may experience complex challenges due to their geographic location, SES and schooling context. For many students, receiving an early conditional offer, with an adjusted ATAR of up to 15 points below the current Guaranteed Entry rank, has made accessing UNSW a genuine possibility. 
Access and Equity (Students) is about to launch the second phase of the pilot program, opening up the early conditional offer to Year 11 students for 2022 admission on 21 September, in time with the Gateway Spring program.
Learn more about Access and Equity (Students).
Comments