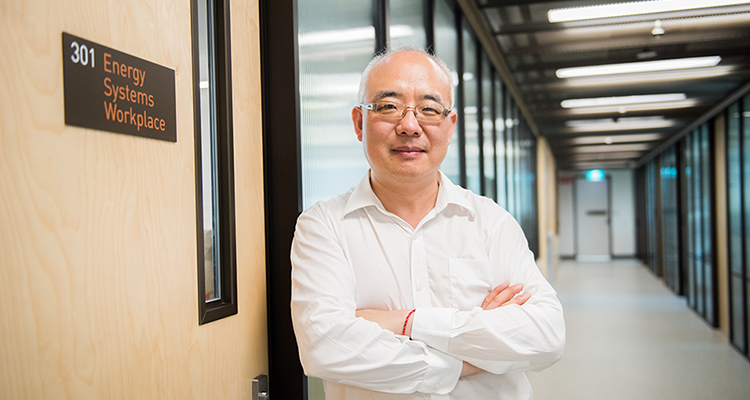 Professor Joe Dong was recognised for his pioneering work to create sustainable, stable and reliable electricity for all.
UNSW Sydney Professor Joe Dong was named a finalist for this year's Global Energy Prize, for his outstanding and sustained contribution to the operation, control and cyber security of smart power grids and the electric power industry.
The prestigious annual prize is awarded for outstanding achievements in research and technology, and is designed to address some of the world's most pressing energy challenges.
A world-leading researcher in energy systems, Prof. Dong's expertise spans smart grids, power systems planning and stability, renewable energy grid connections, load modelling and the electricity market.
UNSW's Acting Dean of Engineering Professor Stephen Foster said Prof. Dong's selection as one of the 15 finalists is testament to his dedication to research that delivers tangible benefits to society.
"Prof. Dong's extensive work in academia and industry has delivered far-reaching advancements in power systems and smart electricity grids. His work has progressed Australia's transition to sustainable electric power that's stable and affordable, which will ultimately benefit us all. I congratulate him on making the shortlist for this coveted international award," Prof. Foster said.
The Global Energy Prize is rated as one of the world's 99 major science awards by IREG List of International Academic Awards with a reputation score of 0.48 (a Nobel Prize has a score of 1.0). This year's awards drew 78 nominations from 20 countries.
Prof. Dong is director of the UNSW Digital Grid Futures Institute and the Australian Research Council's Research Hub for Integrated Energy Storage Solutions. He oversees numerous research initiatives designed to prepare Australia's electricity grid for the transition to renewable energy sources, such as wind and solar.
In past roles with the US and Europe, Prof. Dong also pioneered the concept of probabilistic approaches to power systems analysis, which uses numerical analysis to help power providers manage electricity load flow, stability, reliability and planning. His research team played a major role in setting the industry standard for probabilistic modelling in these jurisdictions.
Prof. Dong said he was honoured to be named a finalist for this year's Global Energy Prize.
"Without electricity, modern society would not be possible. I am passionate about my work using advanced engineering and computational methods to enhance the reliability and economic efficiency of our electricity supply networks. I feel very proud to have been in the running for the prize and thank my teams of researchers and industry partners, past and present, for their hard work towards achieving our shared vision for a stable, quality electricity supply for everyone," Prof. Dong said.
The 2020 winners were announced after a meeting of the Global Energy Prize International Award Committee in Moscow last night. This year's winner in the conventional energy category, in which Prof. Dong was nominated, was Italy's Carlo Rubbia, for promotion of sustainability of energy use in the field of nuclear waste and natural gas pyrolysis. Mr Rubbia was also the recipient for the Nobel Prize for Physics in 2018.
UNSW Scientia Prof. Martin Green was the first Australian to win the Global Energy Prize in 2018, for revolutionising the efficiency and costs of solar photovoltaics, making solar the lowest cost option for bulk electricity supply.
Comments