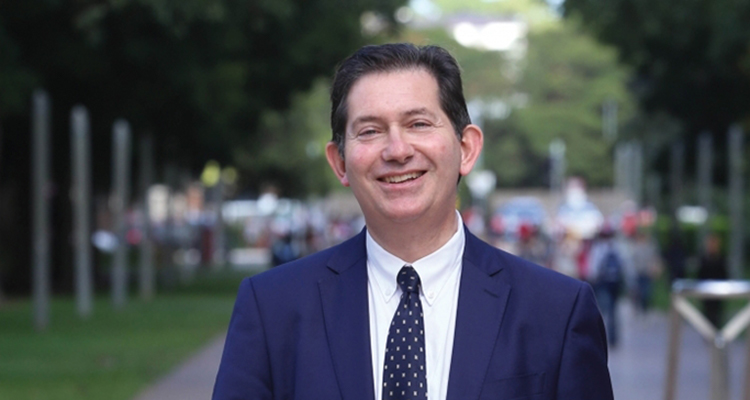 Colleagues
You will have seen my staff email and the national media coverage in recent days about the arrest of an employee which took place on campus last week. UNSW staff worked with the police and security services in managing this situation and we were assured by the NSW Police that there was no imminent threat on the UNSW campus. My thanks to everyone involved in working so professionally to ensure the safety and wellbeing of students, staff and visitors on campus.
On Open Day on Saturday, UNSW opened its doors to 35,000 visitors – students, parents and members of the community – who were here to get a taste of life and study at UNSW. It was a fantastic day, with a wonderful atmosphere on campus and the perfect opportunity to celebrate and showcase all that makes UNSW great. I would like to extend my thanks to everyone who played a part, giving their time, expertise and enthusiasm to make the day such a success. It was a joy walking around the Kensington and Paddington campuses and chatting with many of you. UNSW Canberra had an equally successful open day the week before.
At the AFR Higher Education Summit in Melbourne last week, I presented on the topic, 'How can Australia's universities stay globally competitive?' I made the case that the internationally competitive profile of Australian universities has created a 'virtuous cycle' – increasing research quality leads to higher rankings, which in turn attract more international students and willing industry partners interested in commercialising our research, leading to a cycle of social and economic benefit for Australia. I identified ten areas for action in research, education and social engagement needed to maintain this cycle and enable UNSW and other universities to have maximum positive impact nationally and globally.
UNSW continues to progress toward achieving the goal of being a top-50 university by 2025. The high quality research output of our academic staff are attracting more highly-cited researchers through our SHARP program, the most recent example being Professor Harald van Heerde, one of the world's leading marketing experts who will soon join the UNSW Business School. We are continuing to forge important international research partnerships, including our recent $8 million agreement between UNSW and Jiangsu Industrial Technology Research Institute (JITRI) as part of our Torch Program. And, of course, our reputation is building all the time through the contributions of our vast alumni community – the fact that we have, in the Hon Scott Morrison, our first alumnus Prime Minister, is a milestone for UNSW.
As I wrote in the AFR last week, during a tumultuous time politically, universities' ability not to be distracted by political ups and downs is an attribute of a sector that is confident in and committed to its mission. I look forward to working with our new Minister for Education, the Hon Dan Tehan, to hear of his plans for our sector. The ALP has this week indicated an intention to invest in steps to help potential students from low SES backgrounds to attend university, a welcome announcement given the commitments in our 2025 Strategy.
On the topic of government funding, I was delighted to host at UNSW a joint forum of colleagues from the Group of Eight and the Australian Association of Medical Research Institutes (AAMRI) to discuss the consultation on priorities for the Medical Research Future Fund (MRFF). The MRFF is an exciting and visionary scheme which will in due course add over $500 million per annum to translational and applied research in health. This scale of funding can have an enormous impact if well used. My main contribution was to encourage those allocating the funds to learn from successful experiences in North America and Europe with this type of fund. Whilst in the UK, I was particularly impressed by the 'Comprehensive Biomedical Research Centres', which provided large scale funding, on the basis of rigorous international peer review, for outstanding translational research in centres bringing together hospitals, universities and research institutes. The MRFF fills a key need in health research translating NHMRC-funded discovery research. I continue to push for a similar fund in the non-health area, perhaps called the 'Australian Translational Research Fund' or ATRF to translate and apply discovery research funded by the ARC.
I was also pleased to speak at the Australia Africa Universities Network (AAUN) Forum in Perth last week. It was exciting to hear about the increasing links between Australia and Africa. The pace of development in Africa is increasing rapidly and it presents the same sort of opportunity for Australia and Australian universities now as Asia did 20 years ago. The Colombo Plan laid the groundwork for our success in Asia, and a scheme of that type for Africa could facilitate links and yield similar benefits. Some of you will know that I have a long-standing professional link with Africa, which started in Kenya when I was a medical student in 1982 and led to establishing the Uganda Women's Health Initiative in 2005. I am delighted that UNSW now has a partnership with Gulu University in the north of Uganda and I was proud to talk about the work being led there in education, health, engineering and post-conflict studies by Professor Prem Ramburuth, Associate Professor Anne Bartlett, Associate Professor Julian Cox and Professor Robyn Richmond as part of the broader effort of UNSW's Institute for Global Development. 
 Congratulations to a number of staff who have received awards recently. I had the privilege of announcing at the Eureka Awards ceremony in Sydney Town Hall that Professor Sally Dunwoodie and her team won the 2018 Eureka Prize for Scientific Research for their discovery of the role of vitamin B3 in miscarriages and birth defects. The good news continued as the UNSW Hero Program and  Engineering's 'The Maker Games' were both recognised at the AFR Higher Education Awards. Congratulations to Anatoli Kovalev, Program Manager of the UNSW Hero Program; Kevin Duquette, Project Officer, UNSW Engineering; Julien Epps, Associate Professor, School of Engineering and Telecommunications; Sandra Harrison, Manager Student Opportunities, UNSW Engineering; and Danielle Neale, Entrepreneur in Residence, UNSW Engineering. We also heard that UNSW's Professor Rosalind Dixon was named Law Academic of the Year at the 18th Annual Lawyers Weekly Australian Law Awards, and that Professor Emma Johnston and Professor Megan Davis have both been named in this year's Australian Financial Review/Qantas 100 Women of Influence Awards. All very well-deserved accolades.
Recently, I signed the pledge to become a WGEA Pay Equity Ambassador. I did so because pay equity is not only right, but is also essential for any high-performing organisation. In support of Equal Pay Day last Friday, I have written a short reflection on the topic including some of the progress UNSW has made to date. You can read it in this edition of the newsletter.
A couple of reminders.
Nominations for the 2018 President's Awards are still open. You have until Monday to submit either a staff member or a team who has gone out of their way to be exceptional. Last year we received 120 nominations – I hope we can top that this year. 
There are also a number of Meet the new professor lectures coming up, with Professor Jason Abbott and Professor Robert Gilchrist from the Faculty of Medicine presenting today, and Professor Leanne Dowse and Professor Martin Holt from the Faculty of Arts and Social Sciences presenting on Monday 17 September. I hope you will be able to make it to one or more of these important events.
Best wishes, Ian
Comments