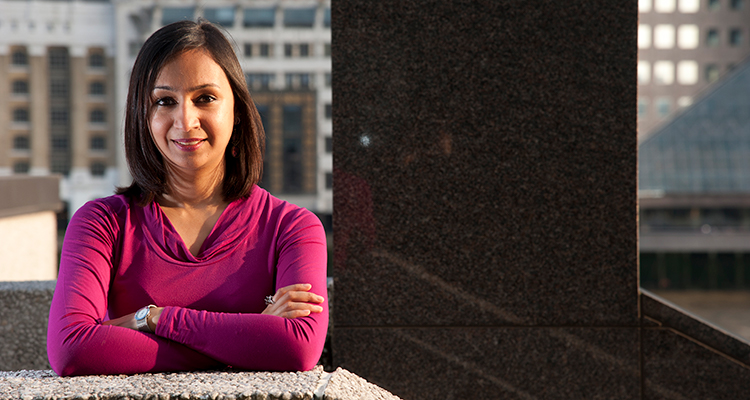 On the eve of her talk at UNSW next week, world-renowned engineer Roma Agrawal has a pointed message for young women considering joining the profession. 
Roma Agrawal is a world-renowned structural engineer and author who works tirelessly to promote engineering to under-represented groups such as women. In Sydney to launch her new book – BUILT – UNSW Faculty of Engineering is hosting a talk by Roma next week, 14 September – click here to get your ticket!  
Inside UNSW spoke to Roma about her work as an engineer, her role as an advocate and meeting the Queen! 
What did you want to be when you were younger? 
I wanted to be an astronaut! I'm thrilled that I found a technical career which has allowed me to give back and create real things.  
Why are you so passionate about promoting engineering to under-represented groups?  
Engineering is a deeply creative profession that has defined our world and the way we live. We design for society and it's crucial that our engineering workforce reflects our society, or else how can we come up with the best ideas and solutions for everyone? That's why I'm keen to promote engineering with everyone, but in particular minority groups, and smash some of the outdated stereotypes that plague our profession. 
What prompted you to write a book?  
I'd spent just over three years going out and talking about engineering to willing audiences, with the aim to promote it as a career, particularly to under-represented groups such as women and people of colour. I realised that if I collated all these amazing stories into a book, I could reach a much wider demographic globally. 
What have you learned about yourself in the process?  
I've learnt that I really do prefer working in teams! Writing is a lonely process, so I realised that I need to balance my day job - which is highly interactive - with writing, and play to my strengths. I learnt a new skill and am really proud that I could do that. 
You've lived in New York, Mumbai and London – how have each contributed to your life and where you are today?  
The education systems in each were very different and that was a confusing but rewarding journey. I had to be agile and adapt to my new environments. It always led to a feeling of being 'other'. Even going back to India, although I looked like everyone else, my accent and background meant I was seen as different. Ultimately, this feeling of 'other' and the resulting adaptability has allowed me to learn new things quickly and own my different characteristics, leveraging them to make a difference. 
Earlier this year, you were awarded an MBE – congratulations! What does that mean to you….and did you meet the Queen?  
It's a huge honour. I never expected to get one at all, let alone in my early 30s! It's a special award because it recognises my contribution to community. I haven't met the Queen yet, but I am off to Buckingham Palace in December to collect the award! 
You've achieved a huge amount in a relatively short timeframe. What does 'success' look like to you and how do you measure it?  
My definition of success has changed (and is still changing) over the years. From achieving degrees in good universities; getting a stable job; enjoying my work; balancing family life and my media career - it's a changing beast! It's actually something I'm asking myself again this year: what life do I want in five years' time? 
How about the next 12 – 18 months, what would you like to achieve in that time? 
I'm about to start a new role at my firm AECOM, which is outside my comfort zone. I want to learn a great deal and perform well on this. At the same time I'm writing a children's book, which is so different to writing an adult book. So again - more learning and more developing! The book will be out in around 18 months so that will be a huge achievement for me. 
As a female engineer in a predominantly male environment, what advice do you have for other women considering entering the industry? 
For anyone considering engineering as a career, in particular young girls, I say ignore the stereotypes of an engineer that exist in society! Remember that engineers design everything from skyscrapers to nano-robots and spaceships. It's an exciting and rewarding thing to do, so just go for it! 
>Register now to hear Roma speak about 'An engineering idol: Emily Roebling and the Brooklyn Bridge' – the story behind one of the world's iconic bridges and how Emily Roebling made her mark in a male-dominated industry. 
Date: Friday 14 September 
Time: 12 – 1pm 
Location: Tyree Room, John Niland Scientia Building, Kensington Campus 
>Get in quick - limited places available! 
About Roma Agrawal 
Roma Agrawal is a structural engineer who builds big. From footbridges and sculptures, to train stations and skyscrapers – including The Shard – she has left an indelible mark on London's landscape. She is a tireless promoter of engineering and technical careers to young people, particularly under-represented groups such as women. She has advised policymakers and governments on science education, and has given talks to thousands around the world at universities, schools and organisations including two for TEDx. 
Roma has been awarded international awards for her technical prowess and success in promoting the profession, including the prestigious Royal Academy of Engineering's Rooke Award. She was awarded an MBE for services to Engineering in 2018. 
Comments