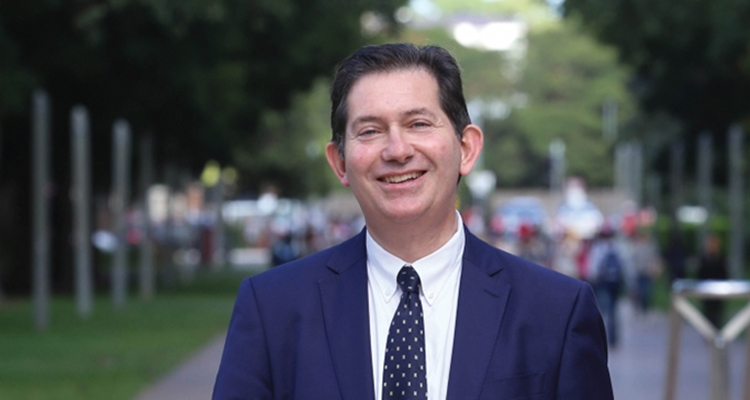 Colleagues
There has been some positive news for UNSW these past couple of weeks. A highlight was receiving the news of UNSW's rise in the 2018 ShanghaiRanking's Academic Ranking of World Universities (ARWU). We jumped an astonishing 31 places from 133 to 102, which is the highest position we have held in the history of these rankings, and our largest annual improvement. This indicates that the substantial investment we are making in research quality as part of the 2025 Strategy is beginning to yield results. My thanks again for the expertise and effort that our professional and academic staff have shown in committing to the Strategy's ambitious goals.
This terrific news coincided with an exciting time for big ideas at UNSW. Just last week we heard our very own Michelle Simmons deliver the Einstein Lecture on the Quantum Computing Revolution; we had former Greens Leader Bob Brown deliver the Jack Beale Lecture on the Battle for the Environment; and we heard one of our most exciting new appointments, Nobel Laureate Sir Fraser Stoddart, deliver an inspiring address on 'Mingling Art and Science' as part of Sydney Science Week. It is a privilege to provide a platform for such prominent thinkers and important ideas. 
Last week I had the opportunity to address the National Press Club. Speaking in my capacity as Go8 Chair, I launched a report on the economic impact of the Go8 universities. The report revealed that the Go8 delivers an astonishing 10-fold return on public investment – contributing a total of $66 billion to the Australian economy per annum. I emphasised that while it is right that universities justify themselves in economic terms, their impact is broader still and much of our contribution has social and cultural value that cannot be easily quantified. I also used my speech as an opportunity to call for stronger incentives for university-industry collaboration, through both a more powerful R&D tax incentive as well as an Australian Translational Research Fund to fill the gap in translational research funding for non-medical research. You can read my address here.
I'd like to pay tribute to the members of the UNSW community who have received accolades recently. One of our new SHARP appointments, Professor of Engineering Dr Kourosh Kalantar-zadeh, was earlier this month awarded an Australian Laureate Fellowship in support of his work on liquid metals, and three of our researchers—Dr Jelena Rnjak-Kovacina, Dr Aliza Werner-Seidler, and Dr Michelle Tye—have been named in the 2018 NSW Young Tall Poppy Science Awards, which honour early-career researchers for their outstanding contributions to STEM. We were also informed that a number of UNSW health and medical researchers have received a total of $25.5 million in the latest round of NHMRC funding. Congratulations all.
On the topic of awards, nominations opened this week for UNSW's 2018 President's Awards. These awards are a chance to recognise our colleagues who actively embrace diversity, respect those around them, collaborate generously, drive innovation and, of course, produce excellent work. You can nominate either an individual or a team between now and 10 September.
I enjoyed attending the Division of Equity, Diversity and Inclusion Town Hall on Monday. Marking the Division's first anniversary, Deputy Vice-Chancellor Equity, Diversity and Inclusion, Professor Eileen Baldry, introduced her team and shared her division's achievements and aspirations before leading a conversation with our Diversity Champions – Professor Mark Willcox, Professor Laura Poole-Warren, Professor Andrew Lynch, Ms Janine MacDonald, and Arc Chair, Nadirah Daud. The presentations and videos were inspiring and the Q&A session informative. The event was an important reminder of the journey we are on to make our university a more inclusive and equitable place for all students and staff. In that context, a reminder that applications for the Academic Women in Leadership (AWIL) and the Professional Women in Leadership (PWIL) programs opened last week. These programs are a tremendous opportunity for academic and professional staff who want to build their leadership skills. I would encourage you to please consider these courses either for yourself or encourage members of your team to apply.
I want to draw your attention once again to the 'Meet the Professor' lectures. It was a pleasure to attend yesterday's lectures from Professor Brigitta Olubas and Professor Jon Eugene von Kowallis from the Faculty of Arts and Social Sciences. The next instalment will be Professor Jason Abbott and Professor Robert Gilchrist from the Faculty of Medicine on 7 September. I recommend these lectures and hope that many of you will attend at least one event in the series. They provide an opportunity to hear about what shaped the lives and careers of our professors as well as their academic achievements and they are always enjoyable, inspiring and informative.     
Finally, UNSW Open Day events commence this weekend in Canberra, and will continue with the main event next Saturday at our Kensington and Paddington campuses. Open Day is a key day in UNSW's calendar, and will see us open our doors to approaching 40,000 visitors. A Town Hall will be held on Monday 27 August for staff who want to find out more about Open Day planning, protocols and procedures. My thanks to all who are contributing to preparing for what I am sure will be a fantastic day.
Best, Ian
Comments