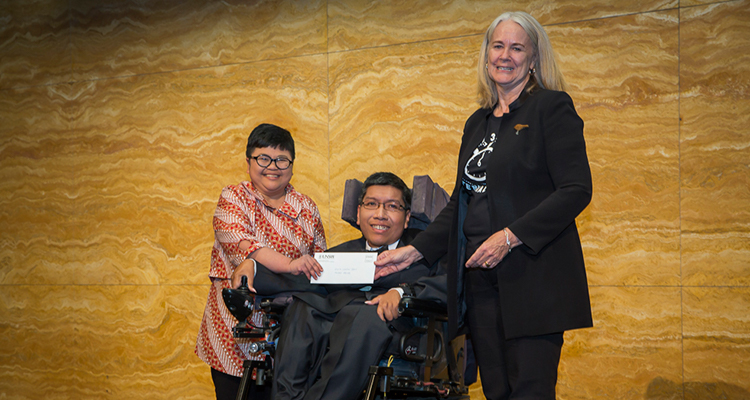 Can a three-minute thesis be a once-in-a-lifetime opportunity? One of UNSW's 2017 3MT winners says yes.  
The UNSW 3 -Minute Thesis (3MT) Competition brings together some of our brightest PhD candidates, who have just three minutes to explain what they are doing, how they are doing it, and why it is important.  Up and coming researchers from across UNSW have competed at the Faculty level for a spot in the University's final Competition.   
In the lead up to this year's event, the 2017 winner of the UNSW People's Choice Award and Third Prize, PhD candidate Antoni Tsaputra - pictured above with his wife, Yuki Melani, and Professor Laura Poole-Warren, Pro Vice-Chancellor (Research Training) - from UNSW Arts and Social Sciences, reflected on his experience of competing in this event, in his own words: 
I entered 3MT last year for three reasons: to develop a clear and concise way of communicating my research; to connect with a broad audience; and to build my confidence in presenting my work at English-speaking events. Since participating, I've been invited to speak about my research at institutions and events across Australia, including 2018 Indonesia Update events at the Australian National University, and the University of Melbourne.  
My work explores ways of empowering people with a disability in Indonesia through disability-inclusive development budgeting and planning. As someone with a physical disability from Indonesia, I have first-hand experience of the profound obstacles those with a disability face when trying to lead an active and engaged life. The biggest obstacle I face daily is accessing public transport and public infrastructure. In order to participate fully in society, I have to develop my own ways of accessing public spaces, such as commissioning a portable wooden ramp to take with me everywhere I go (and raising the funds to cover these costs myself). 
Living with these obstacles inspired me to think about how disabled people in Indonesia might be supported in becoming active and capable citizens. I believe that people with disabilities are not only capable of participating fully in society but are also valuable experts in the lived experience of disability and are, therefore, integral to any decision-making process. If governments and institutions included people with disabilities in the design and implementation of development programs within the Global South, this would ensure the best possible outcomes for all, including the full engagement of people with disabilities as capable subjects of development, rather than objects of charity. 
I consider myself a disability activist, and I have a strong commitment to voice the concerns, ideas and thoughts of my fellow people with disabilities through my research. It's very important to be able to communicate your work to the communities who stand to benefit from your findings. In order to bring about lasting change, I need to communicate with a wide range of audiences including Government officials, grassroots community organisations, disability researchers, and people with disabilities themselves. The UNSW 3MT Competition was an invaluable opportunity to communicate my research to fellow researchers across multiple disciplinary areas, along with members of the public.  
To be honest, I didn't think I would be one of the winners at the 2017 UNSW 3MT Competition Final. It felt so unbelievably great to be on stage representing my country, Indonesia, among top UNSW PhD candidates from across the globe. 
I think all candidates could benefit from participating in 3MT at least once during their candidature. It does require serious preparation, a significant time commitment, and above all a lot of practice and rehearsals with peer to peer feedback. But the work is worth it as the competition is a once in a lifetime experience that underscores the importance of knowledge sharing and dissemination for everyone. And if I can do it and win two prizes despite my very limited physical movement, anyone can.  
Support the university's budding talent by attending the final competition.  The 2018 UNSW 3MT Competition is taking place on Monday 17 September from 4.30pm at the Roundhouse. Register here.
Comments