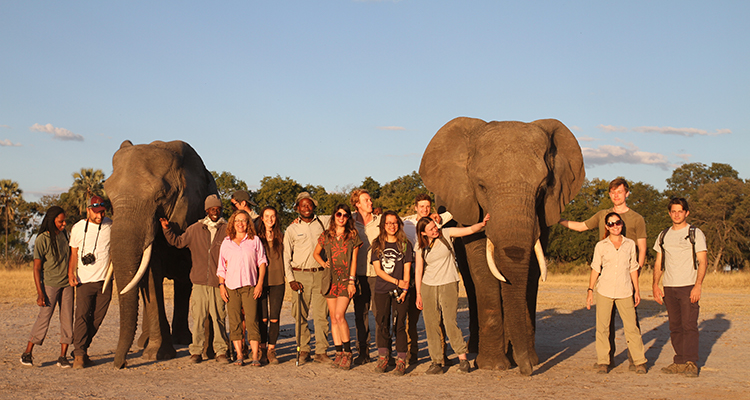 Students explored the wonders of the Okavango Delta before the signing of an agreement with the University of Botswana to develop exciting educational ties. 
Students from UNSW Sydney, Arizona State University and King's College London joined leading water resource experts on a ten-day learning adventure over July in one of the world's most spectacular eco-systems – the Okavango Delta in Botswana. 
The impact of the trip will be felt for years to come, with UNSW signing a Memorandum of Understanding (MOU) with the Okavango Research Institute at the University of Botswana. The aim of the MOU is to develop new partnerships involving the PLuS Alliance. It provides opportunities for guest lectures by University of Botswana academics, co-supervision of postgraduate research students, scholarships for undergraduate and postgraduate students at the University of Botswana, and future research partnerships. 
"The MOU is a fantastic initiative. We are already hoping to establish two undergraduate scholarships for exceptional University of Botswana students to join our undergraduate course in 2019," said Professor Richard Kingsford, Director of the Centre for Ecosystem Science at UNSW and the developer of the study abroad program.  
"We are also well on the way to establishing co-supervision of UNSW postgraduates by researchers at the Okavango Research Institute working on social-ecological systems in Botswana. The future holds promise for potential postgraduates from the University of Botswana at UNSW, working in Botswana on the challenges of sustainable management and research collaboration". 
The annual PLuS Alliance study abroad program offers students the opportunity to conduct practical field-research in the UNESCO world heritage site and learn about the global challenges of water conservation and governance. The program is led by a team of experts across the three universities, who are collaborating on a PLuS Alliance accelerator-funded research project on transboundary river governance and water security.  
After arriving in Maun, Botswana on flights from Phoenix, London and Sydney, the 13 students spent two days acclimatising, meeting their peers from partner universities, and taking part in lectures on transboundary river basin management, survey protocols, the social-ecological relationships impacting the Delta and the role of tourism in the region. The group then took a 30-minute flight into the research camp of their NGO partner, Elephants Without Borders, where they surveyed water quality, vegetation and other organisms, and set up camera traps (which later captured movement from hyenas and leopards).
Comments