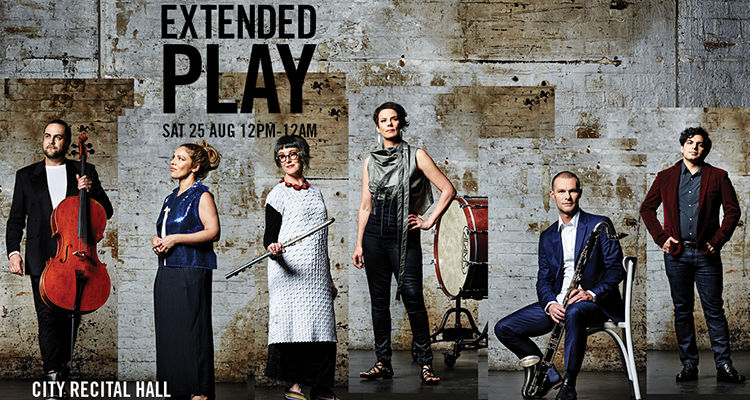 An epic, one-off festival of new music featuring more than 20 Australian and international music-makers will be at City Recital Hall on Saturday. 
From noon to midnight on 25 August, a dynamic line-up of 20 local and international artists will transform City Recital Hall into a rich hub of sonic exploration and musical landscapes. Be prepared to discard your preconceived ideas about music production and performance, and embrace the new, in all its raw, exhilarating, and immersive brilliance 
UNSW Lecturer and world-renowned pianist, Dr Sonya Lifschitz, will be performing at the upcoming event at City Recital Hall.
Artists include: 
Bang on a Can All-Stars are recognised worldwide for their ultra-dynamic live performances and recordings of today's most innovative music. Freely crossing the boundaries between classical, jazz, rock, world and experimental music, this six-member amplified ensemble has consistently forged a distinct category-defying identity, taking music into uncharted territories.  
Sydney's very own musical mavericks, Ensemble Offspring, showcases the music of Steve Reich in a one-off program, the likes of which Sydney gets to see but once a decade. 
Raven (Peter Hollo) 
Raven is the solo musical project of Peter Hollo, cellist in FourPlay String Quartet, Tangents and many other ensembles. Started as a response to his growing fandom of idm and experimental electronic music in about 1997, Raven continues to reflect his musical interests, which can be seen in some detail via his radio show Utility Fog on FBi Radio. 
Stereogamous (Paul Mac and Jonny Seymour) 
Stereogamous (Paul Mac and Jonny Seymour) are the musical equivalent of a Mardi Gras that runs all year. They have remixed or collaborated with Kylie, Ngaiire, George Michael, Sia, Sam Sparro, Brendan Maclean, LCD Soundsystem, The Presets, Light Asylum, JD Samson's MEN and loads more. 
A unique cinematic experience interweaving film, photography and live original music to share the tender, intimate stories so often brushed aside amongst the darkness of homelessness: 
The Acacia Quartet is a string quartet based in Sydney, Australia. Founded in 2010 by violinists Lisa Stewart and Myee Clohessy, violist Stefan Duwe, and cellist Anna Martin-Scrase, Acacia Quartet has won great respect for their versatile and inventive programs which couple established repertoire with the unorthodox. 
Plus get involved in a marathon collaborative performance of Eric Satie's infamous Vexations, which the composer instructed to be performed 840 times, plus theremin lessons! 
City Recital Hall is offering two special promotional codes for UNSW Community 
Full Pass tickets for UNSW staff and alumni are $45 (save $27 off RRP). Purchase your Adult Full Pass tickets here. 
For Full Pass tickets for UNSW students ARE $25 (SAVE $47 off RRP). Purchase your Student Full Pass tickets here. 
For more information, visit the City Recital Hall website. 
Comments