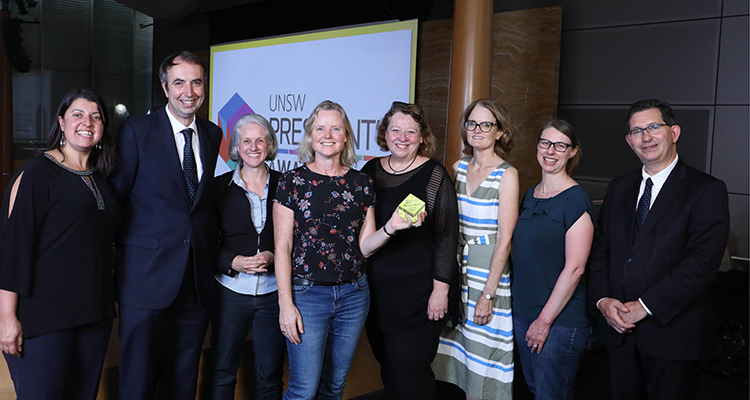 It's time to celebrate the leadership of those who best demonstrate how to make our UNSW behaviours part of our everyday work. 
Now is your chance to nominate an individual or team in this year's President's Awards, which are an opportunity for staff to recognise and celebrate those who light up UNSW by actively demonstrating the Values in Action: Our UNSW behaviours: 
Embraces Diversity
Displays Respect
Builds Collaboration
Demonstrates Excellence
Drives Innovation  
The President's Awards provide the opportunity to celebrate not only what people do but how they go about doing it. Recognising a colleague or a team for their contribution brings to life the stories behind our achievements. It reinforces our Values in Action and further shapes our culture.   
Last year, over 120 nominations were received with representation across faculties, divisions and all our campuses. Both individual and team nominations (up to 10 people) are accepted. 
How do I nominate a colleague or team? 
Nominations for the President's Awards 2018 are open now and will close on 10 September. The nomination process has been streamlined since last year, so it is easy to recognise a colleague or a team for their contribution to UNSW. Simply visit the President's Awards page to submit your nomination. 
The President's Awards were launched earlier this week by David Ward, Vice-President Human Resources. David says the President's Awards are a wonderful opportunity to recognise and celebrate staff for their contributions.  
"I encourage everyone to get involved and reflect on the people around them at work. It is our people who make our workplace a positive and productive environment, so please take the opportunity to recognise and nominate them," David said. 
 
When will awardees be announced? 
The President's Award's event will be held on 5 December 2018 where awardees will be announced for each Value in Action.   
Awardees will receive a contribution to their professional development of $5,000 per award category, and an invitation to dine with the President and Vice-Chancellor, Professor Ian Jacobs, in 2019.  
In addition, all nominations will be showcased on the President's Awards page where you can read the unique contributions of this year's nominees and cast your vote for the People's Choice Award.   
For further information, please contact the Capability & Development team at peopleandculture@unsw.edu.au.  
Comments