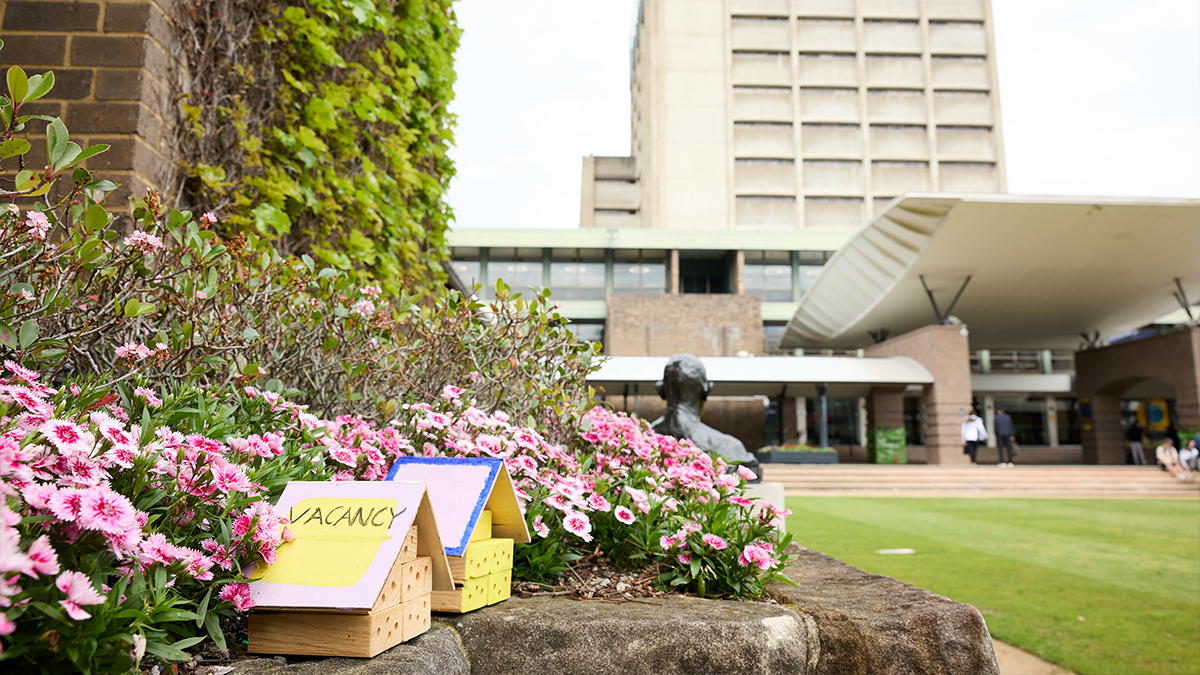 Dear colleagues
This time of year is beautiful on all of our campuses. Daylight saving has begun, T3 is well underway and clearly bees from miles around have received the news that UNSW is a hive of activity, because 'Bee Hotels' have sprung up next to the new season's flowers on the Library Lawn. The vacancy sign was up last week, but hopefully now we've created a little buzz, the holidaymakers will check in soon. Do go and have a look at these little Air Bee n Bees – they're well worth the free smiles. With that jovial spring news, I'm pleased to introduce this edition of Inside UNSW. It is another fine celebration of campus activity and collegial accolades from across our Faculties and Divisions, including an impressive milestone for our Education Focussed Program, a Best in Australia ranking for UNSW Business School, exciting news about the Village Green and much, much more.
The Village Green reopens on Monday
I am excited to be able to tell you that the Village Green will reopen next week (Monday 10 October). UNSW is fortunate to have this wonderfully transformed space for all members of the University community to enjoy, whether through sports, fitness, social engagements or a range of other wellness activities.
Congratulations to all who were involved in bringing the new Village Green to life. Thank you to Estate Management and to the students, clubs, staff and community members whose collaboration on this massive undertaking has resulted in a multipurpose environment that will be enjoyed for years and years to come. Special recognition is due to the team for delivering this remarkable facility despite the many pandemic-infused challenges along the way.
You can find out more about the Village Green facilities, opening program and ongoing calendar of events in this week's Inside UNSW. Also read about how the transformation is contributing to recharging the Botany Aquifer and creating a source of sustainable water supply on campus.
Generous staff giving celebrated, to be matched dollar for dollar
Did you know that since 2015 our colleagues have donated nearly $600,000 through the UNSW workplace giving program (WPG) in support of the University's life-changing work, including student scholarships, Indigenous projects and ground-breaking research?
Such generosity among our staff is a genuine mark of the social impact that is the heart of the University. At the recent thank you event for staff who have participated in WPG to date, the Vice-Chancellor announced that UNSW will match, dollar for dollar, every WPG contribution University staff make.
WPG enables staff to make pre-tax donations through payroll each fortnight – as little as $2 per pay. Collectively, we can make a considerable difference in our vision to improve lives locally and around the world. You can read more about WPG, its impact and how to get involved in this week's Inside UNSW.
UNSW Business School the best in Australia
A tremendous accolade for UNSW Business School, which was recently named the best in Australia by the Australian Financial Review's BOSS Magazine.
These rankings assess nearly 40 Australian Business Schools across three categories: career impact, reputation and quality. UNSW has achieved the top spot in overall excellence in the field of postgraduate business and management.
I echo Dean Professor Chris Styles' comment that this is well-deserved recognition of the quality and commitment of our students, staff, the engaged community of more than 100,000 global alumni, and the industry partners with which UNSW Business School continues to engage through research and graduate employment. A very warm congratulations to Professor Styles and his team.
October is UNSW Health, Safety and Wellbeing Month
To kick off a month dedicated to health, safety and wellbeing, here's a friendly reminder about Wellbeing Day and Recharge Week, both of which are scheduled for the week after next.
Wellbeing Day is on Monday 17 October.
This is an additional day of leave on which as many staff as possible are encouraged to take the day off work and prioritise the time for personal health. Staff who can't observe Wellbeing Day on 17 October because of existing commitments should take another day of their choosing before the end of the year. 
Recharge Week is from Tuesday 18 until Friday 21 October.
The week is designed to create headspace for you and your colleagues, to further promote and prioritise staff wellbeing. Please avoid scheduling meetings that aren't crucial and minimise email traffic as much as you can.
UNSW Health, Safety and Wellbeing Month is October.
Making sure UNSW is a safe, healthy place to work, study and collaborate is paramount. During October, there is a range of events to help keep this top of mind. Thank you to all who have prepared the UNSW Health, Safety and Wellbeing Month program.
For congratulations and calendars
It has been a pleasure to introduce another sterling edition of Inside UNSW, which you can browse, in full, here.
Best regards
Anne
Professor Anne Simmons
Provost, Acting Vice-Chancellor
Comments