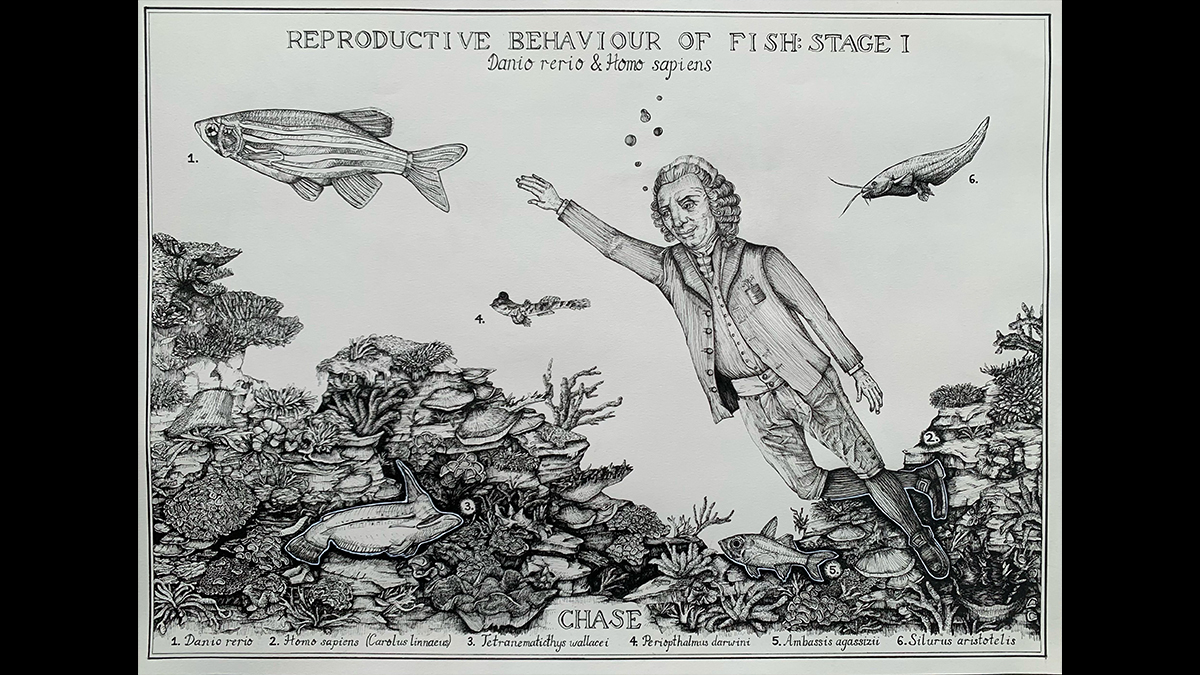 The judges of the 2022 Tim Olsen Drawing Prize have announced Amelia van der Laan de Vries as the winner of this year's prize for their work Reproductive Behaviour of Fish Stage 1 and 2.
The $5000 prize was awarded to Amelia for the compelling drawing, which the judges found challenges and extends a visual language and convention, overlaying aspects of science with art. The work has multiple layers of meaning, and its narrative deeply involves and rewards the viewer.
Amelia's work was beautifully made with nuanced marks and with great attention to detail, and it had an authentic and handmade quality which made for an absorbing and fascinating outcome.
Tim Olsen has been encouraging and supporting young and emerging artists to build careers as professional practicing artists for over 20 years. This collaboration has been continuously supported by the Olsen Gallery and celebrates students who use drawing as a significant part of their artistic practice.
This year's exhibition, held at AD Space from 28 September – 9 October 2022, features the work of 21 finalists:
Van der Laan de Vries, Adrian Mok, Anika Campbell, Astrid Elouise Bell, Charles Levi, Conor Parsons, Emma Pinsent, Emma Vey-Cox, Eva Nolan, Evan Ye, George Eggleton, Harrison Mae, Jasmin Smith, Jeremy Smith, Kristy Gordon, Matti, Nicola de Vries, Rachel Hegh, Tia Madden, Vanessa Yeoh, Zoe Patsiokostas.
This year's judging panel included Associate Professor Emma Robertson (UNSW Art & Design) and Sydney-based artist Giles Alexander. They selected four highly commended artists: Rachael Hegh, Jasmin Smith, Jeremy Smith, Zoe Patsiokostas.
You can view Amelia's work, including their artist statement, on the UNSW website.
---
Image credit: Amelia van der Laan de Vries, 'Reproductive Behaviour of Fish' 2021. Fineliner pen on paper. 40cm x 55cm. Image courtesy: the artist. Winner of the 2022 Tim Olsen Drawing Prize.
Comments