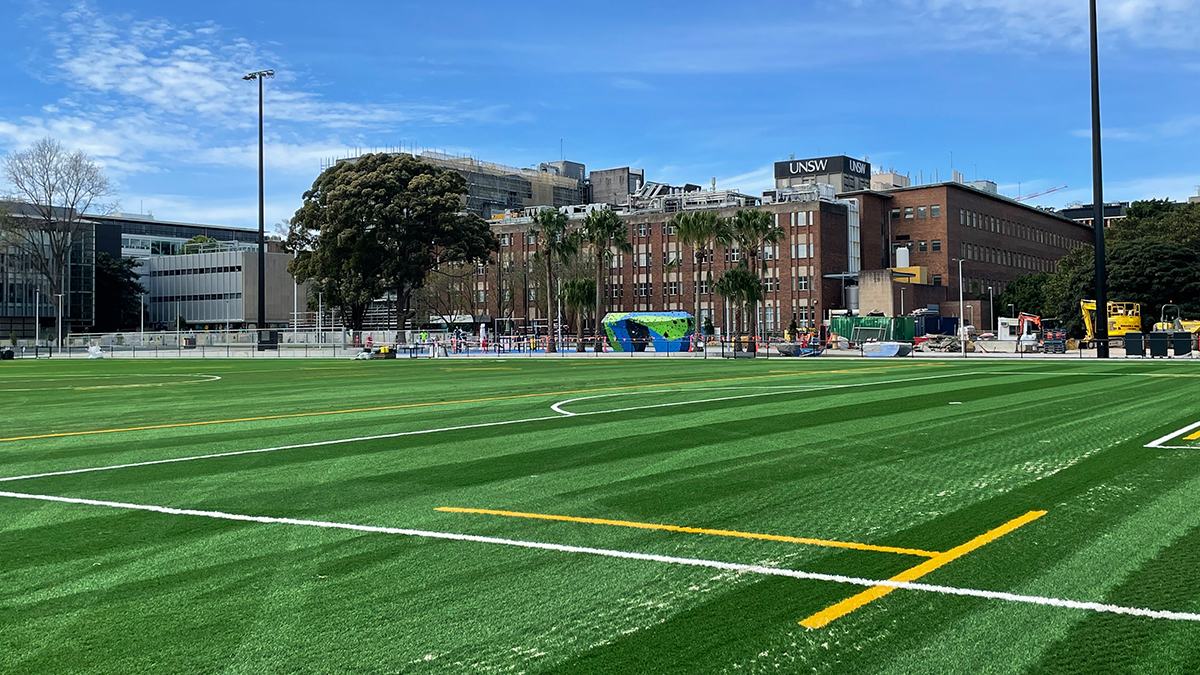 After extensive renovations throughout 2020-2022, the Village Green has been transformed into an inclusive and exceptional wellness environment.
Opening on Monday 10 October, the Village Green is ready to welcome back students, staff and the UNSW community. The new multi-purpose synthetic pitch is all-weather, all-year round and caters for a broad range of sports, as well as providing all aspects of wellness including recreational sport, social interactions, fitness and contemplation.   
Some of the highlights of the new precinct include multi-purpose courts for netball, basketball and futsal, a 500m walking and running track, outdoor fitness equipment, a bouldering wall, a seated viewing grandstand and landscaped social spaces. The track and western courts will have acrylic surface treatment completed after opening due to the wet weather.
Works are also underway for a new food and beverage outlet opening in 2023.
"The vision of the Village Green has been brought to life. Providing an inclusive and exceptional sporting, recreational, social and wellness precinct where students, staff and the community can come together to play, exercise, socialise and relax," said Andrew Walters, Vice President, Division of Operations.
"We are so proud to deliver an enhanced and vibrant space for all the UNSW community to enjoy."   
The Village Green has been developed in close collaboration with students, clubs, staff and community members. For students, there will be increased opportunities for social and competitive student sport and activities. The state-of-the-art sporting facilities will be available for UNSW sport clubs and professional organisations to use.
Mark Wright, Head of Sport & Local Community said: "Sport, active recreation, and physical activity has the ability to build communities, develop a strong sense of belonging and celebrate culture. The transformed Village Green embraces and connects with all these elements. The new facility takes a holistic approach to student well-being and mental health for all our students and reflects the changing needs of the student population."
Another important aspect of this project is the sustainability benefit the project has delivered with the upgrade of the below-ground stormwater infiltration tank. The Village Green is an essential part of the campus stormwater and infiltration system. The new tank captures campus stormwater underground, contributes to recharging the Botany Aquifer, and in doing so provides a substantial source of sustainable water supply on campus. Together with the multi-purpose pitch, the redevelopment will reduce water usage on the site.
To kick off the reopening of the Village Green, Arc has planned a host of activities and events for students and staff to get involved on Tuesday 11 October. Join a session to learn how to use the new gym equipment and bouldering wall. There are also wellness activities including yoga, pilates and much more.
Keep an eye on the Arc Village Green What's On? Calendar and come along to join the fun.
Comments