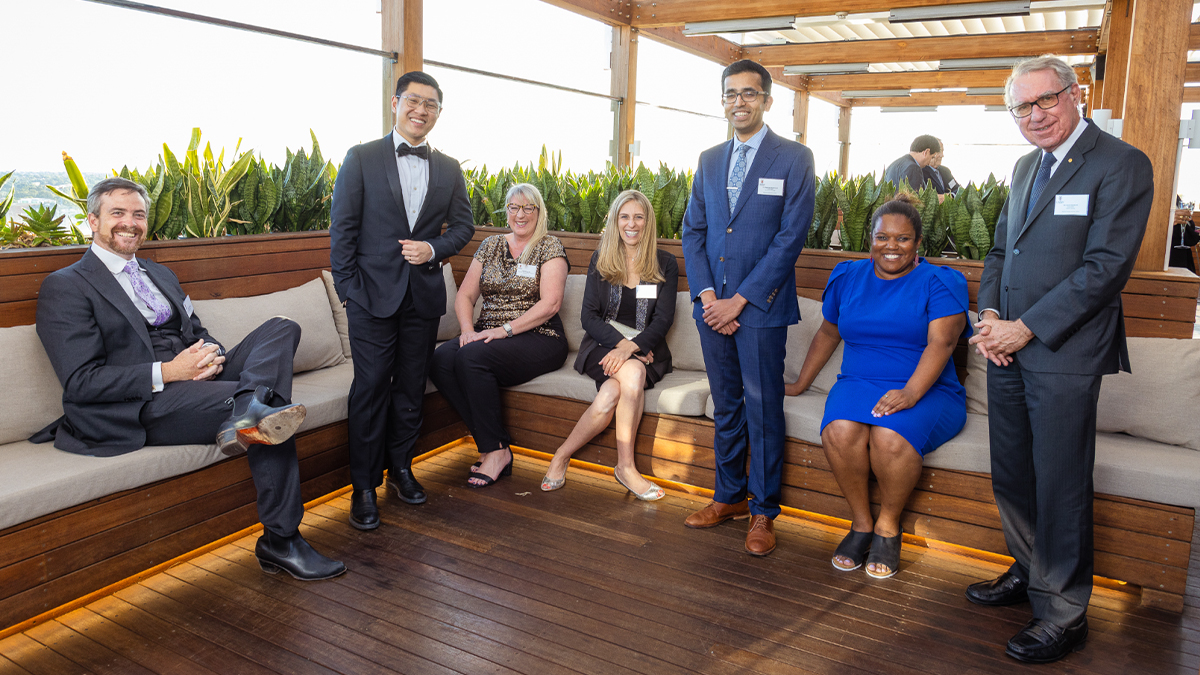 Dear colleagues
It has been wonderful to see so many students on campus enjoying the sunny weather recently, particularly those relaxing on the library lawn. In my movements around uni over the past couple of weeks, two features have really stood out to me. I continue to be impressed by the consistent quality and energy of our colleagues' efforts for our students and our research achievements, even as we near crunch time with the end of another busy year fast approaching. And I can't help but observe the complex facial expressions of students and staff as we near the business end of T3: a combination of industrious intensity and the anticipation of a well-deserved year-end break. This issue of Inside UNSW is a perfect illustration of the two. With accomplishments aplenty and events worthy of an annus colossus, this edition evokes the lively mosaic that is UNSW.
SPOT on
I've been grateful this year for how forthcoming colleagues have been as I've sought your thoughts about our S25 priorities and the issues and opportunities that are important to you. It is my priority to ensure that we respond to your insights and concerns by implementing practical solutions with optimal impact.
One of the actions we have taken in response to your feedback was to establish the Strategic Projects and Operations Team – SPOT – in August, in the Division of Planning & Assurance. SPOT's purpose is to collaborate with people across UNSW to solve problems that have previously fallen between the cracks or been put into the "too hard" or "not now" basket, to implement solutions that enable our students and colleagues to perform at their best. SPOT will provide specialist expertise and build internal capability across the University, as the small team is largely composed of secondments. It will also provide career opportunities and enhance mobility between Faculties and Divisions.
Director Fei Wong (previously Faculty Executive Director from the Faculty of Law & Justice) and the team have already conducted 30 consultations with senior University leaders. Combined with themes arising from the Ideas Hub, SPOT's consultations have informed a list of 'pain points' being felt across the Faculties and Divisions. In determining which projects to pursue, SPOT's considerations include factors such as feasibility, impact, risk and alignment.
The team has thus established four initial priority projects:
Improve the end-to-end travel booking experience.
Implement the Policy Transformation Program using the newly developed Policy Framework. For those who have heard me speak on this topic, this is the program to simplify policies and move to a trust-based approach.
Improve pain points in research translation and contracts management.
Fix a number of the system flaws with some staff training (for example: health and safety inductions).
Some of the projects are already underway. SPOT has begun to consult with stakeholders and to identify risks and opportunities. The team is working with the Risk and Finance Teams on optimising travel risk rating assessments, and I hope you will see the first stage of improvements by the end of November. I look forward to sharing more about SPOT's achievements in coming months.
UNSW Alumni Awards mark 50 years of amazing
I was privileged to host the 50th Anniversary UNSW Alumni Awards at The Lounge last Wednesday evening. What an incredible line-up of guests: five decades of award-winning UNSW graduates from a great variety of fields, all with the shared ethos of having a positive impact on the world. The pinnacle of the evening was the announcement of our 2022 winners, these seven remarkable people:
Simone Abel – Social Impact & Service
Patricia Adjei – Art & Culture
Professor Michelle Coote – Research & Teaching Achievement
Gabby Costigan MBE – Professional Achievement
Dr Robyn Denholm – Chancellor's Award for Exceptional Achievement
Dr Mayooran Namasivayam – Young Alumni Award
Dr Aengus Tran – Innovation & Entrepreneurship
You can read about their wonderful achievements in this week's Inside UNSW.
The 2022 winners and those over the past 50 years are brilliant ambassadors of the educational and research excellence that sets UNSW apart. I was delighted to congratulate and thank all our guests on behalf of our University – a special honour for me as a fellow alumnus.
Wonderfully award-worthy
Our Alumni Award winners are joined by some very accomplished members of the UNSW community this week, including…
Sofia Lloyd-Jones – on the CMO50 List
Please join me in congratulating Sofia Lloyd-Jones, Director Future Students, who has been named one of Australia's most innovative Chief Marketing Officers, in the 2022 CMO50 list. This is an extraordinary feat, especially among the increasingly competitive ranks of CMOs and the enormous challenge of marketing during the pandemic. This is the third time Sofia has appeared in CMO50 and it's a privilege for us to say it's her second nomination while at UNSW.
Dr Sarah Haynes – UNSW Rhodes Scholar 2023
A warm congratulations to NSW Rhodes Scholar Elect for 2023, UNSW Medicine & Health alumna Dr Sarah Haynes. Sarah intends to study a Master of Science in Women's and Reproductive Health and Master of Science in Global Health Science while at Oxford. The world needs young people with passion, generosity of character, and vision founded on demonstrated expertise and knowledge – like Sarah. I wish her well at Oxford and her career beyond.
Six of the best – Fellows of the Academy of the Social Sciences in Australia
Congratulations to six colleagues who have been elected Fellows of the Academy of the Social Sciences in Australia in recognition of their leading contributions to the social sciences and our society. The new ASSA Fellows from UNSW are Professor Kathy Bowrey (School of Law, Society & Criminology), Scientia Professor Henry Brodaty (Centre for Healthy Brain Ageing), Professor Mandy Cheng (School of Accounting, Auditing & Taxation), Emeritus Professor Grace Karskens (School of Humanities & Languages), Professor Simon Killcross (School of Psychology) and Professor Harald van Heerde (School of Marketing). 
UNSW – 2023 Research Awards
UNSW performed very well in The Australian's 2023 Research Awards. Not only are we "the best at producing successful entrepreneurs", we are also among the top five universities or organisations equipped to address key research challenges for Australia, in six of 10 major challenge areas. We were number one in three categories: renewable energy, quantum technology and cybersecurity and tied with University of Sydney as the best equipped research institutions to tackle Australia's toughest challenges. Congratulations to all our talented colleagues who share in this ringing endorsement of our research credentials.
Read of more noteworthy achievements in the UNSW community in this week's Inside UNSW.
Cybersecurity – please remain vigilant
The recent, high-profile data security breaches at Optus and Medibank have demonstrated the increasing sophistication of cybercriminals and the potential harm they can cause. I ask that everyone at UNSW does all they can to strengthen the security and resilience of our systems and to exercise caution and judgement. Our Cyber Security Resilience Program continues to improve the way we avoid, identify and manage threats or incidents, but each of us also needs to take responsibility for protecting our data, profiles and University. Remember also that one of the most common forms of unauthorised access to our systems is through people. Please read this cybersecurity update to understand the actions we can take and the forthcoming initiatives of the Cyber Security and Resilience Program.
A celebration of education
UNSW's Education Festival is back next week (21–25 November) for its second year. The festival, driven by the Educational Excellence objectives S25, celebrates our educators and is an opportunity for staff to share insights that can enhance the teaching and learning practices across the University. Lots of this year's festival events will be conducted 'In Real Life' – it's a great chance to collaborate, make connections and celebrate our education community.
I'll sign off today with a hearty thank you to the 83% of staff who have completed the Health and Safety Working from Home Checklist, and particularly to the wonderful supervisors across UNSW who made the time and took the care to ensure that through this process their teams are looked after. A reminder, too, that claims of up to $250 for identified equipment must be submitted through myExpenses (SAP Concur) by tomorrow, 16 November 2022.
Best regards
Attila
Professor Attila Brungs
Vice-Chancellor and President
Comments