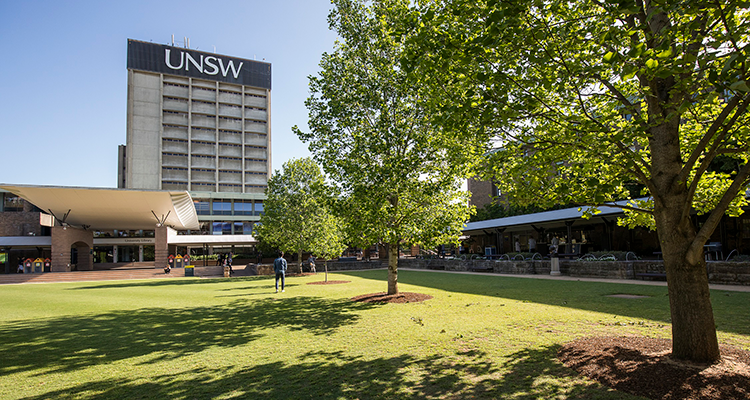 Dear colleagues
In pursuit of our vision to have a positive impact on the lives of people in our own community and around the world, it is inspiring to see the spirit of inclusion among our students and staff. This newsletter contains just a taste of the work and accolades that comprise the UNSW experience and the great range of events that celebrate our diversity. I hope you enjoy reading about some of the people whose enthusiasm and abilities make UNSW an enriching, colourful University.
Uluru Statement from the Heart
Almost four years ago, the Uluru Statement from the Heart invited all Australians to walk together towards a better future. Every Australian can now take part in the federal government's consultation about the design of the First Nations Voice to Parliament.
I stand with Professor Megan Davis, Professor of Law, Balnaves Chair in Constitutional Law, and UNSW Pro Vice-Chancellor Indigenous, in personally supporting a First Nations Voice to Parliament protected in the Australian Constitution.
I encourage the UNSW community to participate and contribute your views in this important national conversation.
Read more about the Uluru Statement from the Heart and a First Nations Voice to Parliament here.
UNSW consultation on academic freedom and freedom of speech
I draw your attention to a consultation paper on UNSW's Academic Freedom and Freedom of Speech Code of Conduct, which will be available for comment until Friday, 19 March 2021.
Over the last few years UNSW has on many occasions reiterated an unequivocal commitment to freedom of speech and academic freedom. This is reflected in our long-standing position that freedom of speech at UNSW should be no different to freedom of speech anywhere in Australia. The only constraints we place on freedom of speech are those that apply to the community under the law.
Last year the federal government asked the higher education sector to adopt the Model Code for the Protection of Freedom of Speech and Academic Freedom in Australian Higher Education Providers. Legislation is also before Parliament that may make our adoption of the Code a legal requirement. We have looked carefully at the Code and welcome much of the document. However, in some clauses the Code restricts freedom of speech more than is the case outside of our University. That applies to the clause related to standards of scholarship in the Code which would enable UNSW to restrict 'external visiting speakers' on the basis that the content of the proposed speech falls below 'scholarly standards'.
We propose to adopt the Code, except where it offers less protection of freedom of speech than the UNSW position. Where that is the case it has been modified to reflect our position that freedom of speech at UNSW is no different to that elsewhere in Australia and is only limited by the law.
I invite you to read the consultation paper and make a submission.
Citations in the Australian Awards for University Teaching
Congratulations to Associate Professor Adrienne Torda, Dr Lynn Gribble and Dr David Kellerman, who were recognised in the 2020 Australian Awards for University Teaching (AAUT) with Citations for Outstanding Contributions to Student Learning. These citations acknowledge and reward the diverse contributions made by individuals and teams to the quality of student learning. They are part of the broader AAUT, which recognise the exemplary work being done by university staff to improve the student experience and enhance learning outcomes.
The dedication to our students shown by UNSW academic and professional staff continues to impress. Please join me in congratulating our colleagues on these well-deserved awards.
Australian Story features Scientia Professor Veena Sahajwalla
The award-winning ABC documentary series Australian Story tells compelling stories of Australians doing remarkable things. It was fitting that "recycling revolutionary" Scientia Professor Veena Sahajwalla, founder and director of the Centre for Sustainable Materials Research and Technology (SmaRT@UNSW), was featured in last week's episode, 'The Tipping Point'.
The program charted Veena's decades-long passion for finding ways of repurposing our waste, including using end-of-life rubber tyres as an alternative to coking coal to produce Green Steel, and recycling discarded textiles and glass to produce Green Ceramics that can be used as building materials. The MICROfactorie technology installed in a Cootamundra recycling facility to create green ceramic tiles from old mattresses is quite extraordinary. It is truly inspiring to see how Veena and the team at SMaRT are opening commercially viable pathways to recycle waste, applying their pioneering 'microrecycling science' to reform waste streams into value added materials and products.
You can watch the full episode of Veena's ground-breaking Australian Story online.
#UNSWPride on parade
The internationally renowned Mardi Gras Parade comes even closer to UNSW this year, with 40 of our students and staff participating in the Mardi Gras Parade at the Sydney Cricket Ground this Saturday evening. This is the fourth time UNSW has taken part in the annual parade, the uplifting crescendo of the Mardi Gras Festival.
I have been proud to see the rainbow flag flying outside the Clancy Auditorium again during this year's festival, an important and resolute statement of our commitment to LGBTIQ+ inclusion. While in-person events have been curbed by physical distancing requirements, the pockets of colour with the rainbow heart next to the Basser Steps and our rainbow UNSW heart resplendent on our social media platforms have been visible statements of #UNSWPride.
My best wishes to our parade participants and all members of the UNSW LGBTIQ+ community for the Mardi Gras celebrations.
International Women's Day – 8 March 2021
I hope you will join me in celebrating International Women's Day on Monday, 8 March by taking part in the on-campus and online activities with which UNSW is marking this global event.
The UN Women 2021 theme, 'Women in Leadership: Achieving an equal future in a COVID-19 world' recognises the gargantuan task still ahead of women and girls around the globe, to shape a more equal future during the recovery from the pandemic. Women have been at the frontline in response to COVID-19, as medical professionals, caregivers and some of the most brilliant leaders in guiding communities and nations through the crisis. But evidence also shows that the professional lives of women have been disproportionately affected by the pandemic.
As UNSW continues to strive to be an exemplar of equity, diversity and inclusion, I acknowledge all who are already tackling barriers to gender equity. On International Women's Day, I encourage our students and staff to take this opportunity to consider, discuss and act towards a truly equitable future.
On Forgiveness: the 2021 Gandhi Oration – 11 March 2021
This year's Gandhi Oration, our annual lecture in celebration of the legacy of Mahatma Gandhi as a champion of human rights, will be a conversation 'On Forgiveness', featuring human rights expert and Harvard Professor, Martha Minow, and Scientia Professor George Williams, Deputy Vice-Chancellor, Planning & Assurance.
The Gandhi Oration has, since 2012, discussed the significant human rights issues of the day. This year, Professors Minow and Williams will explore how we think about forgiveness in times that are increasingly crowded with accusation and resentment. Forgiveness raises intricate questions: Can forgiveness play a more powerful role? Who has the right to forgive? Who should be forgiven?
This is bound to be a thought-provoking discussion, and a fitting event to launch the 50th anniversary celebrations of the UNSW Faculty of Law & Justice.
The Gandhi Oration is on Thursday, 11 March at 6.30pm. You can register to watch the livestream, or to receive the recording by email if you're unable to see the event live.
Fifty years of UNSW Law & Justice
When UNSW introduced a law degree in 1971, it was the first time a new law program had been offered in NSW since the 19th century. Fifty years later, UNSW Law & Justice is a world-class faculty that takes seriously its role in serving the broader community through commitment to excellence, intellectual rigour and the pursuit of social justice. The recent addition of 'Justice' to the Faculty's name reflects a continuing evolution.
Over five decades, the Faculty has stayed true to founding Dean, Emeritus Professor Hal Wootten's conviction that a law school should have, and should impart in its students, "a keen concern for those on whom the law bears harshly."
Initiatives such as the Indigenous Law Centre and the Kingsford Legal Centre, both of which celebrate 40th anniversaries in 2021, are exemplars of the Faculty's commitment to serving our community, as are its ongoing contributions to law reform and to our legal system more broadly.
I congratulate Acting Dean of Law & Justice, Professor Andrew Lynch, and all the students, staff and graduates who are part of UNSW Law & Justice's fine half-century.
QS Subject Rankings
The UNSW results in the 2021 QS Subject Rankings released today demonstrate the breadth and quality of our research and teaching. We have one subject in the top 10 in the world, 21 subjects in the top 50 in the world, and four subjects at number one in Australia. At fifth in the world, Mineral & Mining Engineering was our top-performing subject for the fifth year in a row.
From engineering to law and to environmental sciences – encompassing many other disciplines – we are contributing to the social and economic future of Australia. As we pursue our mission of helping solve major societal challenges, we can be proud of the positive impact we are having locally and throughout the world.
Reaffirming our commitment to UNSW Values in Action
I reiterate the message my colleagues and I issued to students and staff on Monday about our commitment to the UNSW Values in Action and its call for us to embrace diversity and display respect in all our interactions with one another.
This respectful behaviour is reinforced in our student code of conduct and staff code of conduct. All UNSW students and staff members have the right to always feel safe and secure on campus and to fully participate in all aspects of university life. We do not tolerate harmful behaviours including bullying, harassment, and sexual misconduct and assault. The University is committed to preventing all such behaviour and supporting those who have been harmed by such conduct.
We require everyone in our community to undertake training in consent and respectful behaviours, and urge everyone to sign up to Be A Better Human. We support students and staff who report any kind of disrespectful behaviour, sexual harassment or sexual assault. There are external and internal UNSW support and reporting options available to you, such as our First Responders, Student Support Advisors, the Employee Assistance Program and reporting portal.
Alumni Park revitalisation a generous gift
We are very fortunate at UNSW to have a generous community of alumni who seek to enhance the experience of our current and future students. Through their gifts, this year we will revitalise the Alumni Park, creating an engaging place for students and staff to relax, gather and socialise.
Consultation with the La Perouse Indigenous Community, the traditional owners of the land on which the Alumni Park is situated, has been an important part of the project. Indigenous vegetation and a specially commissioned Indigenous artwork will be features of the park's design.
The Alumni Park is adjacent to the Esme Timbery Creative Practice Lab, and, combined with the increasing number of people passing through the area from the Anzac Parade Light Rail stop, the new College Walk is set to become the 'creative backbone' of our campus.
My thanks to our alumni community for making this project possible: a gift from past students to those of the present and future.
Adams Event features vocal Fry
As devotees of the Hitchhiker's Guide to the Galaxy well know, the answer to the ultimate question of life, the universe and everything is 42.
Cut to analysis of an ancient kauri tree found in Ngāwhā, New Zealand, through which scientists in an international study co-led by UNSW and the South Australian Museum have precisely dated the time and environmental impacts of the last time the Earth's magnetic field shifted temporarily and sparked major climate shifts, environmental change and mass extinctions.
So it is that this 'paleopocalyptic' event, happening as it did, 42,000 years ago, has been dubbed the 'Adams Transitional Geomagnetic Event', in honour of author Douglas Adams. The work, of which Professor Chris Turney, UNSW Science, was co-lead author, was published in Science late last month. Quite a dramatic planetary event and a truly remarkable finding.
Which can also be said of the fabulously collaborative work of Chris and our News & Content and Corporate Communications Teams, in particular Isabelle Dubach, Sherry Landow and Lee Henderson. Together, these colleagues created a planetary event of their own, inviting dramatist Stephen Fry, a close friend of the late Adams, and narrator of the Hitchhiker's Guide audiobooks, to donate his vocal talents to an animation explaining the Adams Event. Fry obliged generously.
The results have been astonishing: more than 35,000 views of the animation; the findings have become the number one trending story on Science Alert, the second-most visited science website in the world; posts on New York Times Science and QI (Quite Interesting) Twitter accounts, to a combined 2.5 million followers; more than 17,000 views of the UNSW Newsroom article – and much, much more. And all this from 42, a trilogy in four parts, and the growth rings of an ancient kauri tree. Congratulations to all who collaborated for such an incredible achievement.
UNSOMNIA seeks applications and answers
We can always rely on UNSOMNIA to ask the pertinent question and stimulate thoughtful discussion. UNSOMNIA 2021 asks 'How can we thrive in the 21st century?'. The Centre for Ideas is inviting UNSW academics, researchers and PhD students to apply to take part in this valuable professional development program: applicants are asked to respond to this year's question in reference to their area of research. Find out more about UNSOMNIA 2021.
In closing, a reminder to help us all enjoy a vibrant campus experience by continuing to follow our Safe Return to Campus Guidance and check the NSW government website for the latest COVID-19 updates and alerts
Take care and stay well

Ian
Comments