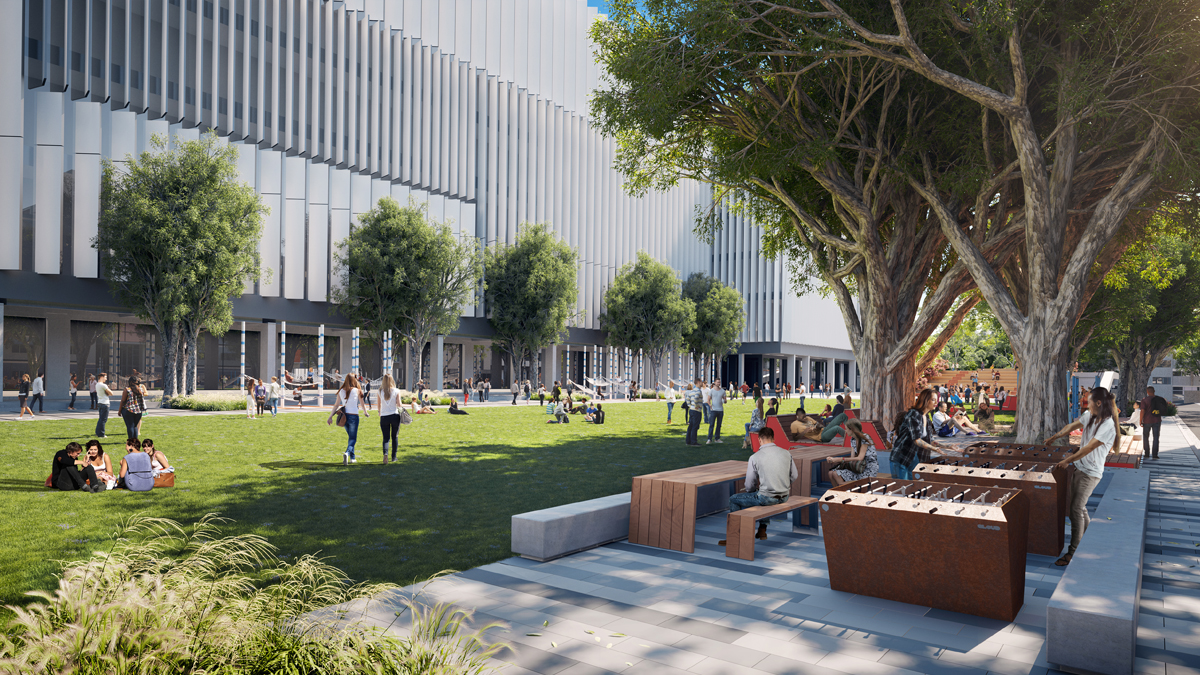 Alumni Park is being revitalised to provide a more interactive and engaging experience for the UNSW Sydney community.
A new Alumni Park is coming to UNSW in 2021. The park will provide new recreation facilities for students and staff, embrace the history of the land and its people, and recognise the contribution of alumni.
The park is being redesigned with a focus on the student experience, providing new facilities for events, performances and club activities, as well as unique and welcoming spaces to relax and socialise.
The park's revitalisation is funded by alumni, a gift from previous UNSW generations to those of the future.
Adjacent to the Esme Timbery Creative Practice Lab and brought to life by increased foot traffic from the Anzac Parade Light Rail stop, Alumni Park's redevelopment will cement the new College Walk as the creative backbone of UNSW's Kensington campus.
New facilities will be made available to students and staff, including a variety of settings for relaxing, gathering and socialising:
Outdoor gym equipment and foosball tables
Comfortable and welcoming performance seating on the Esme Timbery steps with shade provided by native shrubs
Reclined seating arrangements to provide opportunities for students to relax.
Jeff Peers, UNSW Chief Technology and Infrastructure Officer, said that Alumni Park will honour the alumni who recognise the importance of campus life and have enabled its transformation through their donations.
"Alumni Park will provide our students with a great environment to relax on campus. Importantly, this has been made possible by our University's alumni, who will also be encouraged to enjoy the new space when they visit campus," Mr Peers said.
Vice President External Engagement, Fiona Docherty, is delighted that this link between past and present students will soon be enjoyed by the entire UNSW community. 'Alumni continue to support student life in lots of tangible ways such as mentoring. Financial support for an improved campus experience is just another example of the power of this network.'
Consultation with the La Perouse Indigenous Community, the traditional owners of the land on which Alumni Park is situated, has been a major aspect of the Alumni Park project. Indigenous vegetation will be featured in the landscaping and a permanent Indigenous artwork has been commissioned for display.
Comments