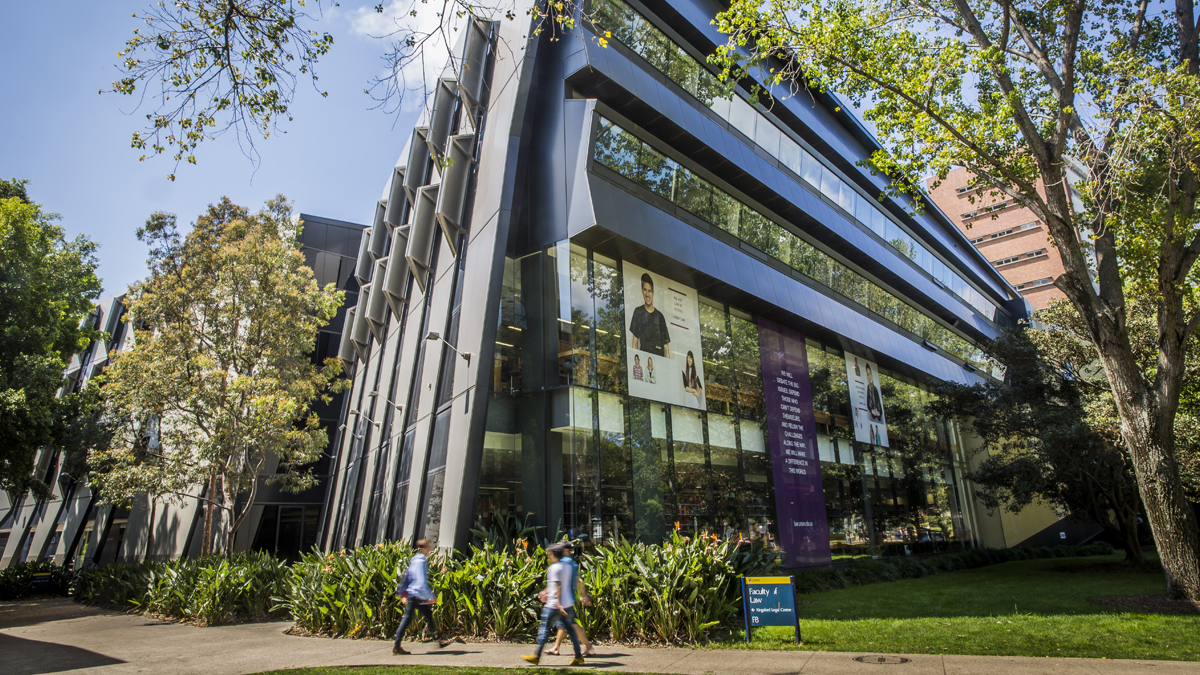 UNSW's Faculty of Law & Justice marks an important milestone in 2021.
For the last 50 years, the Faculty – built on a steadfast commitment to excellence, intellectual ambition and pursuit of social justice – has been producing some of the best law graduates in Australia and around the world.
Our 50th year sees a refreshed name for the Faculty, the addition of criminology to our programs and marks a time to reflect on our achievements and those of the Faculty's graduates. Importantly, it is a time to celebrate with the community who has helped the Faculty carve a place in Australia's legal history.
Reflecting on 50 years of the Faculty means reflecting on 50 years of significant social reform in Australia and the remarkable history of educating students having an impact in Australia and internationally, says Scientia Professor George Williams AO, former Dean of Law & Justice and Deputy Vice-Chancellor, Planning and Assurance at UNSW Sydney.
When UNSW decided to introduce a law degree, it was the first time since the 19th century that a new law program had been introduced in New South Wales. 
"UNSW introduced a modern law program for modern times," said Associate Professor Catherine Bond, Associate Dean of Law & Justice. 
And so many of the elements of that program as it was developed remain a part of UNSW's Law program today, such as small interactive classes where students can properly debate and consider the law together.
What has the Faculty achieved in 50 years?
Since the Faculty admitted its first students in 1971, the legal world has changed enormously in terms of how legal practice is performed, but also the content of laws in Australia, our relationship to the English courts, and our relationship with our First Peoples, says Professor Andrew Lynch, Acting Dean of Law & Justice. 
"Our first graduating class in 1976 included our first Indigenous graduate, and today we've graduated more than 100 Indigenous students across our law programs," A/Prof. Bond said.
"When the Law Faculty was founded at UNSW, there were no female members among the academic staff. Today, they make up more than half of our teaching and research team and dominate their fields. This is a great year of celebration, where we can reflect on the power of our founding statements, features of the Law program, and how these foundations are the cornerstones of our graduates' success."
How do Law & Justice complement each other?
The founding Dean of Law & Justice, Emeritus Professor Hal Wootten once said that "a Law School should have and communicate to its students a keen concern for those on whom the law bears harshly".
"So right from the beginning of our Faculty's life, the idea that law doesn't exist in isolation, but is harnessed in pursuit of justice, is really integral to our approach. Law is a medium or a tool through which we can construct the kind of society and world that we want; one in which individuals are afforded dignity, equality and justice," said Prof. Andrew Lynch.
"Our refreshed Faculty name of 'Law & Justice' says a lot about our mission. It's about the law serving the community, not just an elite few," Prof. Williams added.
How can we expect law to change in the next 50 years?
Prof. Williams said there's a lot of tradition and culture associated with the law and even if the law appears to be slow moving and people are still appearing in court and wearing wigs – we're on the cusp of massive change.
"More access to justice will be possible in this new era. That's going to really change what it means to be a lawyer, and how the law can support the community. And that's something that the Faculty of Law & Justice absolutely is at the forefront of and I've no doubt will lead over the next half century," he said.
Prof. Lynch said that it will be interesting to see how the rise of artificial intelligence and digital decision making will intersect with legal regulation. 
"The safest prediction is to think about how the legal profession and the judiciary will change over the course of time."
Prof. Lynch and A/Prof. Bond both agree that one of the key drivers for change in the next 50 years will be diversity within the student body, and broadly across the profession. 
"When I look in the classroom, I'm so proud to see such a diverse collection of students. We have gender diversity and multicultural diversity. And I believe that over the next 50 years, that diversity will further develop in the legal world as well," A/Prof. Bond said.
How has UNSW Law & Justice given back to society?
Prof. Williams lists a number of ways that the Faculty has given back to society in the last half century, the first and foremost being educating people from communities that aren't well represented by lawyers. 
"One of our proudest achievements is the fact that we've educated over 100 Indigenous lawyers – more than any other law school in the country," he said. 
"But we can also point to big law reform debates we've been part of such as prison reform, the idea of bills of rights or better commercial laws. This is a Faculty in a community that has driven significant law reform, and never starts from a perspective that the status quo is okay. We're always looking for things to be better, so that we have a legal system that serves the needs of the community." 
A prominent example of that is the Indigenous Law Centre, which is celebrating its 40th anniversary in 2021. Founded in 1981, the law centre has been front and centre in development of the Uluru Statement from the Heart and constitutional recognition.
"The Kingsford Legal Centre, also celebrating its 40th anniversary, is another initiative that the Faculty is incredibly proud of. The centre involves students in servicing the needs of our local community in southwestern Sydney, but also contributes to national and international law reform through submissions and contributions to government, advocacy organisations and the media," Prof. Lynch said.
"The contribution of the Faculty also goes on in so many ways, and we pride ourselves in hearing the success of our graduates as they go forward in their careers out in the world making a difference. That is consistent with the ethos of the Faculty as a place where law meets justice and what we are proudly celebrating in 2021."
Comments