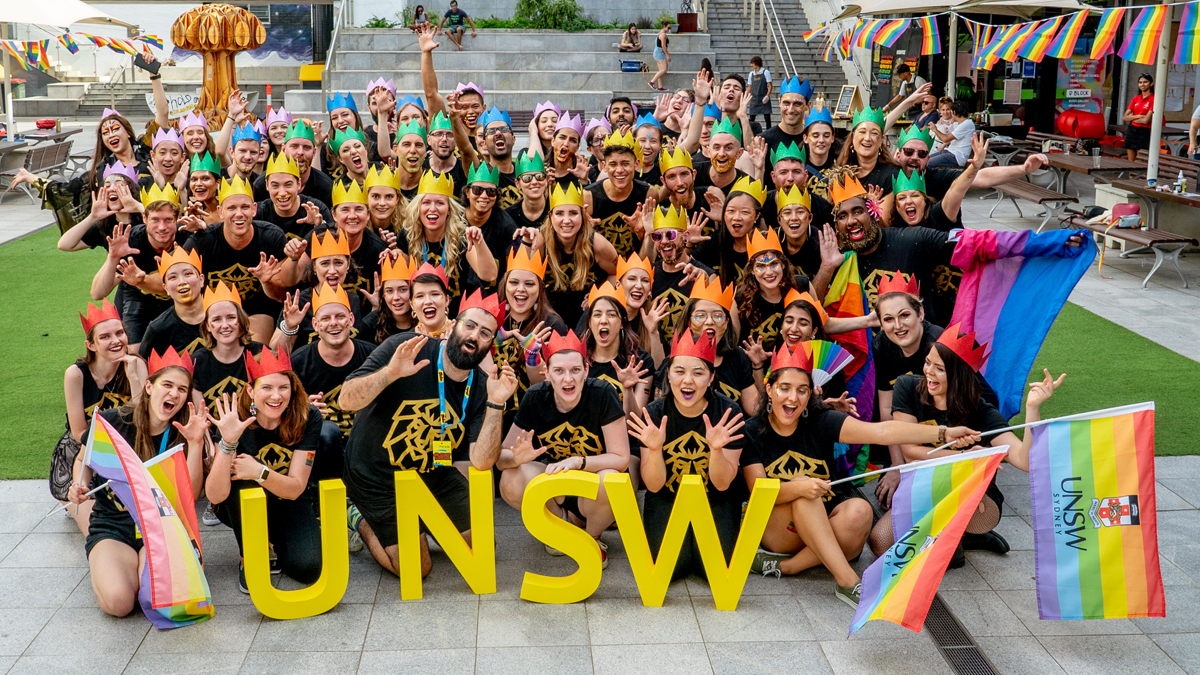 Despite the limitations imposed by COVID-19, UNSW is offering multiple ways to celebrate this year's Mardi Gras.
The 2021 Sydney Gay and Lesbian Mardi Gras Festival is well underway, having commenced on 19 February, and the festivities continue until 7 March. It is the largest celebration of the LGBTIQ+ community in Sydney and UNSW Sydney is once again proud to participate.
To mark the importance of the festival at UNSW in 2020, more than 1,000 students and staff came together in person on the Kensington campus to create the UNSW Human Rainbow. While large campus events are not possible at this time, there are still many ways to display #UNSWPride in 2021.
"The Human Rainbow demonstrated that UNSW students and staff are enthusiastic about displaying their solidarity with our LGBTIQ+ community. In place of activities that bring people together physically, we were still committed to providing opportunities for individuals to display their UNSW Pride," said Abi Scott, Communications and Engagement Manager for the Division of Equity Diversity & Inclusion.
"For the duration of the Mardi Gras Festival, the rainbow flag is once again flying outside of Clancy Auditorium; a new version of the rainbow UNSW logo is on display on all UNSW social media platforms; and a large cut-out of this rainbow heart has been installed next to the Basser Steps. They might seem like simple offerings, but we hope they provide opportunities — on campus and remotely — for individual engagement and starting important discussions within the UNSW community."
One physical event that remains on the calendar is the Mardi Gras Parade on Saturday 6 March. This year the parade takes a detour from Oxford Street for a one-off party at the Sydney Cricket Ground. This will be the fourth time that UNSW will participate in the parade.
"While the traditional 'Mardi Gras' experience will not be possible this year, it has not dampened the excitement in the UNSW community. All 40 places — 25 designated for students and 15 for staff — were allocated by the end of January and there are many more hopefuls on our waitlist," said Fergus Grealy, Event Manager for the Division of Equity Diversity & Inclusion.
"As with previous years, the UNSW parade entry is a community-led project. I am grateful to the 10 students and staff who volunteered to be involved in the creative decisions. As a group, we decided on parade costumes, props and choreography. Everyone is excited to be dancing in the SCG to the song 'Pride (In the Name of Love)'".
If you are not able to attend the parade in person, you will be able to watch our UNSW Pride live on SBS. The group is due enter the SCG at approximately 8:00pm.
For more information on Mardi Gras and other UNSW initiatives to support the LGBTIQ+ community, visit the UNSW Pride website.
Comments