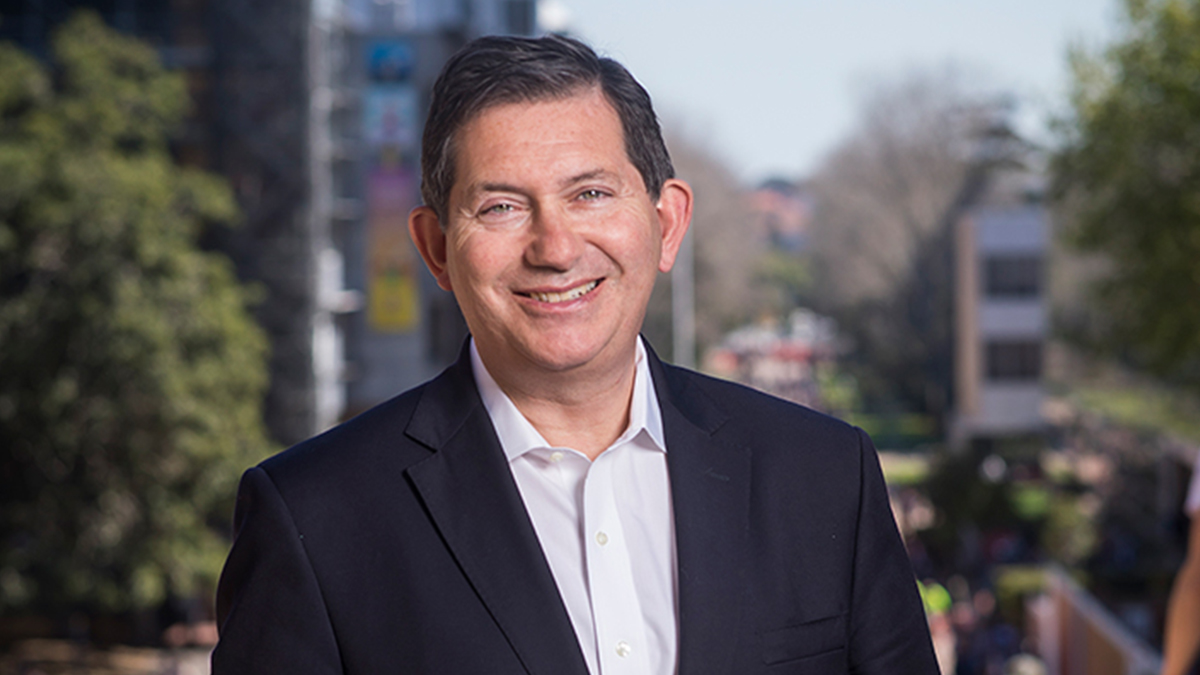 Dear colleagues
Once again, I have been spoiled for choice in writing about the achievements of the UNSW community. From prestigious awards and important appointments to gender equity champions and inspiring innovations, this edition is filled with examples of students and staff having a positive impact on the world around them.
Tomorrow night we will honour The Kirby Institute's Founding Director, with the Inaugural David Cooper Lecture in his memory, featuring Dr Anthony Fauci. When David was working to address the HIV crisis in Australia Dr Fauci was doing the same in the USA – both are revered as giants in the global response to HIV/AIDS. Dr Fauci has been an adviser to seven US Presidents on domestic and global health issues. Since being a key figure in the response to HIV/AIDS he has again come to public prominence during the battle to control COVID-19 in the US. The event will be a fitting tribute to the late Professor David Cooper AC. You can register for the David Cooper Lecture here. It is online and free of charge.
Thank you to all the staff who submitted their Disclosure of Interests form during Flexibility Week at the end of March. We had an excellent response to our request to complete the form during the specified timeframe and now have responses from 98% of staff. I also thank the team who created the online system, which was simple to use and handled the volume of completions well; the Human Resources Business Partners, who assisted staff with their forms; and the Division of Planning & Assurance, for leading this project. The Disclosure of Interests process is an important step in ensuring our work occurs within a transparent, ethical framework and in accordance with our policies and procedures. Your responsiveness to the new process was very much appreciated.
Professor Stephen Foster appointed Dean of Engineering
I have received many messages welcoming the appointment of Professor Stephen Foster as UNSW's Dean of Engineering. Congratulations to Stephen, who has done a superb job as Acting Dean since January 2020. That was the most recent in an impressive array of roles since his association with UNSW began in 1987 as a Teaching Fellow in the School of Civil Engineering. Stephen was previously Head of the School of Civil & Environmental Engineering and Acting Head of the School of Minerals & Energy Resources Engineering. He also has a distinguished record in the field of structural concrete and concrete materials.
It is terrific that UNSW Engineering, the best engineering faculty in Australia, will remain in safe hands with Stephen's appointment.
You can read more about Stephen's career and appointment here.
Professor Merlin Crossley awarded the Lemberg Medal
I am thrilled to congratulate Deputy Vice-Chancellor, Academic, Professor Merlin Crossley, on being awarded the 2021 Lemberg Medal. This is the most senior honour bestowed by the Australian Society for Biochemistry and Molecular Biology and is awarded for excellence in biochemistry and molecular biology and contributions to the scientific community. It is an honour befitting Merlin's immense contribution to our understanding of blood disorders including sickle-cell anaemia and thalassemia. I echo Dean of Science Professor Emma Johnston's comment that Merlin's discoveries are a clear example of how scientific research creates opportunities to improve lives. It is also a remarkable achievement to have maintained research of this quality alongside a major leadership role.
In addition to contributing invaluable new knowledge to his field, Merlin's work has inspired new generations of scientists, as mentor and collaborator for students and peers. His leadership, his research, his teaching and his prowess as a science communicator are tremendous assets to UNSW and to science. I congratulate Merlin on this prestigious award.
Colleagues honoured in the Women in AI Awards
In further evidence of the depth of talent in our Engineering Faculty, Scientia Associate Professor Lina Yao (School of Computer Science & Engineering) and Dr Beena Ahmed (School of Electrical Engineering & Telecommunications) have been honoured in the inaugural Women in AI Awards.
Lina was awarded first place in the AI in Cyber Security category for her work in identifying cyber threats, especially in relation to false information on social media. Beena was honoured in the AI in Education category, for her development of speech therapy applications for children.
We are privileged to have Scientia Associate Professor Yao and Dr Ahmed at UNSW as role models for our students and colleagues. These awards are well deserved recognition of their expertise and great emblems of the talent that abounds among women in AI – and in STEM more broadly. A very warm congratulations.
UNSW champions gender equity with Athena SWAN
At UNSW we express our commitment to equity, diversity and inclusion through a variety of local, national and international initiatives. Since 2015, our participation in the SAGE (Science in Australia Gender Equity) Athena SWAN program has sharpened our focus on gender equity, particularly in academia and STEM disciplines.
Please join me in congratulating Scientia Professor Fiona Stapleton, from the School of Optometry & Vision Science, UNSW Medicine & Health, who has been appointed the new Academic Lead for Athena SWAN at UNSW and Chair of the Self-Assessment Team (SAT). Fiona will oversee the implementation of UNSW's Athena SWAN Action Plan, advocating for gender equity on campus and the principles of the Athena SWAN Charter. With her track record of enthusiastic, influential leadership, Fiona's appointment heralds an exciting new phase for the Athena SWAN initiative at UNSW. I wish her well in this important role.
You can find out more about UNSW's involvement in Athena SWAN on the EDI website.
In further positive news for gender equity in STEM, UNSW is now recognised by the Australian Academy of Science as a Women in STEM Decadal Plan Champion. As a champion, UNSW has made a commitment to aligning our work towards gender equity with the academy's decadal plan: a shared vision to attract, retain and progress women and girls in STEM education and careers.
Alumni Connect relaunched on alumni-founded platform
Our alumni are part of the UNSW community for life. They comprise a global community more than 320,000 strong that stretches across the globe, advancing knowledge, building industry and driving progress in nations throughout the world. UNSW proudly offers ongoing support and connections for our alumni, through such initiatives as the Alumni Connect program.
It is marvellous that Alumni Connect has been relaunched recently on the Kintell platform, which was founded by former UNSW students James Behzadi and Jane Qiu. Through Kintell's on-demand, 1:1 video mentoring hub, alumni can network with fellow UNSW graduates and industry professionals.
UNSW is proud to partner with Kintell in a success story of alumni for alumni. Well done to the Alumni Engagement team.
Helping commencing students feel part of the UNSW community
As we celebrate the launch of an online platform to support our alumni community, so too our commencing students are benefiting from a major upgrade of the website they use for information and guidance on accepting their offers.
From Term 2, commencing students will use this new website, the result of migrating the Getting Started website to the Current Students platform. This will make the process of acceptance, enrolment and orientation smoother, which will be a great boon for our students and their feeling of being part of the UNSW community.
Thanks to all who were involved in bringing this new site to fruition. It is an excellent example of the power of collaboration to provide an important service.
UNSW Fitness and Aquatic Centre grand re-opening
The re-opening celebration for UNSW Fitness and Aquatic Centre was welcome and timely. The new operator, Clublinks, is keen to support our community's health and wellbeing needs, and there are some financially attractive memberships available for staff through salary sacrificing arrangements. There are also plans for family memberships.
We are fortunate to have this excellent facility on campus. If you are thinking of joining a gym – or having a swim – please consider the convenience and camaraderie of working out at UNSW, and supporting one of our important on-campus service providers at the same time.  
New UNSW Institute for Cyber Security – IFCYBER
In an ever more complex world, cyber security is increasingly important for our collective and individual prosperity. It is in this context that the UNSW Institute for Cyber Security, IFCYBER, was launched recently, bringing together multidisciplinary experts and capitalising on the research, teaching and innovative strengths of both the Sydney and Canberra campuses.
The idea for IFCYBER grew from UNSW Canberra Cyber, which was established in 2015. The new institute spans the Canberra and Sydney campuses – but as is definitive in 'cyber', IFCYBER goes beyond campuses, with more than 60 academic members and partners in Australia and around the world. IFCYBER places UNSW in a strong position to lead Australian and international research of the cyber ecosystem.
Best wishes to all who are involved in this important new institute.
UNSW Tax Clinic an Innovation that Inspires
I was delighted to hear that the UNSW Tax Clinic was selected as a winner in the 'Innovations that Inspire' competition of AACSB International, the Association to Advance Collegiate Schools of Business. The competition celebrates initiatives that are having a significant impact, recognising business schools that are addressing a wide range of societal challenges. The UNSW Tax Clinic, which provides free, independent and confidential tax advice and support, was one of 24 international innovations that inspire for 2021. Well done to the students and professionals who provide this service – and congratulations on this global award!
myExperience survey is now open
As we move into the last few weeks of the Term 1 teaching period, please encourage your students to complete the myExperience survey, which is open until Thursday 29 April. The insights we receive through the survey enable us to continue to improve the educational experience we provide at UNSW. Both our 2025 Strategy and the forthcoming PVCESE Strategy prioritise turning student feedback into action and myExperience is crucial in this respect.
Please continue to refer to our Safe Return to Campus Guidance and check the NSW government website for the latest COVID-19 updates and alerts.
Best wishes
Ian
Comments