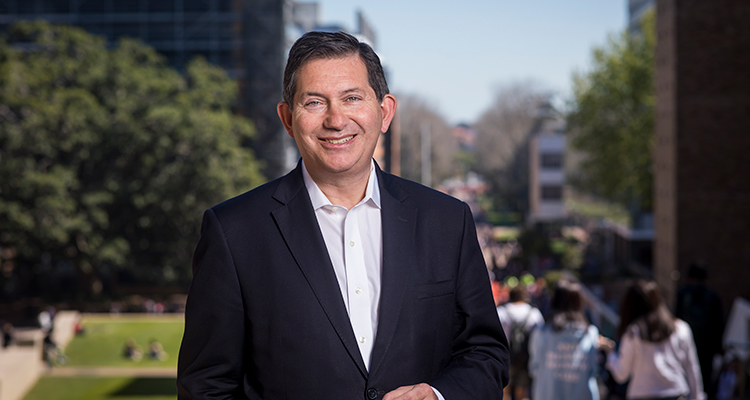 Dear colleagues
In this week's newsletter I share with you interactions over the last two weeks that remind me how fortunate we are to work among a community of people who are dedicated, gifted and determined to have a positive impact. They include the moving memorial for Scientia Professor Kat Gaus, meeting a group of UNSW Athletes who are hoping for Olympic Team selection, and chairing a meeting of the UNSW-led International Universities Climate Alliance.
The Katharina Gaus Light Microscopy Facility
At Thursday afternoon's memorial for Scientia Professor Kat Gaus, I had the privilege of making an announcement that will ensure Kat becomes interwoven in our University's story.
UNSW will rename the Biomedical Imaging Facility in the Mark Wainwright Analytical Centre 'The Katharina Gaus Light Microscopy Facility'. The name Katharina Gaus will be part of UNSW's tradition of honouring those who have made an enduring difference to our University and to the greater community.
My thanks to those who have made this possible and to all who ensured Thursday's commemoration was a fine tribute to an extraordinary person.
QS World University Rankings 2022
Congratulations to all at UNSW who contributed to our positive position in the QS World University Rankings 2022. UNSW is now ranked 43rd in the world, up one place from last year's edition. In this ranking system we are currently the fourth highest ranked university in Australia, close to The University of Sydney (38th) and the University of Melbourne (37th), with ANU leading (27th). Reputation accounts for half of the total score in the QS rankings and it is noteworthy that based on the views of more than 205,000 employers and academics around the world, UNSW ranked 32nd globally in employer reputation and 41st globally in academic reputation. This is fitting recognition by peers and employers around the world of our academics, students and staff.
I reiterate my comment from my last newsletter, that rankings are neither perfect nor an end in themselves, but they do provide an external endorsement of the quality of our education and research: further evidence of which is provided in many of the deserved awards and accolades in this week's newsletter.
Queen's Birthday Honours
Accomplished members of the UNSW community featured in the Queen's Birthday Honours list again this year.
Scientia Professor Jane McAdam, a world leader in international refugee law, heads the list of UNSW academics, alumni, current and former colleagues, and community members recognised in 2021. Jane was appointed an Officer of the Order of Australia (AO) for "distinguished service to international refugee law, particularly to climate change and the displacement of people".
Please join me in congratulating all our worthy recipients, who are exemplars of our University's vision and purpose. Current UNSW colleagues who received honours are:
Officer of the Order of Australia (AO)
Scientia Professor Jane McAdam
Member in the General Division of the Order of Australia (AM)
Professor Michael Bennett
Dr John Bennett
Dr Elizabeth Harris
Associate Professor Faye McMillan
Emeritus Professor Robyn Richmond
Dr Judith Yates
Honorary Member in the General Division of the Order of Australia (AM)
Medal in the General Division of the Order of Australia (OAM)
Associate Professor Kevin Alford
Ms Clare Grant
Mr Gordon MacKenzie
Dr Mark Pitney
Dr Karen Zwi
A list of the members of the UNSW alumni community who received honours is available here.
2021 Alumni Awards celebrate remarkable achievements
Year after year, UNSW graduates venture across Australia and globally to embark on careers in a myriad of fields. And each year, our Alumni Awards recognise the outstanding achievements of our alumni, some at the beginning of their life's work, some seasoned contributors to our local and global communities. The 2021 Alumni Awards announced last week celebrate eight distinguished alumni, selected from nearly 150 nominees.
Please join me in congratulating this year's recipients: Mr Philip Lowe, Mr Khadim Ali, Brigadier Alison Creagh (Retired) AM CSC, Ms Cassandra Goldie, Mr Rob Hango-Zada, Mr Will On, Laureate Professor Nicholas Talley and Ms Jessie Tu. You can read more about their awards and achievements here.
The diversity of careers our alumni pursue and the heights they achieve continue to impress. The fine example set by this year's award recipients stands as inspiration for UNSW students, present and future, to have a positive impact in their local community and around the world.
Significant achievements in a breadth of fields
In further recognition of the breadth and depth of talent among our colleagues at UNSW, I extend hearty congratulations to:
Professor Kelvin Kong from the UNSW Rural Clinical School, who received the 2021 Australian Society for Medical Research (ASMR) Medal. Kelvin is a Worimi man from the Port Stephens region, Australia's first Indigenous surgeon and a UNSW alumnus. The ASMR medal is awarded annually to an eminent stakeholder in the international medical research community for achievements in raising awareness.
Dr Orazio Vittorio from UNSW Medicine & Health and the Children's Cancer Institute, who was named a 2021 NSW Young Tall Poppy by the Australian Institute of Policy and Science (AIPS) for his ground-breaking research and exceptional commitment to increasing science literacy in the community.
The Mini Solar Team of student engineers, who won the VIP (Vertically Integrated Projects) Consortium Innovation Competition for designing and building a small device that harvests solar energy and can provide a continuous source of power for sensors that can detect the first signs of bushfires. This coin-sized and cost-effective early-warning system could be vital in preventing bushfires' devastating spread.

< >
UNSW's national water polo prowess
Last week I attended a training session of the Australian Men's Water Polo Team at the UNSW Fitness and Aquatic Centre. From the safety of the pool deck, I met the UNSW Athletes who are in the men's national water polo squad and are hoping to be named in the Australian Olympic Team on Monday 28 June.
UNSW has three current students, several alumni and former students, and a host of UNSW Wests Water Polo Club members in the men's national squad. I was joined poolside by current students Nathan Power (Master of Commerce), Tim Putt (Science/Business) and Charlie Negus (UPP); former student Andrew Ford; and their UNSW Wests teammates Richie Campbell, Joel Dennerley and Lachlan Hollis. Australian captain and UNSW alumni, Aaron Younger, was in Europe so not at the meeting.
The Australian Women's Water Polo Team for the Olympics has been announced. UNSW is proud to have Amy Ridge (current Arts/Law student) and UNSW Wests club members Lea Yanitsas and Bronte Halligan in the Olympic Team.
UNSW has a very impressive showing in our national squads. I wish all our athletes well and a fulfilling Olympics campaign. The competition will be fierce but our teams are incredibly well prepared and perhaps they can come home with medals … fingers crossed!
International Universities Climate Alliance Presidents meet
On Thursday I chaired the second annual meetings – two meetings spanning global time zones – of the Presidents or representatives from universities that comprise the International Universities Climate Alliance. Since UNSW established the Climate Alliance in 2020, the membership has grown to 48 of the world's leading universities in climate research, across 21 countries. Last week's meetings endorsed the addition of approximately 30 more universities to the alliance.
Thank you to Scientia Professor Matthew England, Director Alliances Vinita Chanan and Program Manager Tanya Dellicompagni for the success of the meeting and for propelling the Climate Alliance's momentum. With their guidance we discussed ambitious plans to drive the influence and impact of the Alliance in global public discourse and policy making to address the threat of climate change. At the inaugural Presidents' meeting last year, I asked my counterparts how ambitious the Climate Alliance should be, and I was pleased with the level of engagement and imagination reflected in the proposals discussed and agreed at the meetings last week. The Presidents endorsed the Implementation Plan and I look forward to sharing more about flagship initiatives in areas including climate change communication and education in coming weeks.
PLuS Alliance 2021 Snapshot
I am pleased to share affirming news, too, of the PLuS Alliance, our collaboration with Arizona State University and King's College London. The PLuS Alliance 2021 Snapshot sets out an inspiring sample of the achievements the Alliance has made towards its vision of 'Global communities empowered through innovative and accessible education and research'.
Through partnerships in fields including sustainability, global health, social justice and technology and innovation, the PLuS Alliance has already achieved much in a partnership of enormous potential. TEDI-London, our flagship engineering education enterprise, will be fully operational this year, transforming the lives of its students and those who benefit from the products they create. In TEDI-London and a great range of other initiatives, the journey towards the PLuS Alliance vision is well underway.
I invite you to read the PLuS Alliance 2021 Snapshot here.
Planning for the return of international students
I was pleased to see the NSW Treasurer announce that the plan for the return of international students to NSW has been submitted to the federal government for approval. I look forward to their approval of the plan and hope to be able to share further details with you in the coming weeks. I am grateful to the NSW Government and NSWVCC Working Group for the work that has been done over many months to reach this crucial stage.
Member for Wentworth, Dave Sharma MP, visits campus
Thank you to Associate Professor Caroline Ford, leader of the Gynaecological Cancer Research Group, for inviting me to pop in and say hello to federal Member for Wentworth, Dave Sharma MP, who Caroline hosted on campus earlier this month. Mr Sharma is a supporter of the CAMILLA AND MARC 'Ovaries Talk About Them' campaign, and he was accompanied on campus by Marc Freeman. Members of the Research Group spoke to Messrs Sharma and Freeman about the prevalence and prognosis of ovarian cancer, early detection, and the challenges for researchers in this field. It was marvellous to see their interest and support for research to combat this disease.
COVID-19 safety
I reemphasise the importance of being on high alert as the COVID-19 situation in Sydney continues to evolve.
We are monitoring the outbreak in the Eastern Suburbs carefully and taking advice from NSW Health. The safety of students and staff is our top priority. The Delta variant of the virus is particularly contagious with transmission known to occur through fleeting contact. We urge everyone in our community to be on very high alert, to keep yourself up to date on the venues of concern as they are reported, and to heed the advice of NSW Health.
Critically, you must not come to campus if you have attended any of the venues of concern on the dates and times indicated, or if you are unwell – even with the very mildest of symptoms. Please follow all NSW Health guidelines, self-isolate and get tested.
If this affects your ability to teach or attend classes, please contact your supervisor or lecturer in charge. Students can find information about special consideration here or they can contact a Student Support Advisor for advice.
It remains imperative that we continue to take care to minimise the risk of COVID-19 infection and to keep our community safe. Please ensure that, wherever you are on campus or in the wider community, you comply with COVID-safe regulations including wearing of masks when required, physical distancing, hand hygiene and using QR codes to check into buildings and other locations.
Please continue to refer to our Safe Return to Campus Guidance and check the NSW government website for the latest COVID-19 updates and alerts.
Best wishes

Ian
Comments