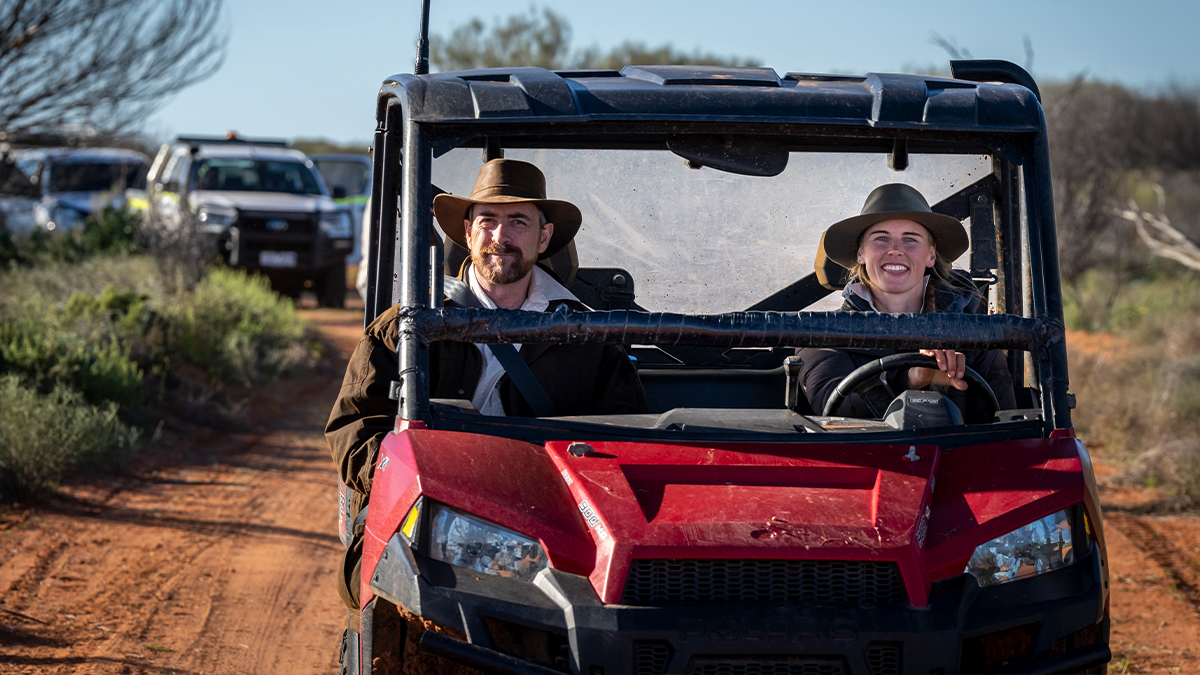 Dear colleagues
What a couple of weeks! I'm fresh back from a field trip to far western NSW visiting incredible UNSW research stations at Fowlers Gap and Wild Deserts, in the Sturt National Park. On Saturday I had the absolute delight of opening the Talpero Lookout interpretation area in the National Park, near Tibooburra. Talpero is the Indigenous name of the western barred bandicoot. The Talpero Lookout interpretation area is a jointly funded initiative featuring the work underway through the Wild Deserts consortium between UNSW and Ecological Horizons, in collaboration with the NSW National Parks and Wildlife Service.
I met PhD student Dympna Cullen (pictured above), who is with the Centre for Ecosystem Science and School of Biological, Earth and Environmental Sciences, in the Faculty of Science. Dympna is researching the biology and ecology of the crest-tailed mulgara, one of the species reintroduced at the Wild Deserts site. It was a pleasure to meet Dympna, the other students, staff, and Professor Richard Kingsford, the Centre's Director, to understand their important research.
I left the trip with an overriding impression of hope and optimism. We frequently see the devastation of entire ecosystems through the impact of invasive species such as rabbits, or more recently climatic changes. But at both these locations, through the efforts of dedicated individuals, cutting edge research that deliberately crosses discipline boundaries, and the formation of critical partnership, I have seen the positive impacts – on entire landscapes – in only a few short years. At Wild Deserts, they are well along the path to reintroducing locally extinct species and restoring landscapes that were an important part of that ecosystem more than a century ago.
The Fowlers Gap Arid Zone Research Station, the 39,000ha facility that UNSW has operated for more than 50 years, is restoring the area, long used for agriculture, into a beacon for arid ecology research. Fowlers Gap also demonstrated the opportunities UNSW presents. Well populated by a vibrant community of PhD and honours students, it is visited regularly by undergraduate students from a range of different disciplines and areas – from the sciences, to engineering and the arts. We're aiming to further strengthen its impact by diversifying what we do at the facility, the research focus, the researchers involved and the partner organisations. Key to success at both these stations, from what I can see, is the rigorous and open approach to partnering both at the local and national level. I'm very grateful to my hosts, our UNSW colleagues and University partners for their expertise, dedication and support for these wonderful, environmentally significant projects.
Pictured above: PhD student Dympna Cullen and VC Professor Attila Brungs driving in the Thipa feral free enclosure after radio tracking golden bandicoots. The golden bandicoot is the latest species to be reintroduced to the Sturt National Park as part of Wild Deserts, in May this year. Dympna is researching the biology and ecology of the crest-tailed mulgara (Dasycercus cristicauda). 
Respect Week is next week: 20–24 June 2022
It's Respect Week at UNSW next week, with a series of activities focused on celebrating our diversity and tackling discrimination of all kinds. Respect is at the heart of our values at UNSW. It's the basis of our commitment to equity, diversity and inclusion; and it's the foundation of the accepting, non-judgmental culture that I want to ensure UNSW students and staff enjoy throughout their time at our University.
Arc and the Division of Equity, Diversity & Inclusion have joined forces in bringing Respect Week back to campus in 2022 and everyone is welcome to get involved. The events will include the launch of the UNSW Gendered Violence Strategy by the Conduct & Integrity Office. The strategy has been created by the Gendered Violence Research Network in consultation with students and is informed by the results of the National Student Safety Survey (NSSS) that were released in March.
I encourage you to find out more about Respect Week here. My sincere thanks to our friends at Arc and our colleagues in the Division of EDI for their supreme efforts in bringing us Respect Week 2022.
Gold! Gold! Gold!
This is the perfect opportunity to share the great news that, for the third year in a row, UNSW has achieved Gold Employer status in the Australian Workplace Equality Index (AWEI). The AWEI is the only national tool that assesses the inclusion of gender, sex and sexuality diverse (LGBTIQ+) staff in Australian workplaces. Our Gold Employer status shows our ongoing commitment to providing a safe, fair and supportive environment for the LGTBIQ+ community. Thank you to all who prepared our submission for AWEI, and everyone in the UNSW community who values and practices inclusivity.
Queen's Birthday Honours
How marvellous it was to wake up to the news on Monday morning that members of the UNSW community including Professor Mary-Louise McLaws (UNSW Medicine & Health) and Dr Kerry Chant (NSW Chief Health Officer and UNSW alumna) had been made Officers of the Order of Australia in this year's Queen's Birthday Honours. Mary-Louise and Kerry became well known in NSW and around Australia at the height of the pandemic as we relied on their expert advice: their familiar presence on our screens providing a level of comfort and calm amid all the unknowns.
Please join me in congratulating all the UNSW recipients of Queen's Birthday Honours, including:
Officer (AO) in the General Division
Dr Kerry Chant PSM (MBBS '87 MHA '91 MPH '95), for distinguished service to the people of New South Wales through public health administration and governance, and to medicine.
Professor Basil Donovan FAHMS, for distinguished service to medicine in the field of sexual health through tertiary education, research and advisory roles.
Professor Mary-Louise McLaws, for distinguished service to medical research, particularly to epidemiology and infection prevention, to tertiary education, and to health administration.
Scientia Professor Guy Marks FAHMS, for distinguished service to respiratory medicine and research, and to tertiary education.
Emeritus Professor Peter Saunders FASSA, for distinguished service to tertiary education, particularly through social policy research and development.
Member (AM) in the General Division
Emeritus Professor Deborah Brennan, for significant service to social policy research, to gender equality, and to tertiary education.
Professor Richard Cohn, for significant service to paediatric cancer medicine, and to professional organisations.
Professor Phoebe Phillips, for significant service to pancreatic cancer research.
Medal (OAM) in the General Division
Dr Ann Jardine, for service to tertiary education.
Our Environmental Sustainability Report
The commitment to sustainability that is articulated in the UNSW 2025 Strategy and writ large in places like Fowlers Gap and Wild Deserts is celebrated in the UNSW Environmental Sustainability Report 2021, which was released on World Environment Day, 5 June 2022. This is the final report of our three-year Environmental Sustainability Plan 2019–2021.  
The 2021 report marks an impressive year in environmental sustainability for UNSW. Of the 22 targets in the plan, 15 were achieved and a sixteenth achieved partially, marking an excellent cross-institutional effort under the leadership of Environmental Sustainability unit in Estate Management. Highlights in the 2021 report include the installation of six electric vehicle charging stations on the top level of the Botany Street carpark, the launch of plastic-free dining, building on the Sustainable Development Goals Toolkit, and further efforts in waste segregation and recycling on campus.
Congratulations to everyone who has contributed to the strides we have taken in environmental sustainability at UNSW. I thank all in the UNSW community who, by their commitment to and genuine passion for our environment, advance our vision to improve lives around the world.
Our Environmental Sustainability Plan 2022–2024 is being finalised now.
Awards, achievements and accomplishments
It's always a pleasure to share news of our colleagues' and our collective achievements – just how often I'm able to do that is a great perk of being VC here!
Today it's my honour and privilege to congratulate:
The team that brought us the Alumni Park, which has won the Australian Institute of Landscape Architects NSW Health and Education Category award for 2022.
The team behind myBCom, which won a silver award in the Learning Assessment category of the QS-Wharton Reimagine Education Awards 2021. myBCom is an interactive tool that students use to guide their studies, develop a tailored career plan, and collate a portfolio of professional experiences to demonstrate to future employers.
Professor Stephen Foster, Dean of UNSW Engineering, who has been elected President of the International Federation for Structural Concrete, for the period 2023–2024.
Everyone in the UNSW community who ensured we stayed the course with our world rankings as measured by QS. UNSW ranked 45 for 2023, during an incredibly challenging period. Thank you to all our academic and professional staff who have continued to deliver outstanding research and support to students during a tough year.
And finally…
Please don't forget to diarise Recharge Week, Monday 4 – Friday 8 July. It's an opportunity to clear some space in our diaries and heads and promote wellbeing for ourselves and our colleagues. Find out more about Recharge Week here.
Best regards
Attila
Professor Attila Brungs
Vice-Chancellor and President
Comments