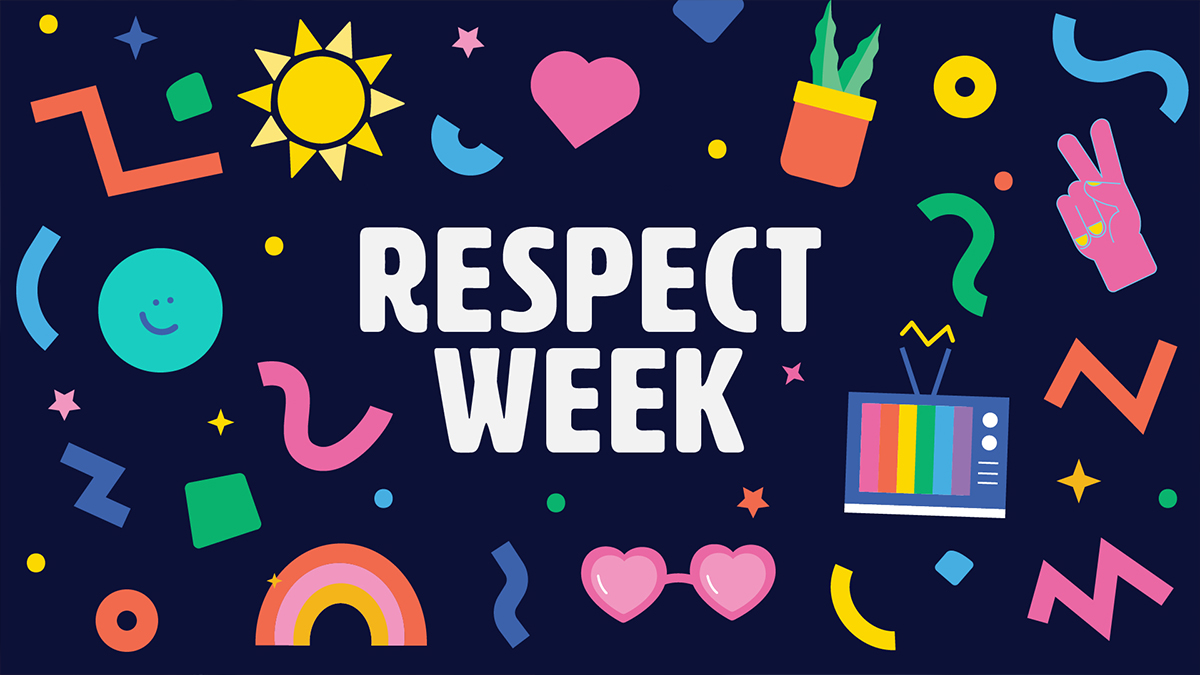 Respect Week runs from 20 - 24 June and is a student focused week of activities led by Arc, to tackle discrimination of all kinds. 
As part of the Be A Better Human campaign, launched by Arc and the Division of Equity Diversity & Inclusion (EDI) in September 2020, Respect Week is about acknowledging that we all have prejudices to be overcome. The week aims to highlight key topics and issues faced by our student community, to encourage healthy discussions, remove stigma and foster an inclusive culture. 
"Respect Week is a safe and fun environment in which to learn more about other people's experiences, unlearn our prejudices and become more aware and inclusive – to become better humans", said Angela Griffin, EDI and Project Coordinator at Arc. "It's an opportunity for students and staff to explore and learn in a safe, non-judgemental environment."
Past topics have included: Racism – it's never ok, Microaggressions, Social media and the omniscient troll, Dealing with household conflict, Revenge porn, Domestic violence in a pandemic and How to tell if a mate is struggling. 
"Arc are so proud to be partnering with UNSW's Division of Equity Diversity & Inclusion to deliver a program that offers activities for everyone, regardless of where they are on their learning journey with equity, diversity & inclusion."
This year's Respect Week is back on campus and hopes to be bigger than ever, with a week-long series of activities focused on anti-discrimination and celebrating UNSW diversity.  
What's on? 
This year's program of events includes wellness painting, pronoun badge making, a boxing demonstration from fitness group She Can, cultural competency training and a panel discussion with UNSW students and staff on the topic of 'Men and gendered violence'. 
EDI will be running a stall in the quad on Wednesday 22 June to raise awareness of the LGBTIQ+ inclusion group, the Ally Network, and to launch the new Disability Inclusion Action Plan (DIAP).  
The DIAP, which was recently out for review, outlines a framework for providing equal access for people with disability - allowing students and staff to contribute fully and actively at UNSW.
Members of staff from the Equitable Learning Services (ELS), the UNSW Disability Innovation Institute and the student led Diversify team will be on hand to meet and talk to students or staff who want to find out more or can contribute to make the learning, working and teaching experience at UNSW welcoming and inclusive for people of all abilities.  
Following on from the Universities Australia National Student Safety Survey (NSSS) results in March this year, UNSW's Gendered Violence Strategy will be launched during Respect Week. Co-created by the Gendered Violence Research Network, in consultation with students and informed by the results of the NSSS, this will include an action plan to address the issue of gendered violence as well as provide a supportive and respectful approach to the management of incidents when they do occur.
The full program of events is available here and everyone is welcome to stop by. 
Comments