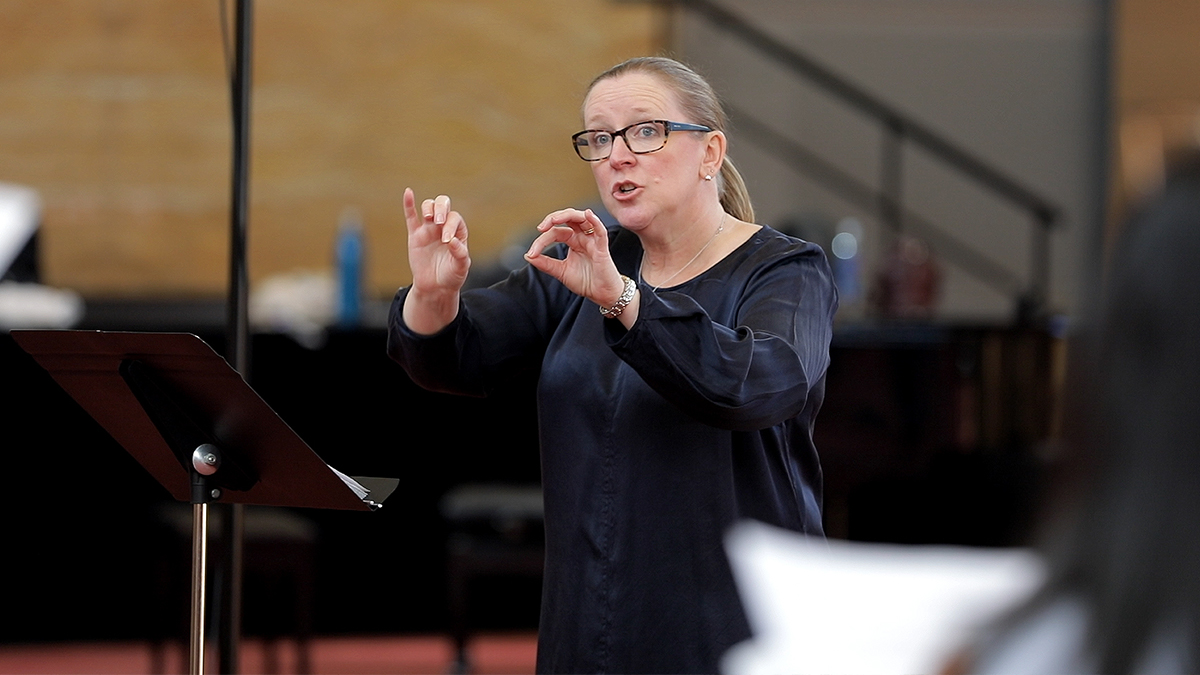 This year marks a major milestone for UNSW's choral community, with the Director of the UNSW Choral Program celebrating her twenty-year anniversary.
For many in the UNSW Music Performance community, the Choral Program is a place of expression, creativity and belonging. The bedrock of this special and unique world is Choral Director, Sonia Maddock.
Over the years, Sonia has developed and inspired thousands through her in-depth knowledge of choral repertoire and her tireless commitment to making quality music education an accessible and inclusive experience. Since its founding days under Patricia Brown, the Choral Program has been, and continues to be, open to everyone: UNSW students, staff and community members. Perhaps the most tangible proof how it can bring the community together is embodied by Sonia's story itself. She and her husband are both UNSW alumni, having met in the very UNSW choir she now directs and in which he continues to sing.
Sonia is responsible for directing and programming two main areas of UNSW's Choral program: the Collegium Musicum Choir(CMC) and the Burgundian Consort. Rehearsing weekly, members engage in rich learning experiences, performing a diverse range of choral works.
Commenting on her time in UNSW Music Performance, Sonia said, "it's an experience that keeps giving – there's always more to learn, and there is an ever-changing community of people to learn with and from. It's an environment where everyone contributes in their own way and forms an attachment to our campus community through music. I'm proud to be part of that."
Emerging composers also find their place on UNSW stages through Sonia's active involvement in the Willgoss Choral Composition Prize, which showcases and celebrates the choral writing of an emerging Australian composer each year.
Reflecting on Sonia's significant contribution to choral music at UNSW, violinist and Australia Ensemble UNSW musician Dene Olding said, "it has been wonderful to observe the personal and professional growth of Sonia over this significant period of time. She has become a friend and trusted ally who has grown the performance activities and prestige of UNSW."
This term the Collegium Musicum Choir and Burgundian Consort will rehearse and perform a program of Bernstein and McDowall under Sonia's direction. 2022 is a particularly sweet occasion for the Choral Program, having been held primarily online for the past two years due to COVID-19. During this challenging time, Sonia's commitment to the program remained firm, as she nurtured choristers and directed rehearsals each week via Zoom.
Long-time member of the Collegium Musicum Choir, Rosie Kingsford summed up Sonia's unwavering commitment to the program. She said, "I count myself luckier than most because I have enjoyed Sonia's leadership as Choral Director for two decades. Sonia is there through thick and thin - no more apparent than over the last two awful years of COVID with remote Zoom rehearsals to keep us going: a brief musical respite each week for us under lockdown."
On behalf of the Music Performance Unit and all past and current members of the Choral Program, thank you, Sonia - for your ongoing contribution and vision for choral music at UNSW. Here's to another twenty years of singing and music making at UNSW!
Comments