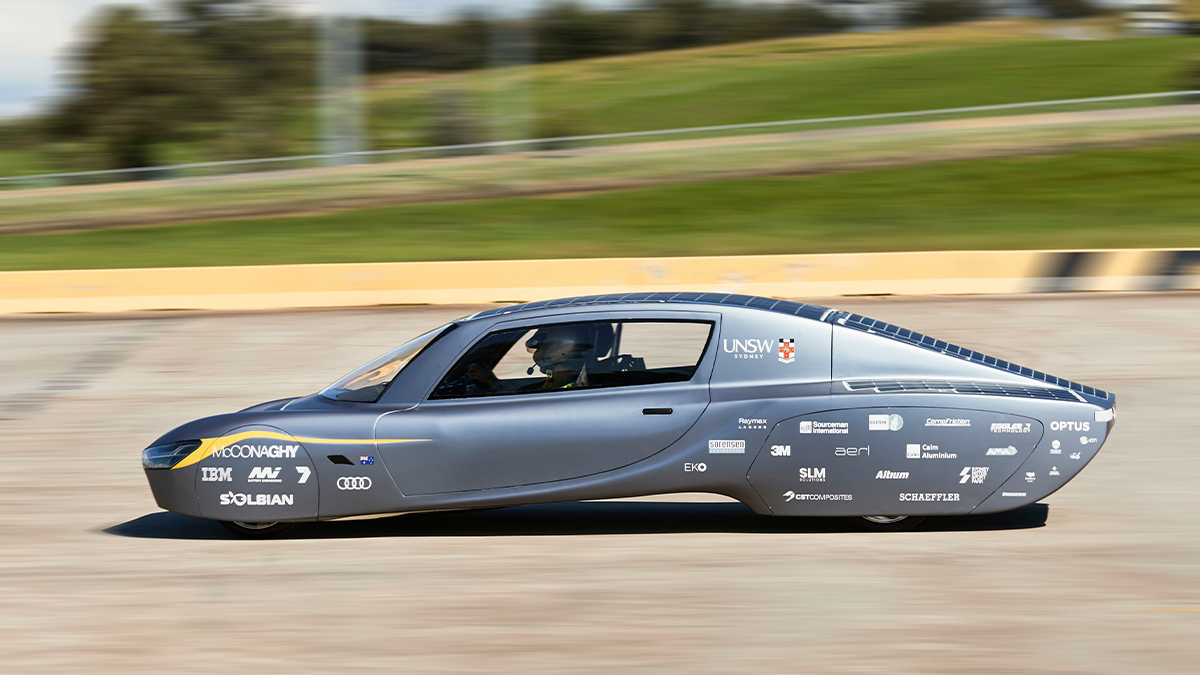 UNSW's high-performance solar-powered car, designed and built by students, is now on track for an incredible Guinness World Record attempt.
When Sunswift 7 lines up to potentially break a new world speed record in December, it won't just be the culmination of thousands of hours of work over 18 months, through the perils of COVID-19 and its associated lockdowns. It will be the product of more than 25 years of history, producing high-performance solar-powered racing cars.
Sunswift Racing, which officially unveiled its latest car last week, has been pushing the boundaries of solar vehicle technology since 1996. It has enjoyed success in numerous races, most notably the World Solar Challenge, collecting multiple motorsport records along the way.
The seventh car to be produced will aim to set the Guinness World Record for the fastest solar electric car over 1,000km at the Australian Automotive Research Centre in Victoria, with the team hoping they can achieve an average speed of over 120km/h for the entire distance.
Sunswift team principal, Professor of Practice Richard Hopkins, is immensely proud of everything the students have achieved just to get the car out onto the track.
"This is the result of the hard work of 50 undergraduate students who are dedicated, focused and talented," he said. "They were given the freedom to create. The criteria was simply: build a car that has solar power and a battery."
The result of the team's effort is a car that weighs just 500kg, about one quarter that of a Tesla, and is so efficient that it will complete the 1,000km world record attempt on just a single charge of its solar-powered battery.
That efficiency is the product of superb aerodynamics, with chief designer Ben Heina going back to the drawing board 57 times before he was happy with the car. This is supported by high performance in terms of converting energy from the solar cells to the battery, efficiency of the motors and throughout the drive chain, plus incredibly low rolling resistance.
In association with team technical partner Optus, the vehicle will have 5G receivers and cameras installed, allowing it to be driven by someone outside the car wearing a virtual headset.
With the benefit of more than 25 years of solar car development, the next big plan is for UNSW to launch the Sunswift Institute which will bring racing, technological innovation and automotive development all under one umbrella.
Prof. Hopkins believes that will continue to push the boundaries of what is possible for consumer electric vehicles of the future.
"The Sunswift Institute will stand for the advancement of technology in transport and ensure that we are innovators in that space. We want to be known as innovators, but also to help build something here in Australia. We don't want to teach great students just to have them get on a plane to work for prestigious companies in other countries."
Find out more about Sunswift here.
Comments