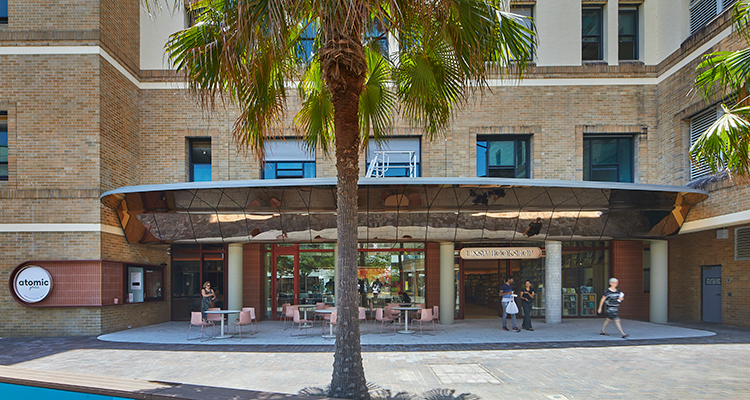 Middle Campus gets a brand new social and cultural hub with the renovated UNSW Bookshop and Atomic Press Café.
Who doesn't love a place that combines great food, good atmosphere and the company of books? UNSW Kensington campus now has a unique social and cultural space with the re-opening of the iconic UNSW Bookshop with the brand new Atomic Press Café.  
"The University is leading the way in preserving vital academic traditions in its bookshop and has reinvented the space to encourage social engagement and discourse," said Professor Merlin Crossley, Deputy Vice-Chancellor Academic and UNSW Press Chairman. "It's now a focal point where people can gather to exchange ideas and stories over a cup of coffee or interact with leading authors and thinkers in a lively event space." 
The newly refurbished 440m2 store includes a central room for events, a dedicated reading room, indoor and outdoor seating space for 40 patrons, and the café, allowing the bookshop to continue its traditional role of selling print and digital content in a more vibrant environment.  
The Atomic Press Café is a UNSW Hospitality offering that features seasonal and healthy food with a focus on quality, wholesome ingredients and nutritious meals that cater to a wide range of dietary needs. The menu will offer a range of American deli-style sandwiches, artisan breads, baked goodies, protein-packed brekkie bowls and poke bowls.  
Light beverages will be offered including coffee from artisanal roaster Atomic Coffee Roasters, who have a reputation for rich and robust blends. Atomic Press Café will be open seven days a week; you can find out more about the trading hours here. 
Australian architectural firm SJB Architects worked with Estate Management's development team to complete the design of the new campus bookstore. 
The independently-run bookshop is managed by UNSW Press Ltd, a company owned by UNSW. UNSW Press is the only university press in Australia that manages a bookshop, alongside an award-winning publishing program. 
Comments