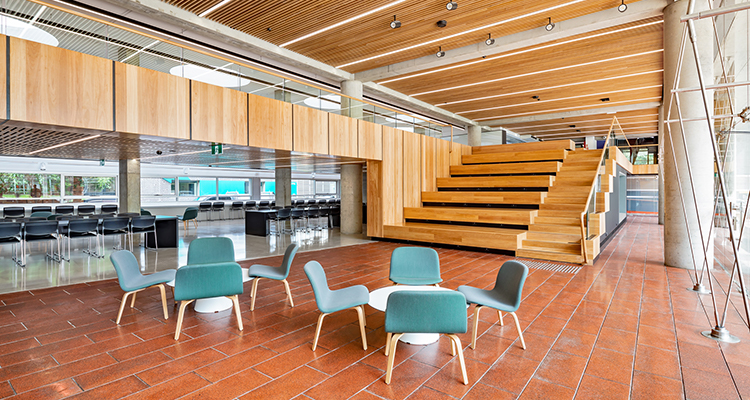 A new gallery was officially opened yesterday in the Red Centre Building at UNSW Kensington campus, providing an integrated learning and teaching space with world-class facilities for students and staff.
As part of the ongoing work to deliver quality learning and teaching spaces across UNSW, Learning Environments (PVC Education), in partnership with UNSW Built Environment and Estate Management, will open the new gallery in the Red Centre West Wing .
The gallery is open to all UNSW students and staff to use. With world-class facilities on offer it provides 220 new shared student spaces, a newly refurbished exhibition space on the ground floor, AV facilities supporting student collaboration, a reheat station and outdoor bench seating.
The shared student space will enhance the Active-Learning initiative, providing students with the opportunity to engage in scholarly, collaborative and social learning outside of the classroom. It also supports the Inspired Learning Initiative creating an enriched environment for learning with access to study space, power and high-speed Wi-Fi.
Professor Helen Lochhead, Dean, UNSW Built Environment officially opened the gallery on Thursday 15 November and welcomed guests to the new space. "This is a fantastic addition to the Red Centre's facilities providing an integrated learning and teaching space for both students and staff," said Helen. "It will still be used for exhibitions but now we also have a much-needed drop-in space for our students to work as well. Our new facilities include tiered seating for informal presentations, multiple break-out spaces and a much needed new Higher Degree Research Student Lab and maker-space on the mezzanine which is a great addition to the Red Centre".
Professor Geoff Crisp, PVC Education, who also spoke at the Gallery opening, said: "We partnered with our students in designing this space so that it represented a comfortable, easily accessible and modern physical space for students to study and socialise on campus. Developing physical spaces which allow students to form communities is an important part of the educational experience here at UNSW."
We invite all students and staff to visit the new Gallery space. Let us know what you think through our iPad survey located on the ground floor. We look forward to seeing you there!
Comments