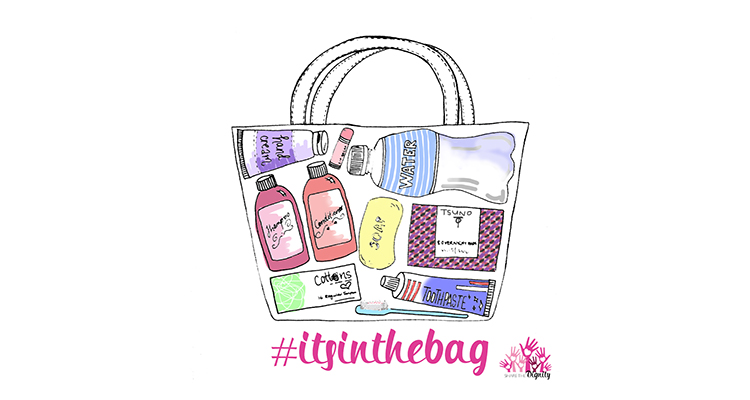 Workplace Diversity are calling for your donations to support women and girls in need.
Sunday 25 November is the 'International Day for the Elimination of Violence against Women'. To support this important day, UNSW is again participating in the 'It's In The Bag campaign' which will run from Thursday 22 November to Thursday 29 November.  This timeframe ensures that we can transport your donations to the charity's central collection point by their due date.
The charity requests donations of new or no longer used handbags (in good condition) and brand new toiletries (packaged and unopened) which they will pass onto women in need. Recommended items include shampoo, conditioner, toothbrush, toothpaste, soap, deodorant, sanitary products.
We have organised several drop-off points around the Kensington campus.
Drop-off points at Kensington are at the following locations:
Chancellery - Ground Floor Foyer and Level 2 Common Area
UNSW Scholarships & Co-op Office - Library Annex (in the walkway near the Post Office).
Law - Staff Common Room on Level 2
Medicine - Lowy building, at the reception on ground floor
Science - Science Student Centre, Level 1, Robert Webster Building
Built Environment - Level 5 (Red Centre West Wing) Dean's Unit
AGSM - Ground floor entrance
Arts & Social Sciences - School of Education School Office, Level 3, Robert Webster Building, and Dean's Unit Reception, Level 3, Morven Brown
Business - Dean's Unit Reception, Level 6, Business School Building
Drop-off points at UNSW Canberra are at the following locations:
Equity & Diversity Office - Room 204, Building 22
Academy Library - Building 13
Rector's Office - Main Kitchen, Building 1
UNSW has an ongoing commitment to support our staff and students who are affected by gendered violence.
These initiatives include:
For any questions or enquiries, please email workplace.diversity@unsw.edu.au.
Comments