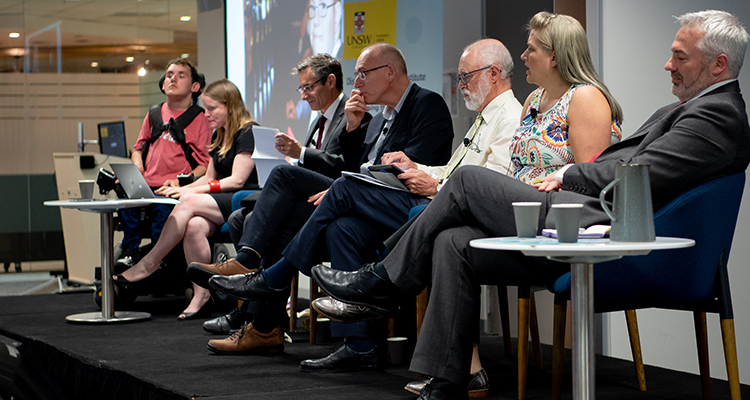 Leading health, education and disability experts recently came together to push for change to improve the health and life expectancy of people with intellectual disability in Australia.
The Dying for Change panel event, held at the UNSW CBD campus, follows a study by UNSW researchers last year which found that Australians with intellectual disability are dying from avoidable deaths at twice the rate of the general population.
"People with intellectual disability die from causes similar to other Australians, but they die earlier, and more likely from potentially avoidable causes because they experience multiple barriers to quality healthcare, and because health professionals and services are not equipped to meet their needs," Chair of Intellectual Disability Mental Health at UNSW Professor Julian Trollor said.
Jack Kelly, from the Council for Intellectual Disability (CID) and Chairperson for the event, spoke about the difficulty of accessing the health system.
"People with an intellectual disability don't always get a chance to speak up for themselves, as doctors and nurses go straight to the support person and don't actually speak to the patient. Then the patient doesn't feel like they get a chance to have a say about their health. They may not be given the right healthcare. People with an intellectual disability die so much sooner than expected. It doesn't have to be like this."
Examples of avoidable deaths in the United Kingdom and in New South Wales were presented by George Julian, a Visiting Fellow at the London School of Economics. Julian spoke of the cases of two young people with intellectual disabilities who died as a result of multiple failures of the medical system.
"I believe we need to expose the human cost and impact when things go wrong in healthcare," Ms Julian said. She believes that the single most important thing we can do is to ensure that people understand this is a matter of life and death for people with an intellectual disability.
Senior advocate with Council for Intellectual Disability (CID) Jim Simpson is calling for a federal government inquiry.
"At a national level, the stark health inequalities faced by people with intellectual disabilities often seem invisible to health planners," Mr Simpson said.  "Time and again, we see Commonwealth health initiatives which do not consider or work for people with intellectual disability," he added.
"In NSW, we have seen significant progress with funding of specialised intellectual disability health services to backup mainstream services.  This progress should be a trigger for a Commonwealth response.  An independent national inquiry is needed to provide the Federal Government with a framework for comprehensive action," said Mr Simpson.
International academics, Professors Andrew Jahoda and Chris Hatton, also joined the panel to provide commentary on what they considered to be the key actions that need to be taken. Professor Hatton is calling for the Australian government to establish a National Closing the Gap taskforce, led by people with intellectual disabilities, "being paid top whack to do the job."
The Dying for Change panel event was presented by UNSW's Disability Innovation Institute, UNSW Grand Challenges and UNSW Department of Developmental Disability Neuropsychiatry, in conjunction with the NSW Council for Intellectual Disability.
Watch the full event video of Dying for Change: lightning talks for action on improving the health and life expectancy of Australian people with intellectual disability.
The YouTube video contains captions.
To discuss potential research projects or how you can engage with the Disability Innovation Institute contact Dr Martin Bone, Business Development Manager m.bone@unsw.edu.au
Further media links regarding this event and topic
Comments