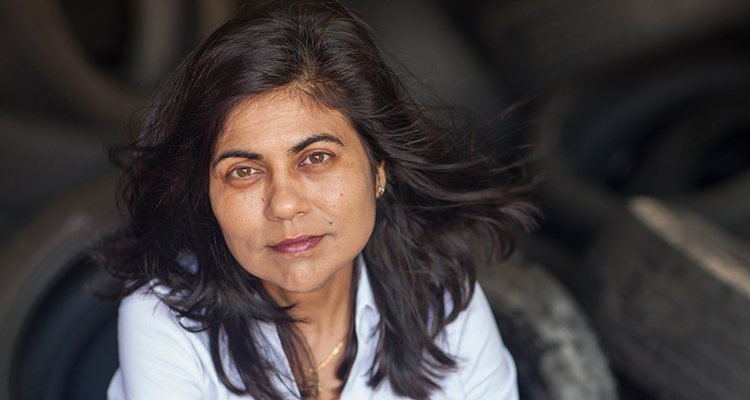 State government grants UNSW $1.5 million to establish a Circular Economy Innovation Network to rethink supply chains and minimise waste.
UNSW's longstanding reputation as a leader in the area of materials science and technology research continues with the announcement that UNSW has been awarded $1.5 million by the NSW state government to establish a Circular Economy Innovation Network.
The "take, make, dispose" model of production sees the average Australian produce 1.5 tonnes of waste each year, most of which ends up in landfill. In contrast, a circular economy aims to minimise waste while capturing the valuable resources contained within discarded products and keeping them in use for as long as possible.
"We need to rethink attitudes to all of the materials we discard and start to see them as renewable resources if we want to live more sustainably," said Professor Veena Sahajwalla. Professor Sahajwalla is the Founding Director of UNSW's Centre for Sustainable Materials Research & Technology and the newly appointed Executive Director of the Innovation Network.
The Network will be hosted at UNSW and will boast the complementary expertise of universities across the state. While technology exists to advance the Circular Economy, there is a lack of collaboration across the sector that inhibits innovation and the development of new processes and supply chains.
"The new NSW Circular Economy Innovation Network is crucial to start to bring together all of the relevant stakeholders, including small to medium enterprises, into a new supply chain that can create value from these discarded materials, rather than for them to end up in landfill or valueless somewhere," said Professor Sahajwalla.
Enquiries regarding the Circular Economy Innovation Network should be directed to Dax Kukulj, Deputy Director, Knowledge Exchange.
Zero Waste Workshops
UNSW students and staff interested in gaining a greater understanding on the Circular Economy are invited to attend free Zero Waste Workshops in March and April, hosted by UNSW Entrepreneurship. Workshops will take place at the Michael Crouch Innovation Centre and allow participants to get hands-on in the Makerspace as they recycle, reuse and upcycle commonly discarded waste products.
The workshops are designed to facilitate engagement between like-minded people who are all passionate about reducing and rethinking waste. Register here for the next Zero Waste Workshop.
Enquiries regarding the Zero Waste Workshops should be directed to Gregory Davis, Prototype Manager, MCIC Foundations.
Comments