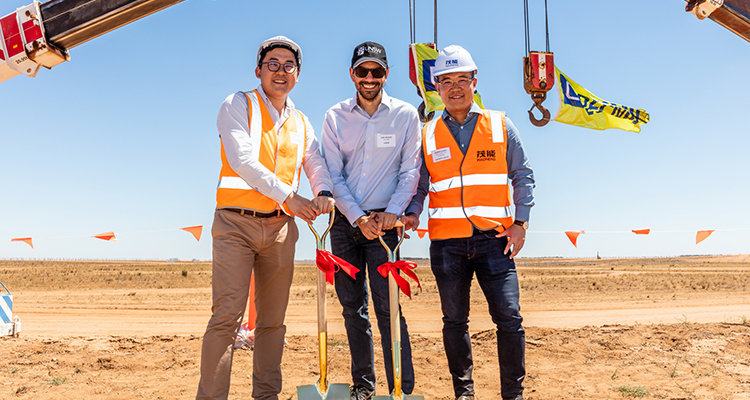 A new solar farm in regional NSW will power over 50,000 households and allow UNSW to become energy carbon neutral by 2020.
At a sod-turning ceremony on 21 February 2019, UNSW celebrated the start of construction on the Sunraysia solar farm – one of the largest in the Southern Hemisphere.
The solar farm, located in Balranald, NSW will generate enough electricity to power over 50,000 households, injecting a huge amount of power back into the national grid. About 25% of the energy will power UNSW, allowing the University to become energy carbon neutral by next year.
The solar farm will take about 14 months to construct and will use 755,000 solar panels over an 800-hectare site.
UNSW was joined at the ceremony by Developer and Project Manager Maoneng Australia, Construction partner Decmil, Equity partner John Laing, manufacturing companies Schneider and Jinko and a representative from the Muthi Muthi nation who are the traditional landowners.
The start of construction is a significant milestone for the project, which reached financial close in October 2018. UNSW negotiated a complex power purchasing agreement with developer Maoneng and Origin energy, securing pricing for the next 15 years. This exciting development means that UNSW will be able to meet its renewable energy targets – a key part of the 2025 strategy.
Showing its commitment to learning and education, UNSW will be delivering a series of presentations each year for local Balranald Central School both onsite and via webinar on renewables technology and industry. The solar farm will also have a visitor's centre, meaning UNSW students and staff will be able to visit the site as a learning opportunity. UNSW will also have access to a live data feed of the energy generated by the solar farm, which can be used for research purposes.
The next major milestone for the project will be the Commercial Operations Date (COD) on 5 December 2019 when power will be officially switched on and begin flowing to UNSW and other users.
Comments