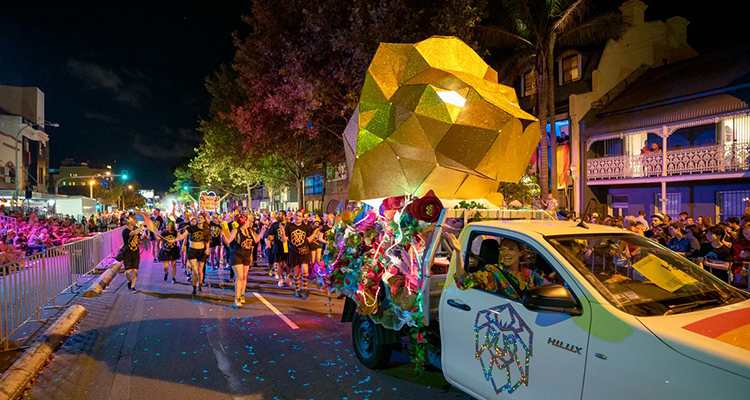 A UNSW Pride, made up of 80 students and staff, marched alongside a fearless Clancy the Lion at the 2019 Sydney Gay and Lesbian Mardi Gras.
UNSW is proud to have participated in the Sydney Gay and Lesbian Mardi Gras for the third year in a row and congratulates everyone involved in the parade on Saturday 2 March. UNSW's "fearless" float, a sculpture of mascot Clancy the Lion, roared through the parade, leading a "UNSW Pride" of 80 students and staff who proudly marched alongside 196 other organisations.
Supported by the Division of Equity Diversity & Inclusion (EDI), this was a student-led initiative. The night was the culmination of months of preparation and hundreds of hours of construction by a dedicated team of students from the Faculties of Engineering, Built Environment and Art & Design.
"Building the float with the other marchers has helped develop relationships with students and faculty alike, as well as appreciate the resources and support available to us," said Charlie Bradford, Engineering student and SRC Queer Officer.
On parade day, marchers gathered at the Paddington campus from 3pm for a final dance rehearsal and to add the finishing touches to their costumes. Despite having to wait until 10pm to march, the energy on the night was electric. One student said: "It's such a powerful experience, and such a happy event. It feels so good to do it."
Other students acknowledged how lucky they felt to be in Sydney, where they have the support to come out. "I am here tonight for everyone I know who hasn't come out yet or feels like they can't," another student said.
EDI offers a range of free training programs designed to foster a diverse and inclusive culture at UNSW. All students and staff are encouraged to register for these training programs to increase their knowledge about the LGBTIQ+ community, increase awareness of the issues that people in the LGBTQI+ community face and to learn ways that they can fearlessly support their LGBTQI+ colleagues and peers. 
Comments